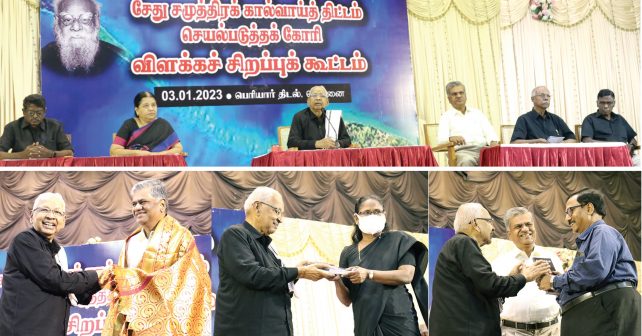 Asiriyar Dr. K.Veeramani explains the timely need to restart Sethusamudram Project.
A special meeting was convened at Periyar Thidal, the headquarters of the Dravidar Kazhagam (DK), on 3rd January 2023 to discuss the Sethusamudram Shipping Canal Project issue and to urge the Union Government to restart the project which remains shelved for more than 17 years. Thiru. S. Velumani, a learned civil service officer (Retd.) delivered his special address, stressing the urgent revival of the project. He explained how the project would lead to a highly beneficial navigational route and augment our marine trade with the western countries. He pointed out the abnormal time and distance covered by the vessels these days owing to the circuitous routes. This problem would be solved if the project is completed at the earliest.
Advocate Ms. Arulmozhi addressed the audience and elaborated on the inauguration of this project at Madurai in 2005, after which it was shelved by political animosity. She highlighted the difficulties faced by vessels to reach the harbours of Kochi, Mumbai, etc. on the western coast from the harbour of Thoothukudi, etc. on the eastern coast. To reach the harbours on the western coast from those on the eastern coast of India, the vessels have to take a circuitous route sailing around the neighbouring island of Sri Lanka. Besides consumption of excessive time, energy and manpower, it is also economically unviable. If vessels pass through the Palk Strait that links India and Sri Lanka, the problem could be easily solved if the Sethusamudram Shipping Canal Project is accomplished. It would cause economic development and help our harbours flourish, besides the growth of marine trade with overseas countries too.
The Vice-President of the Dravidar Kazhagam, Poet Kali. Poongundran described in detail the struggles faced by Asiriyar Veeramani to get the project commenced long ago in 2004 itself. He had to undertake whirlwind tours to propagate the need of the project. Several conferences were held and resolutions adopted for this purpose. He spoke about the formal inauguration of the project in 2005 and said that now there is our belief in its successful completion.
Asiriyar Veeramani delivered the Presidential Address and announced that this meeting was like a preamble for the conference to be held on 27th January 2023 at Madurai on behalf of the Dravidar Kazhagam to urge the Union Government to restart and complete the Sethusamudram Shipping Canal Project. It would be an all-party meet and an open-air conference to propagate the dire need of the project.
He said, "Truth always triumphs. It has been proved now. The myth has been exposed and it has brought back a belief that the Sethusamudram Shipping Canal Project would be accomplished. It is beneficial to every one of us in multiple ways. If the Union Government is really interested in the development of the country, it should restart the project, lying shelved hitherto and take steps to complete it at the earliest."
Asiriyar further said, "This project would pave the way even for the defence of the entire country. Baseless myths surrounded this project and hindered its completion. We had always been highlighting the blind faith in mythology. Today, it has been exposed. We need collective efforts now to get the project successfully completed. Only 23 k.m. long construction work remains to be executed. Hence, the dream can come true very soon, if the project is restarted without any delay. Political outlook should be avoided and everybody ought to unite for this noble cause, irrespective of ideological differences."
Recalling the entire struggles in the past, Asiriyar added thus:
"This project would be beneficial not only to us, but also to several south Eastern countries, Asian countries and many countries on sea-coasts. Foreign exchange earnings would be an added advantage. The development of tourism is also assured. We urge the union government to approach the World Bank and other International organisations for financial assistance through proper representations. Economic crisis should not be an excuse to delay the revival of the project. Appropriate measures are to be chalked out for the restart at the earliest."
"Ours is the land of Periyar. We are all soaked in rationalism and scientific spirit. we stay away from myths and superstitions. We selflessly struggle for the welfare of all the people. Therefore I urge you all to stay united and strive for this particular cause. Article 15A of our constitution clearly states-
"It shall be the duty of every citizen of India to dvelope the scientific temper, humanism and the spirit of inquiry and reform"
This Sethu Samudram Shipping Canal Project would be historical evidence for our adherence to the above cited golden words."
Our state of Tamil Nadu is now under 'Dravidian Model Rule' and its principal objective is public welfare. This project is today the heart of our debates. There should be wide spread awareness about the need of the vital project. Let this meeting be a good beginning. Be with us to make our dream project turn out into reality."
Compiled by: nietzsche