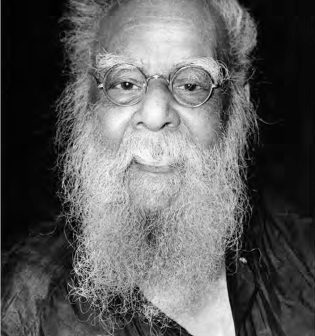 Today I am invited on behalf of the Philosophy Department of the Salem College to address.  Students, teachers, and many other citizens have assembled here.  I do not deem it an easy task to address such an august audience.  I do not know how far I would succeed in making you all understand and feel satisfied.  Moreover, it is absolutely essential to talk about the philosophies and doctrines first and foremost.  I feel that it is not an easy affair to discuss about philosophies and doctrines.
Philosophic understanding and philosophic expressions are true;  to explain it further, it is an urge to see things as they are and understand them in their proper perspective.  Shortly, it may be called the knowledge gained from natural experiences.
We are accustomed to differentiate philosophy from nature.  It is hard for us to seek the truths as they are and it is extremely difficult to understand the meaning behind things.  Let me illustrate it with an example.  When we see a man, we see him and judge by appearance. The real man by nature is not seen.  To see the man as "created" by nature is to see him without any changes and without any concealment as a naked man.  Such an appearance, though true, will not be liked in the modern world.  Moreover, it will be a source of repulsion and hatred causing a lot of inconveniences in life.
Similarly, if you try to see other things also in their true and real state, it will be hateful, uncomfortable and displeasing.  That is the reason why some people say that man has to attain a certain stage in life to understand philosophy.
That is the reason, why I mentioned that my interpretation of philosophy will be unpalatable to many people.  There is a famous adage that he who boldly tells the unadulterated truths will become the arch enemy of many people.  By this it is not meant that all people should be liars.  It only indicates that the real truth and philosophy are prevalent in the society in a different form by nature and name.  On account of this many truths are found to be unconvincing.
Naturally, the task of explaining any philosophy to the people is more or less a very delicate and difficult one.  Moreover, the President of this meeting, while introducing me stated that I am an atheist, a hater of religions and an opponent of politicians.  After all I am only an ordinary person.  As such it is much more difficult for a man like me to interpret realities in the philosophic thoughts and doctrines.
Yet, I shall try my best to interpret philosophic realities, as a sort of my humble explanation to my critics.  As I was deeply contemplating as to what to talk in this august gathering, the President referred to certain opinions about me and I deem it more than enough to deal with them in my speech.
Comrades!  Anything may be considered either as insignificant or as a vital importance.  I will tell you how!  For ordinary people, god, religion and politics are not of much importance.  They overlook the real significance of the philosophic doctrines behind them.  But to the learned people they are of very great importance.  So they take pains to understand even the minute details and propagate them.
We find all sorts of people attending the vocal recital by great musicians.  Ordinary people listen to the words and ideas in the song and dispense with the music stating that "He sang in praise of god, or He sang about ladies."  They are content with that and feel satisfied about the music performance, they attended.  But those who have a knowledge about the science of music, would be more keen in listening to the musical performance, they attended, to assess the extent to which the songster had mastered the minute details about music.  Because of their presence the songster would be very careful regarding his performance.  That is why I stated in the beginning that whatever I talk may be considered as trivial by some and as most vital by some others.
GOD
The President of this meeting referred to god and explained that he is capable of doing anything and everything.  Referring to religion he said that religion is like a bridge to link man with god.  This is not a religious meeting. This is a meeting to discuss about the philosophy in general.  We have to discuss in detail the philosophy of god and religion and I wish to speak about it threadbare.  I like to make a clean breast of all matters.
Many people are of the opinion that I am an atheist and a non-believer in religion.  Many have exposed it openly.  I would be really happy if the atheists had expressed so.  If the theists feel like that I can only pity them.  Not only that.  I would indeed be sorry to live amongst such people.  If I am to feel it delicate to express my views frankly in this meeting which is convened to discuss about the true philosophy, it would amount to my deceiving the truth seekers.
So I wish to state plainly that it is on account of ignorance that the theists call me as an atheist.  I would say that it is more on account of their irresponsibility.
Let me cite an example to clarify it further.
A Brahmin who ekes out his living came to a place where there was an auspicious function.  He asked for alms.  The patron of the house gave four annas (now 25 paise) to him as he gave others.  The Brahmin asked him,
"I am one who does not blame others.  I have no pride.  I have no lust for money.  I have renounced all these.  Is it justifiable to give me four annas knowing pretty well that I have studied the four vedas, six shastras, eighteen puranas?  You gave the same four annas to the uneducated donkeys.  Is this your dharma?"
Similarly these theists blame others as atheists.  Now let us see how these theists came to believe in god.
The believers in god say he is all powerful.  They say that he is everywhere.  They say that he is peerless.  They say that everything is going on with his consent.  If it is conceived that I deny such a god, I would say that it is what the Brahmin also said.  Brahmins proclaim that they are unselfish.  They are said to be renouncers on one side.  Again they talk high of their mastery or Vedas and Shastras.  This itself reveals their self flattery.
Further, asserting that they do not abuse or hate others, they call others as uneducated fools.  They envy others sharing four annas like them.
Further stating that they have renounced everything and that they do not have any lust for money;  they tell " you give me only four annas!"
All these clearly indicate that the Brahmins are not true to their own claims.  High qualities attributed to the Brahmins are belied by their own actions.  We don't find them to be true Brahmins.  There is a vast difference between what they say and do.
Similarly when the believers in god say that god is omnipotent and omniscient, how could it be possible for a man to deny it.  When an ordinary man denies god, it proves that there is no god that is omnipotent and omniscient.  Further it proves that the qualities attributed to god by Brahmins are baseless.  They are mere imaginary concoctions about god.  That is all.
To say that those who deny god are atheists is based on ignorance.  It is senseless to call a man as an atheist.
If god truly exists, what is it that an atheist is going to gain by denying god?  If god is really omnipotent, what is he going to gain by making an ordinary man deny his existence?  Under this situation, it is evident no man will foolishly deny the existence of god. Similarly no god will foolishly undertake to create man as an atheist.
You will have to think of all these.  If you really ponder over these things, you will realize that it is not right to blame anyone as an atheist or non-believer in god.
It is those who have not known god, who call others atheists and non-believers in god.  That itself is atheism.  It is the theists who have created the atheists. It is out of their ignorance that atheism is spreading.  Please think over, whether it will be possible for a man to deny god, if the god really exists?  So we come to the natural conclusion that the terms atheism and atheists were the outcome of Brahmin ignorance or it must be that Brahmins created them to carry on their profession profitably in the name of god.  So god is meant for those who trade in his name.  Others need not worry about god at all.
Investigating the philosophy of god really means to expose all matters related to god in full and in detail.  We have to conduct research to find out the naked truths about god.  The fundamental for conducting any research is to find out first what it is.  Then find out why it is and then see how it is and then ask where it is and finally decide when it came into being.  We will have to put these queries and ascertain the convincing replies.  We need not hesitate to question.  We must study things without any restraint in an unbiased way.  Probing into philosophy means arguing matters.  Both are correlative for our purpose.  So to establish beyond doubt that there is a god, which is really omnipotent and omniscient, it is not enough if these five questions are put.  It is essential to test by any number of operations.
A blind believer in god may ignore this aspect.  He may think it unnecessary and unwarranted.  But for a researcher of philosophy it is a must.  God should not exist out of blind belief.  He should not be recognized as god by mere ignorance.  Moreover for rational human beings, particularly to the researcher, god should not exist by mere heresay or ignorance or blind belief.
What for god?
Why god?
Which is god?
One who conducts a research about the philosophy of god must know the answer for such queries and that too in detail and in a manner quite convincing.
Every human being is rational – Man is endowed with reason to think deeply.  It is for ascertaining the truth in its proper perspective.  As such a man should not degrade himself as a mere animal.  He should eschew blind beliefs.  Man has involved himself into a number of difficulties by misusing his rationalism.  He has created gods to find relief from his vexing problems.
What for a ruler and the ruled?
Why a rich man and a poor man?
Why high and low castes?
What for a toiling worker and a lazy fellow?
What for a slave and a master?
What for a begger and a lord?
Now you think over all these.  What for god?  Don't you think that god is created only to protect all these?  Apart from this what has god done to man?  Did god do anything good to the humanity so far?  Do we need such a god to protect the evils only?
Who is responsible for the absence of peace, love and satisfaction in the society?  Who is responsible if men endowed with rationalism die in disgust and worries? Is it not due to the belief in god?
If we attribute foolishness as the basic reason for all these, what for a man is gifted with rationalism?  Could it be said that man is endowed with rationalism to act foolishly, to believe foolishly and behave foolishly.
Man is said to have rationalism; yet all the bad qualities are in him, all the worries he faces, all the defects and drawbacks in him, his hatred towards others, his betrayals are not found in the case of other beings, which are considered to be devoid of rationalism.
Why should a rational man display bad qualities, which are not seen even in wild animals?  Is it because of the creation of a god?  Is it because he believes in a god?  Is it because he has misconceived great powers in god?  If we are not able to study and find out what exactly is the reason for this state of affairs and suggest a solution; what else is the purpose of rationalism?
What for a god?  Was god recognised by man in a natural way?  Did others make man recognize and believe him?  If god was not created by others, how is it that he is not seeable for all.  Even to those who profess to have recognized him,  he appears in many ways and in different forms.  Why should god's functions, powers and behaviours too differ in many ways?
If god was a created thing, why was he created? For what reason was he created?  Did the creators of god succeed in their attempts.  Did god solve the problem or fulfill the reason for his creation?
Whether he came into being or was created by others;  how is it the people are able to go against his wishes and dictations?
God is said to be all powerful.  He is said to be everywhere.  He is said to be controlling anything and everything in the world.  If all these are true, tell me anything that god has done so far.  In the name of god, it is the man who does everything. Not only that, man is able to disrespect and ignore god and yet do many things.  Things which are detrimental to the interests of man are taking place!  Things which are not useful and helpful to society are also taking place!   We are not able to see everything done perfectly, to the satisfaction of one and all.  There is nothing that takes place without the efforts of man.  There is nothing in our life to be proud of god.  It is the hard work of the man that is able to do laudable things.  If the world is safe and humanity is sound it is on account of the efforts taken by men.  Everything is protected and safeguarded by the efforts of man only.  We could say that even gods are safe because of the efforts of man.
Source : Collected Works of Periyar