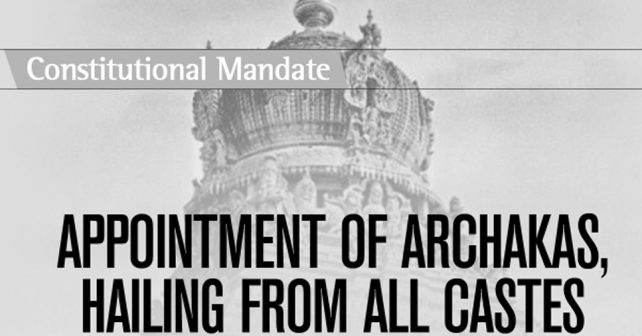 Buy Professional Viagra France
Periyar proclaimed his desire and readiness to launch agitation for the equal opportunities to all castes in getting appointment as archaka in the Hindu temples, which was the monopoly of the brahminical hegemony, to perform poojas in the sanctum sanctorum. He appealed so in his public address, few days prior to his demise at the age of 95 in the year 1973. The achievable appointment of archakas hailing from all castes  remained as a thorn in the heart of Periyar, as mentioned by him in his final address.
The Supreme Court stated in its verdict that the hereditary system in the appointment of archakas in the Hindu temples was abolished and stressed for the appointment of archakas duly trained in the agamas. When the DMK came to power again in 2006, a Government Order was issued, later an ordinance and subsequently replaced with a legislation for the due agama training of the individuals hailing from all castes, adhering 69 per cent reservation policy through the formation of agama schools. Accordingly admissions were made and agama trainings were imparted to 207 candidates and after the completion of the training they were awarded with 'Dhiksha'.
Immediately after the legislation of the Act in 2006, the archaka classes went to the Supreme Court by filing writ petition, with the result the likely appointments of the Dhiksha awarded trainees were restrained. On 16th December 2015, The Supreme Court disposed the writ petition. While disposing the case, the Supreme Court advised on the freedom available to the aggrieved archaka to approach the lower courts, while appointing archakas by the State, if it violates the agamas.
Now the ball is in the court of Government of Tamil Nadu to appoint the duly trained and Dhiksha awarded trainees as archakas in the Hindu temples. The role played by Dravidar Kazhagam and its political offshoot, Dravida Munnetra Kazhagam are laudable. Dravidar Kazhagam, despite its atheistic principles has taken up the cause by adopting the approach that the appointment of archakas, hailing from all castes (including the brahmins)  who are believers of god as a human right issue rather than an interference in the religious affair.
It is purely a secular activity  on the part of the State as per the Article 25 (2) (a) which says, 'Nothing in this article shall affect the operation of any existing law or prevent the State from making any law  regulating or restricting any economic, political or other secular activity which may be associated with religious practices'.
Please follow and like us: