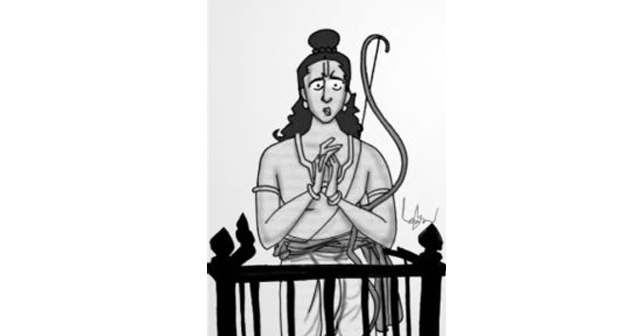 Dr.Ramendra
From M.K.Gandhi to L.K.Advani, Ramrajya has many admirers and supporters. The Gandhian vision of India, to be sure, is vastly different, even diametrically opposed on some points, to the RSS parivar's vision of India; yet both have used the term Ramrajya to describe their ideal society. I certainly prefer the Gandhian vision to the RSS vision, though I do not share it fully-particularly its religious part-but in any case I do not want Ramrajya. In fact, I am positively opposed to it. And. I say that. I mean it literally. In other world, I do not want Ramarajya as portrayed in Valmiki's Ramayan.
My reasons for not wanting Ramrajya are simple and straight: I do not want Ramrajya because it was, as described by Valmiki, a Hindu monarchy, whereas I am, like many other contemporary Indians, a supporter of secular democracy.
Dasrath, according to Valmiki, was the king of Ayodhya. He had four sons, namely, Ram, Lakshman, Bharat and Shatrughan. Ram was the eldest among them. He was nominated the king of Ayodhya by Dasrath only because he was his eldest son, and for no other reason. Thus, it was a clear case hereditary succession. Ram was not an elected president or prime-minister or chief-minister of Ayodhya. Therefore, there is no doubt about Ramrajya being a monarchy.
The fact that Ramrajya was a Hindu monarchy, with the K.shartiya king being ever to uphold the Hindu varna vyavastha even by using force, is vividly brought out by Ram's murder of Shambuka, the Shudra. This incident has been ably narrated, on the basis of Valmiki's Ramayana, by Dr.B.R.Ambedkar in his The Riddle of Rama and Krishna:
"It is said by Valmiki that in Rama's reign there were no premature deaths in his kingdom. It happened, however, that a certain Brahmin's son died a premature death. The bereaved father carried his body to the gate of the king's palace, and placing it there, cried aloud and bitterly reproached Rama for the death of his son, saying that it must be the consequence of some sin committed within his punish it; and finally threatened to end his life there by dharna (hunger-strike) against Rama unless his son was restored to life. Rama thereupon consulted his council of eight learned Rishis and Narada amongst them told Rama that some Shudra among his subjects must have been performing Tapasys (ascetic exercises), and thereby going against Dharma (sacred law), for according to it the practice of Tapasya was proper to the twice-born alone, while the duty of the Shudra consisted only in the service of the twice-born. Rama was thus convinced that it was the sin committed by a Shurda in transgressing Dharma in that manner, which was responsible for the death of the Brahmin boy. So, Rama mounted his aerial car and scoured the countryside for the culprit. At last, in a wild rigorous austerities of a certain kind, he approached the man, and with no more ado than to enquire of him and inform himself that he was a Shurda, by name Shambuka who was practising Tapasya with a view to going to a warning, expostulation or the like addressed to him cut off his head. And to and behold! that very moment the dead Brahmin boy in distant Ayodhya began to breathe again. Here in the wild the Gods showered flowers on the king from their joy at his having prevented a Shudra from gaining adminssion to their celesital abode through the power of the Tapasya which he had no right to perform. They also appeared before Rama and congratulated him on his deed. In answer to his prayer to them to revive the dead Brahmin boy lying at the palace gate in Ayodhya, they informed him that he had already come to life. They then departed. Rama then proceeded to the Ashrama which was nearby of the sage Agastya, who commended the step he had taken against Shambuka, and presented him with a divine bracelet. Rama then returned to his capital."
This incident amply demonstrates that Ram was an upholder of the Hindu varna-vyavatha. According to the varna-vyavatha. as elaborated in Manusmriti, a Shudra is not supposed to study the Vedas. He is to serve is Brahmins in particular and the dwijas (Brahmin, Kshatriya and Vaishya) in general without being critical of them. He is also not supposed to perform yajnasI (ceremonial sacrifice) or to engage a Brahmin priest for performing yajnas or any other religious. A Brahmin, on the other hand, may force a Shurda to work for him, with or without making payment, because, according to Manu, Shurdas have been created only for serving the Brahmins.
The king is expected to strictly enforce this unjust and undemocratic system. For example, according to Manu, if a lower varna person adopts the occupation of a higher varna, the king ought to expel him from his kingdom after depriving him ought to expel him from his kingdom after depriving him of all his property. So, Ram was only performing his varna-dharma (caste-duty) as a Kshatriya when he killed Shambuka on a Brahmin's complaint. In his overzealous defence of the varna-dharma, he just went a step ahead of what is enjoined by the Hindu dharma-shastras like Manusmriti him from his kingdom. Naturally, this became a fitting occasion for the overjoyed devas as showering flowers on Ram for his noble deed!
This story of Shambuka from Ramayana seems to have a symbolic significance as well. If Shyudras are allowed to do things reserved exclusively for Brahmins, it will lead to the collapse-death-of the varna-vyavastha or Brahminism. Ram gave a new lease of life to Brahminism when he killed Shambuka. Thus, it cannot be denied that Ramrjya, real or imaginary, was a Hindu monarchy. It was neither secular nor democratic. Therefore, it cannot be regarded as an ideal for present-day India
As recorded by Valmiki, soon after becoming the king of Ayodhya Ram banished Sita, who was in an advanced stage of pregnancy, to a jungle. This disgraceful event is often used by some apologists of Ram was not a projecting him as a democrat and an ideal king. In fact, nothing could be farther from the truth. First, Ram was not a democrat but a monarch. Secondly, Rama's cruel behavior with Sita cannot be justified even from a democratic point of view. Sita's chastity was not a public issue on which Ram had to be guided by public opinion. If Ram, as a husband, was convinced malicious gossip and rumours about her, or else ignored them. Alternatively, if he thought that the criticism, though unwarranted, made his position as a king untenable, he could have renounced his throne. Instead he chose the easy way out of banishing Sita and that for too, deceptively without even informing her. It seems that for him his own "honour" was more important than anything else.
Ram's obsession, like a typical Kshatriya, with his "honour" is also brought out by what he said to Sita after defeating Ravana and recovering her;
"I have got you as a prize in a war after conquering my enemy, your captor. I have recovered my honour and punished my enemy. People have witnessed my military prowess and I am glad my labours have been rewarded. I came here to kill Ravana and wash off the dishonor. I did not take this trouble for your sake….
"I suspect your conduct. You must have been spoiled by Ravana. Your very sight is revolting to me. Oh, you daughter of Janaka, I allow you to go anywhere you like. I have nothing to do with you. I conquered you think that Ravana would have failed to enjoy a woman as beautiful as you are."
When Gandhi talked about Ramrajya, did he mean the kind of political system described in Valmiki's Ramayana? Obviously not. Here are some excerpts:
"By political independence I do not mean an imitation of the British House of Commons, or the Soviet rule of Russia or the Fascist rule of Italy or the Nazi rule of Germany. – I have described it as Ramajya, i.e. sovereignty of the people based on pure moral authority."
Again, "Swaraj is synonymous with Ramaraj-the establishment of the kingdom of Righteousness on earth."
In fact, Gandhi favored a decentralized political system with each village unit being a self-reliant and self-governing republic as far as possible. He was an admirer of Thoreau's maxim- "That government is the beat which governs the least." "Gandhi's ideal political system was a kind of enlightened anarchy.
As far as vara-vyavastha is concerned, Gandhi was in its favour, though he gave it an interpretation of his own. He regarded vara-vyavastha as a "healthy division of work based on birth". which takes into account the "natural tendencies'" of human beings and avoid "unworthy competition" At one stage, he even supported restrictions on interdining and intermarriage and regarded them as "essential for the rapid evolution of the soul". Mercifully, he later moved away from these orthodox ideas and started supporting intercaste marriage. He was strongly opposed to untouchability which he described as the "scourge" of the Hindu society. Thus, though Gandhi was opposed to caste and untouchability, inconsistently enough he continued supporting vara-vyavastha based on birth. However, according to him, had nothing to do with the feeling of inferiority and superiority or with prohibition against intetmarriage.
Gandhi's views on vara-vyavastha can hardly be described as satisfactory from a rationalist and humanist point of view, but still, in spite of his fascination for Ram and Ramrajya, he did not approve of the killing of Shambuka, the Shurda, by Ram, Here is what he had to say about it: "The story of a Shudra having been punished by Ram chandra for daring to learn the Vedas Rama, I reject as an interpolation. And in any event, I worship Rama, the perfect being of my conception, not a historical person, fact about whose life may vary with the progress of new historical discoveries and researches I cannot myself subscribe to the prohibition against Shudras learning the Vedas."
Further, "Let me clear the issue by dismissing from consideration the celebrated story of a Shurda said to have had his head cut off by Rama by reason of his having dared to become a sannyasi. I do not read Shastras literally, certainly not as history. The story of the decapitation of Shambuka is not in keeping with the general character of Rama. And whatever may be said the various Ramayans I hold Rama to be incapable of having decapitated a Shudra or for that matter anyone else,"
Thus, Gandhi had tried to explain away the story of Shambuka as an interpolation: a convenient method for explaining away inconvenient passages in religious scriptures! Be that as it may, it is more than clear that when Gandhi talked of Ramrajya, he did not mean literally the kind of social and political system described in Valmiki's Ramayana. The term Ramrajya was descriptively inappropriate for Gandhi's social and political vision, It is also not proper to use Ramrajya as a synonym for "ideal or perfect society" because Ramrajya, as portrayed by Valmiki, is not at an ideal from a secular and democratic point of view or even from the Gandhi's point of view. Gandhi could have easily confined himself to using a secular and descriptively more appropriate word gramswaraj for describing his social and political ideal. Yet he frequently used the term Ramrajya, Why?
We may conjecture that the term Ramrajya was used by Gandhi, inspite of being descriptively inappropriate, because of its emotive potential: it was more likely to enthuse the masses. This, however, brings us to the crux of the problem. The term Ramrajya may enthuse a conservative and orthodox Hindu, but why will it enthuse a Buddhist, a Christian, a Muslim or a rationalist and humanist or even liberal and enlightened Hindu who does not believe in monarchy and vara-vyavastha?
The point is that, by using term 'Ramrajya' for a secular political ideal, Gandhi was needlessly mixing religion with political and restricting his appeal to conservative Hindus. That the use of religion for attaining secular political ends is a double-edged weapon was proved by his own tragic assassination by a Hindu fanatic. On top of it, the BJP and the RSS are, at present, profusely quoting Gandhi to justify their blatant misuse of Rama and Hindu religion for capturing political power. In the light of all this, it ought to be clear beyond doubt that the use of the term Ramrajya by Gandhi was not desirable either from a descriptive or from an emotive point of view. The BJP is being rightly blamed for mixing religion with politics and thus departing from the norm of secularism. But, then, this is a mistake which was also committed by the "father" of our divided nation.