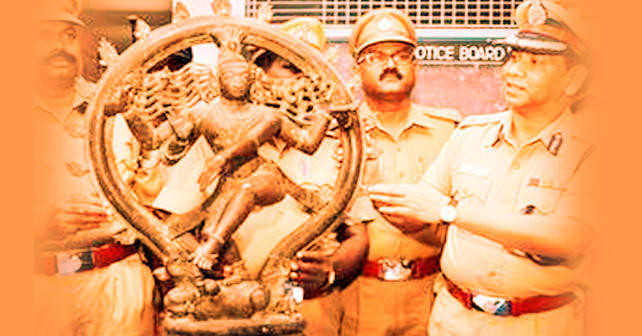 Dr.PALANY ARANGASAMY
The idols are supposed to be the gods and goddesses of Hindu pantheon in India with miraculous powers said to have been attributed.  Hundreds of people gather to offer their prayers and the secular Governments of states abet them by arranging transport facilities.  Festivals, coronations, anointing ceremonies on auspicious days are celebrated with fanfare and publicity and gullible people are made to believe that the divinities are inherently endowed with powers either to bless or curse the people as the case may be.
Regional dailies recently reported about a robbery of two panchaloka idols worth of three crores of rupees from a temple at Warangal in Andhra Pradesh.  Years back, it had been reported in  The Times of India that two costly idols of Lord Jagnnath and his consort Narayani have been stolen by a gang from the sanctum sanctorum of Puri Temple in Bhubaneswar, Odisha.  Golden Crown, Jewellery worth lakhs, ornaments worth several lakhs were burgled from various temples of Orissa in the course of a few months earlier, it is added.  Allahabad police have nabbed an idol lifter and recovered four rare ashtadatu idols from him.  Immediate reaction to all these sporadic burglaries committed all over India is, neither a surprise nor a shock because of similar off and on news for over three or four decades.  Temple robbery has become an organized crime nationally for an  international sales.
Cases of priests murdered in the temple itself are not wanting.  One is tempted to say that God, if there is any, is neither capable of safeguarding himself nor the life of his attendant.  However, these cases are customarily booked by the police, offenders prosecuted and penalized wherever possible.  The idol – theft wing of the police undergo the rigmarole of legal process and the maximum punishment under Sections of IPC 457, 380 and 295 is six months jail, if the offence is proved.  These thefts are not carried out by the iconoclasts or by the rationalists even though they are critical of theism.  These are done by certain organised gangs perhaps with the connivance of bigwigs and even pseudo – religionists.
Sanctum Sanctorum where the idol is consecrated is no longer a place of sanctity.  A few years back, a Brahmin – priest Devanathan ravished the modesty of a flower – girl in the sanctorum itself and got imprisoned.  Where has gone the holiness of the idol and of the temple at large?  The organized crime of idol theft is also in a way a blessing in disguise and proves to be dialectically advantageous, to the rationalists by proving that there is no halo of holiness around the idol.  Be in metal or in wood or in terracota, it is only a material and nothing more than that.
The aim here is not to analyze the legal implications of idol – theft.  Neither it is to plead for a stringent punishment to the offenders nor to ask of tightening the security for the endangered species called 'Gods'.  The fact remains that even heavier penalties did not deter the offenders from their nefarious activities.  Ridiculous it is that what was deemed to be omnipresent power is clandestinely transported for sale in  foreign countries.  It is for the gangsters, a costly piece of metallic sculpture.  That is what, it is worthy of.
These idols that are prayed in India are sold out in foreign countries, not for prayer but to serve as artefacts in the luxurious halls and parlours of rich mansions. In other words, a God of Orient is a mere object of adornment in Occident. Should this be not an eye opener to the murky and foolhardy devotees of our country that it is no use  in praying  the idols?
The idols are supposed to be the gods and goddesses of Hindu pantheon in India with miraculous powers said to have been attributed.  Hundreds of people gather to offer their prayers and the secular Governments of States abet them by arranging transport facilities.  Festivals, coronations, anointing ceremonies on auspicious days are celebrated with fanfare and publicity and gullible people are made to believe that the divinities are inherently endowed with powers either to bless or curse the people as the case may be.  Pontiffs and mutt-heads there are, to champion the cause of religion.  The commoners sheepishly offer prayers and spend lavishly on religious ceremonies.  However, a few among these gullible were very much conscious of the foolishness of idolization and felt within, that the meaningless fanfare must be put an end to, at one stage or other.
The ancient siddhars and mystics, though spiritualistic in their attitude, were nonetheless agnostic. In their  innumerable ballads and songs,  they have derided  the  stony idols  and preached the public to rely on their conscience  But their poetic utterances did not go to the grass roots to retrieve the masses from the morass of superstition and rituals.  Among the moderns, Poet Subramanya Bharati unambiguously condemned the religions.  He also advocated the concept of liberal theism.  This he did, on the one hand but adored many a god-head on the other.  This dichotomy of Bharati plus his focus on  patriotism outweighed his objective rationalism, if there is any.
This murkiness in social – religious scenario in Tamil Nadu went on reaping its dividends until the historic arrival of Thanthai Periyar on the scene.  He was ruthless in exposing the hollow claims of saints and sages and effected a frontal attack against religions.  He unequivocally condemned the idoiotic scriptures and foolish mythologies that perpetuate the notion of gods.  His plain, transparent speech in colloquial idiom pierced the heart and mind of the rural masses.  But the superstition was so steeped in the country for over hundreds of years past among millions and millions of people that an attack of Periyar succeeded in creating an impact among a section of the public though not annulled the foolishness of the orthodoxy to the core.
In the course of his more than five decades of active social reformation, roughly from 1940 onwards until his demise in 1973, Periyar did not mince matters in outrightly condemning  religious chauvinism.  "The day when a spirit of enquiry and research began, the god died a natural death",  he asserted.  As a symbolic act of condemning religion and god, Periyar began the campaign of breaking the idols of elephant – headed god Vinayaka as early as July 1953 on the birth day of Buddha.  The choice of the day was significant in view of the fact that Buddha was an earlier humanist – rationalist.
Historically this Vinayaka icon was brought to Tamil Nadu by a Pallava commander as a trophy of his victorious military expedition over Chalukyas in the 6th century A.D.  It is a case of inter-state transportation of Vinayaka idol from Vadhabi, in Karnataka to Tamil Nadu.  What a source of bitterness, fury, calamity and chaos, the idol of  Vinayaka is creating today on the day of  Vinayaka Chaturthi.
There had arisen a great hubbub in those days against Periyar's iconoclasm.  Irony is that those who were furious at Periyar's  rational objectivity are mute witnesses now to the miserable realism of 'gods' being shipped and sold via Bombay.  The decade – old continuous robbery of temple – icons and the culprits go scot-free in every sense of the term indicate that the very concept of god's omnipresence and omniscience seems to be a day-light mockery.  What is wrong therefore in Periyar's assertion that god is created by man and temple for that god is created by Brahminic vested interests to perpetuate their livelihood for ages together?
What saddens us is that even intelligentsia and the rich do not seem to have realized the hollowness of god and godliness.  Suffice it is, if one obeys his conscience in day to day life.  Far from this, what the richmen do at present is to go on offering cash and jewels to the temples, blissfully hoping that it is a premium to get the gates of paradise opened for them.  In a way it is a silent abetment of temple-robbers to go on enjoying the booty in the days to come.  This is how it must be looked at, in these days of frequent robbery in temples.
A mill – owner from Rajapalayam is said to have presented a couple of diamond – studded ear rings to the goddess at Tirupathi.  The Mutt – head of Kanchi is donating an emerald crown to Kumari Amman and a 25 – sovereign chain to Tiruchendur temple where a diamond – studded spear had been the source of mysterious death of a temple officer, years back.  Many temples are already the repositories of costly jewels and ornaments, giving thereby a scope for criminals to continue to plunder.  It is a comic irony that human sentries are appointed nowadays in temples to safeguard the divine beings and their costly jewels.
India that wants to emulate European countries and USA in science and technology has to follow their patronization of Human Resource development.  In most of the countries of the West, especially in Eastern Europe, the general public do not attend church services with any seriousness.  But affluent persons in the West offer their money to the reputed universities to establish think – tanks and offer subsidization of jobs such as policy analysts and planners in the well – being of mankind at large.   Various Universities in India are now state – funded and hence their defacto autonomy is almost nil.  Political intrusion is rampant there.  Let the charitable rich, therefore divert a portion of their affluence to the well being of these advanced research bodies and institutions to make them really autonomous and work – oriented.  This will pave way for India to become a country of knowledge – explosion in lieu of a miserable population – explosion.  The moribund autonomy of the Universities can be revived and the affluent can have the satisfaction of having canalized their surplus towards a noble cause.
Alfred Nobel, Rockfeller and Henry Ford are a few of the reputed names that beckon us to munificent – actions in building a nation to steer clear of religious chauvinism and foolhardy superstition.  Will the rich ever reflect on these and behave in the best interests of the nation?  Will they ever be mindful of  enabling the scientific temper to be developed?
---
"INCREASE IN SINS AND TROUBLES,-REASON FOR RISE IN TEMPLE INCOME"
Temples are the good avenues for the mobilization of State revenue. If revenue is required further or in case the revenue fell down, the kings of those ancient days would stage manage during night hours making anonymous clarion calls to the dwellers of the area to raise a temple. Believing the calls as divine, coming down from the gods, the public would construct temple in that area and the revenue of such temples would fill up the coffers of the Kingdom. Such practice is prescribed as the  code for the ruler in the Arthasashtra of Chanakya.
Recently. Mr.N.Chandrababu Naidu, the Chief Minister of Andra Pradesh has stated that income of temples in Andra Pradesh has grown by 27 per cent. Further, he attributed  the rise in income to the growing sins and increased troubles of people, "People are committing sins. Some are facing troubles and to get rid of them they are going to temples and praying as they are facing more troubles and committing more sins They are coming to temples  offering money. It's a reality", the Chief Minister remarked during his inaugural address at the two-day conference of District Collectors.
"Not just temples… people are visiting churches and mosques for solace. Many people would go mad had there been no temples, churches or mosques," the C.M. said.
The State political Chief has vey aptly stated the purpose of existence of temples, churches and mosques.
But there appears a contradiction; it is not that people would go mad had there been no temples, churches or mosques. Without analyzing the raison detre of the so called 'sin' for their troubles and preventing the occurrence in future, out of madness only they find it a solace to go to worshipping yard and offer money for compensation. Such compensation is not the real solution except as a mode to raise the income of temples.
The permanent solution lies in  leading a  positive and rationalist way of life rectifying the past mistakes and arrest  re occurance.