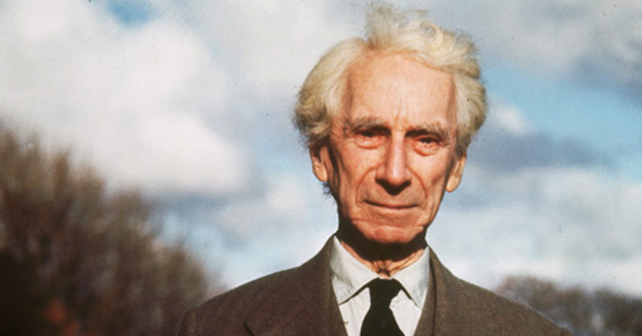 Dhaneswar Sahoo President Odisha rationalist Society
Bertrand Russell in the prologue to his Autobiography has written, "Three passions, simple but overwhelmingly strong, have governed my life: the longing for love, the search for knowledge and unbreakable pity for the suffering of mankind. These passions, like great winds, have blown me hither and thither, in a wayward course, over a deep ocean of anguish, reaching to the verge of despair." His personal admission about the passions of his life indicates his personality and so to say the philosophy of his life. Russell was a great thinker, in his own right – philosopher, scientist, educationist, politician and writer of incomparable lucidity. Besides, he was a rationalist, humanist and a great advocate of world peace and world government, to speak the least.
Russell was born on May 18,1872 at Ravenscroift near Trelleck, Monmouthshire, England in a well-known family as his grand-father, Lord John Russell, was the Prime Minister of England for two terms during the reign of Queen Victoria. Russell's mother died when he was only two years and his father passed away when he was only four years old. Russell was brought up by his grandmother. Russell's education started at home under private tutors. Then he studied in Trinity College of Cambridge University from 1890. He developed keen interest in mathematics and philosophy. After completing his graduation from Cambridge University, he was sent to Paris with an assignment to work in British embassy. His grandmother was very ambitious that Russell should join in politics. But Russell had no interest in politics and he left Paris after one year or so. In 1895 he visited Germany and studied at the university of Berlin. After return from Germany he became a fellow of Trinity college and engaged himself in academic writing and scholarly pursuits. He married Alys Pearsall Smith in 1894. He became a Fellow of the British Royal Society in 1908 and the President of 'The Aristotelian Society' in 1911. Russell and Alys got separated in 1911. In 1921 Russell married Dora Black. He visited America, Russia, China and different European countries and delivered lectures in many universities on philosophy, logic, mathematics and social issues. He entered into debate on various issues with scholars and intellectuals in different countries. He became a visiting professor at the University of Chicago until 1939. In 1927 Russell and his wife Dora started a school at Beacon Hill near Petersfield where he became the head-master and his wife the headmistress. After their divorce in 1935, he withdrew from the school. In 1936 Russell married Helen Patricia Spence but in 1952 they were separated. Russell's last marriage was in 1952 with Edith Finch which continued till his death. Russell passed away at the ripe age of 98 on 2nd February 1970.
Russell has lectured in many famous universities of U.K., USA, China and other European nations on various themes which have been published. He could not win in any parliamentary election he contested from the Labour Party in 1907, 1922 and 1923.
Some of his works constitute his magnum opus as they are great contributions to human knowledge. His work "Principia Mathematica" in three volumes with the collaboration of A.N. Whitehead deals with the foundation of mathematical reasoning. His book "A History of Western Philosophy" is a monumental work that deals with the development of human thought and ideas of all great thinkers of the western world. The ABC of Atoms, The ABC of Relativity, The Analysis of Matter and The Analysis of Mind are classics in the field of science. Logical Atomism, An Outline of Philosophy, The Problems of Philosophy, An Enquiry into Meaning and Truth, Human Knowledge: Its Scope and Limit, My Philosophical Development, Logic and Knowledge are works on epistemology and philosophy. Skeptical Essays, The Scientific Outlook, The Impact of Science on Society deal with the progress of science and scientific temper. Marriage and Morals, The Conquest of Happiness, Unpopular Essays, Human Society in Ethics and Politics are his very popular writings analysing social, ethical and cultural values of the society. What I believe, Why I am not a Christian, Religion and Science reflect his critical attitude towards theology and religious dogmatism. His writings hint at a new culture to develop secularism and secular humanism.
He was honoured nationally and internationally for his varied contribution for the development of human thought and betterment of human life and social condition. In his own country he was given the award 'Order of Merit' in 1949, the highest civil award of Great Britain. He was honoured with the Nobel Prize in 1950 for literature. In 1957 he was given UNESCO Kalinga Prize established by Biju Patanaik. Besides, he was honoured by different organizations of different countries.
So far as his philosophical position is concerned, he was a great critic of idealism and favoured realism. Idealism and realism are two incompatible metaphysical and epistemological doctrines. His classic essay "On Denoting" solved a longstanding linguistic riddle in philosophy of language. Philosophical progress gives increasing clarity and nothing is to be accepted as sacred truth.
He was a great champion of human liberty. He opposed any kind of atrocity anywhere in the world. During the Vietnam war he became a great critic of America and held the then president of America to be squarely responsible for it. Even Russell went to the extent of establishing an international war-crime tribunal to punish the guilty.
His lifelong mission was to spread peace, humanism and rationalism in the world. After discussing some of the major events of his life now we turn to his rationalism.
Russell was not only an academic luminary but also a practical rationalist and an agnostic. In the school established by him and his second wife they gave an environment to the children free from religious taboos or punishment so that they would develop scientific temper and liberal thinking. Russell's classic work "Why I am not a Christian" discards supernaturalism and religious morality. He has analysed at length all the classical arguments for the existence of God and has exposed their fallacies and inadequacies. So too the idea of immortality or disembodied existence of soul has arisen out of fear of death. The idea of immortality is a religious myth and very ironically this idea differs from religion to religion. God, immortality, heaven, hell, liberation etc. are religious speculations and any comparative study of the religions shows how these theological notions differ from religion to religion.
Russell holds that religion is based mainly on fear, fear of the mysterious, fear of defeat and fear of death. Russell systematically repudiates the view that religion makes people virtuous. But on the contrary more intense has been the religion of any period, more profound has been the dogmatic belief. So too history stands witness to the fact that religious orthodoxy has opposed progress of knowledge, promotion of human right, improvement in criminal law and mitigation of racial slavery. Until the advent of modern science and humanistic vision of life, mankind has lived in perpetual fear and mutual hatred. Religious fundamentalism has spread a lot of intolerance and cruelty in the world. Every religious community holds that their faith does good and other faiths do harm and out of this notion so much of hatred and bitterness prevails in the world. Each religion has its own myth and dogma. Dogma demands authority to spread but not rational thought. In human history it is found that religious fanaticism has given rise to a lot of cruelties and bloodshed.
Even though there is neither empirical evidence nor rational basis to believe in God or supernatural power, still people believe in God and religious myths. People believe in supernatural power because, Russell thinks, they have been taught from early infancy to do it. What they learn from childhood remains in their psyche throughout their life unless they expand their intellectual horizon to understand the progress of ideas and science. Psychology plays a role here. The feeling that there is a big brother to save us in difficulty is a motivating factor to believe in supernatural power even if it is unreal and imaginary.
In an essay "The Faith of a Rationalist" Russell has expressed that the sources of his opinions, both theoretical and practical, spring ultimately from two qualities such as kindly feeling and veracity. About veracity Russell holds that something can be believed on the basis of evidence; and not because a belief is comfortable or a source of pleasure. Knowledge of science is always supported by evidence. What is not supported by evidence is not science. So much of dogmas, superstitions and false beliefs prevails in the society that cause ignorance and suffering. Knowledge of science has unveiled truth. So veracity connotes love of truth, i.e. truth based on evidence. In the absence of truth or veracity kindly feeling will be defeated by self-deception. There are many evil myths that add to human suffering and anguish. No supernatural belief or reason is necessary to make people have kindly feeling. Kindly feeling is a humanistic concern and through this human race can achieve happiness.
Russell's in depth study of human civilization and reflection on human situation helps him to develop a very rational approach to life. He insists that by promoting veracity and kindly feeling we can hope for a better and much happier world. Modern science and technology can greatly help to mitigate human suffering to the greatest possible extent. Science can enhance the material well-being of humanity but without sense of sympathy or justice it can turn to be a very bad master. Neither religion nor ascerticism has promoted kindliness or virtue in society.
So Russell's rationalism is a synthesis of two basic ideals such as search for veracity and inculcation of kindly feeling. Human predicament can be ameliorated and a new world can evolve by adhering to his rationalism.