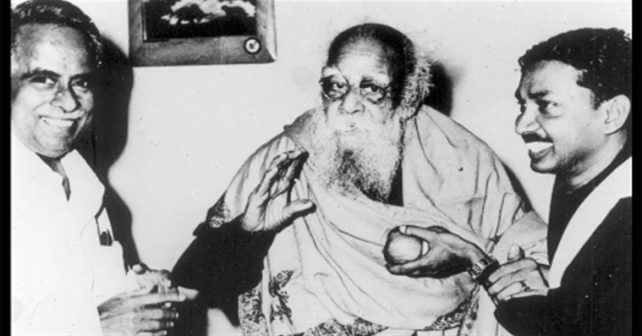 Prof. Ayyasamy
Anna addressed the same Senguntha Youth Conference at Tirupur of which Periyar was the chief guest. Periyar was greatly impressed with the young student's performance and met him after the Conference. The conversation was the briefest, possibly, in the entire history. Both the leader and young man found that they were seeing eye to eye on social matters which were dear to both of them. The policies for which Periyar stood and Anna was preparing himself to fight for were matter of life and death to both of them.
Periyar's question was straightforward and could have sounded as mere courtesy, though his mind was already made up. After learning that the youngster was doing his master's degree in Chennai, he asked, "Are you interested in taking up of job after completing your studies?" When Anna replied in the negative, Periyar's reaction was instantaneous. He said, "Then why don't you come and join me?" Anna said, "Yes," and the die was cast.
When he boarded the train for Erode after completing his studies,  Anna was full of excitement. He was aware that he was entering a brave new world, with fresh perspectives, unusual thinking, and different values; and he was mentally prepared for it. In fact, he very much craved to enter that world. He was aware that all the education he had been getting through the family, the society and the university would be of little avail in that world. He would later say, "When I boarded the train, I left behind all that I had been learning so far".
Once he reached Erode, he became part and parcel of the Movement and a trusted confidant of Periyar. He said, Periyar adopted him as his own son. Periyar, who was at times stern with others, was always kind and considerate towards Anna, which the latter used to recall with warmth throughout his life. Anna, on his part, never disappointed his mentor.
Periyar used to go to every nook and corner of Tamil Nadu, without any reservation, braving all odds, for, not only the territory to be covered was inhospitable, but even the people inheriting them were. Anna says that not infrequently Periyar used to get menacing letters, threatening him with dire consequences that did not deter him in the least, but goaded him on and Anna deemed it a privilege to accompany him, inspite of being fully aware of what lay in store for him. For, Anna had very often witnessed a change of heart come over in the people. Many were the occasions when the detractors who threatened and insulted Periyar went back full of reverence and admiration. Such was the magic of Periyar's personality.
It was obvious that they were taking on a strong and well entrenched enemy whose fortress appeared to be impregnable, having withstood many a storm for ages. Making people give up the traditions which they had been caringly and painstakingly nurturing for centuries and which they considered not only to be of immense benefit to them, but also sacred, was no easy task. The knowledge that he was engaged in one of the most challenging endeavours filled Anna with joy, quelling all fear and trepidation. He felt immensely happy that he happened to be with Periyar, making history, adding a new leaf to it every day. Periyar was aware that this was going to be a prolonged battle.
It was with this goal in mind that Periyar formed the Self – Respect Movement, which was meant to restore the self respect of the Dravidians who were wallowing in ignorance and superstition, enduring their servility with a sense of resignation.
Instead of founding a new party, Periyar decided to convert the Justice Party into a mass movement with the avowed goal of restoring the self respect of the Dravidian masses. Since Anna saw eye to eye with him in all matters, Periyar made Anna introduce a resolution in the Justice Party Conference convened at Salem in 1944, changing the name of the party into Dravidar Kazhagam and adopting its goal as liberating the masses from subjugation and exploitation. The resolution was passed and the Movement entered a new phase under the leadership of Periyar. It became a mass Movement and developed a strong mass base.
Periyar's entire life was spent in propagating his ideals, enlightening the masses and empowering them and freeing them from the evil forces which kept them enslaved for ever and ever. He spoke to the people in detail on how in the name of scriptures and tradition, they had been hookwinked and looted. He explored the hollowness of the scriptures and assured people then there was nothing in them that they had to be sacred of.
Anna, on his part, picturised to them the glory that was lost. Before, the advent of Aryanism, when the Dravidians were free to design their own life, they had been leading a life of plenty and prosperity based on justice and fair play. Their language, Tamil, Anna pointed out, was one of the richest, most cultured and most ancient in the world and every Tamil had the right to feel proud of it.
Soon, the Movement encompassed the entire Tamil speaking world, becoming a beacon for the community and a searchlight for its opponents. The opponents could not withstand the onslaught of the Movement. At least, their influence waned and South India became known as Periyar's land, and justifiably so.
When parting ways with Periyar in 1949, Anna assured the people that Dravidar Kazhagam  and the newly born Dravida Munnetra Kazhagam would function in unison, like a double barreled gun, and he kept his word till the end. Working with the same goal but in different areas, the mentor and the disciple have freed the land from the dark forces of Aryanism and usher`ed in the dawn of justice and fairplay, though there is yet a lot to be done in that direction
You conduct yourselves according to what you deem proper, after an inquiry aided by reason. This is what I call reform.