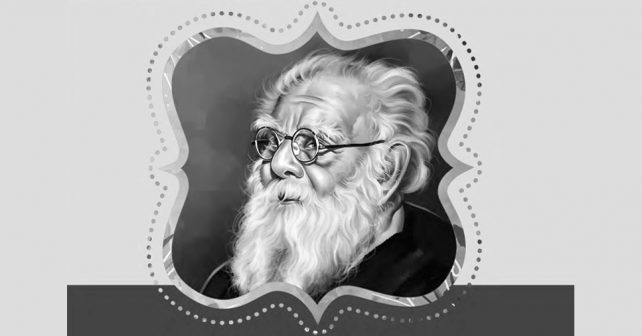 G.Olivannan
Treasurer of Book Sellers and Publishers Association of south india
In the winter of 1931, in a dingy fourth class cabin of a ship cramped with people and goods, a fifty-two-year-old man sporting a flowing white beard found himself a comfortable small place on the top of a coal sack. Located at the lowest deck in the ship, the fourth class was meant for soldiers and poor labourers who could not afford the higher compartments. Rationed food comprising boiled potatoes, millet, groundnuts and buns was served twice to the passengers. The man had just recovered from a fever and was troubled with occasional cough. He hailed from a wealthy family and could have easily afforded a comfortable cabin in ship. But he chose to travel in the fourth class as his trip was neither for business nor for pleasure. He was on a mission to learn about the functioning of the political and social movements of different nations and how these factors contribute to the socio-political and economic development of their respective societies. The man was none other than Periyar E.V.Ramasamy.
On December 13, 1931, Periyar accompanied by S Ramanathan and Erode Ramu embarked on a ten-month visit to Europe. En route, he halted at Colombo for a few days and addressed several meetings there, talking mainly against superstition, caste and religion. He addressed the Adi Dravida Association much against the wishes of caste Hindus. In his speech he asserted that the empowerment of Adi Dravidas would be possible only when the entire community joined hands and fought against caste prejudices and atrocities. The next months went in visiting countries like Egypt, Greece, Turkey, Russia, Germany, England, Spain, France, Portugal and Russia. Reading the Communist Manifesto had sparked his interest in the Russians and Periyar was impressed with the functioning of the government in Russia. In June 1932, at Barnsley, England, he addressed a historic gathering of 30,000 workers affiliated to the labour party in the presence of Geroge Lanbury, a social reformer who led the British Labour Party. Interestingly in his address, Periyar mockingly told the labour leader how contrary to their ideals in England, the British government meted out ill-treatment to the `labour-class' people in India. Periyar also visited the offices of the various communist fronts in Great Britain and met Shapurji Saklatvala, the first British Communist member of parliament. In Germany, Periyar visited various socialistic organisations and a nude society to understand their perspective of life.
For Periyar, the primary motive behind the trip was to understand the functioning of other progressive movements in the world before setting out his own Self-Respect Movement. On his return, he wrote articles on the political, social and economic scenario, administration and justice system of the countries he visited in his party organ `Kudi Arasu'.
Earlier in 1929, Periyar had visited Malaysia at the invitation of friends who had shown keen interest in strengthening the Self-Respect Movement in the country. `He sailed from Nagapattinam port on December 15. More than 50,000 people had received him at Penang port. In his address to people in several cities of Malaysia and Singapore, Periyar was vociferous in demanding people to discourage religion and religious practices and concentrate on economic growth instead. He appealed to the Malaysian Tamils not to return to India and instead become citizens of Malaysia. It was during this trip that Periyar started to grow his trademark long white beard, which he never parted with until his death. Periyar visited Malaysia again in 1954, with the trip coinciding with the International Buddhist Conference in November, 1954 in Burma. After a two-week stay in Burma he came to Penang on December 11. Incidentally, at a conference in Burma he met B.R.Ambedkar. While Ambedkar tried persuading Periyar to embrace Buddhism, Periyar told him that strategically he preferred to remain in the `Hindu' fold to challenge it from within.
Periyar never completely relied on secondary data. He believed in his own exploration and sought knowledge with the bent of a researcher. In the pursuit of that knowledge, he was never hesitant to travel either within India or abroad despite the discomforts of the journey.   After all he had chosen a path less travelled by others.
Courtesy : 'The Times of India' – 20th September 2016