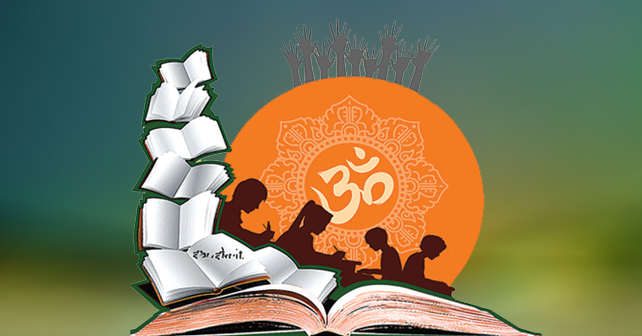 nietzsche
Open – mindedness and unbiased approach towards the pre-historical assumptions, correlating advanced medical practices and mathematical models with respective suitable proofs alone will reflect intellectual honesty in any claim!
In modern science, any fact that needs popular concurrence and practice requires adequate proof. Mere practice and its beneficial effect cannot be accepted as principle and practice of science. In ancient period, the people were contended with mere practice and reap benefits. Due to this nature of practice of any deviated deed of widespread benefit became popular. There were no clear-cut historical certainties on who had commenced such deeds. Such deeds got reflected in the then prevailing   and later forming literary works in an exaggerated manner with some sort of fancy . Such sort of literatures became mythical and the glory of such mythical literature continued on mere belief that too a blind one. Such sort of literary inscriptions acquired holy status in religious fields. Consequently the mythical beliefs were projected as science by vested interests without any base and started to stake claim that their beliefs are on scientific foundation.
Such sort of staking claim of mythical belief as science and as history is more in practice in Hindu religion. Such claim has gained momentum   by the Vedic religious forces viz., Hindutva brigades in the present political regime which owes allegiance to the Hindu superstition despite the Constitutional emphasis of secular functioning of the State. Such claims are lodged forcefully even at science congress, wherein such claims have become laughing stock for the bona-fide scientists. In any platform, including government sponsored educational bodies such claims are being carried out consistently despite the subject matter of their claims being   inconsistent with science. The claim of approach adopted by the saffron forces may be termed as Hinducentrism.
Hinducentrism is being observed in most vital educational channels so that it can reach multitude of youngsters. Eric Hobsbawm, British historian points out,  "Outright lies for it breeds double think and creates an impression of a glorious past".  This is more applicable to Hinducentrism.
History
During the pre historic period, whatever culture, life style might have  prevailed, it could be concluded only through the archaeological excavations and the available exhibits. To arrive at a conclusion about the pre historical period, more of assumptions (not blind assumption but based on the material – exhibits and the inscriptions made over them) are the bases.  Since there are certain texts mentioned in the Vedas and Puranas, the periods of which could be arrived at to the possible extent, should not be attributed to the earlier periods . For instance, Indus Valley Civilization (2600 – 1900 BCE) which prevailed during the pre-historical period is deliberately linked through fabricated means to the much later culture of Vedic period (1500 – 500 BCE). The animal viz., horse which was glorified for performing rituals like aswametha yagna is linked to Indus Valley Civilization, for which no excavated evidence or other type of proof carvings are available. On the contrary 'oxen' was popular in Indus Valley civilization period. Hinducentrism tried to project the horse as the popular animal of Indus Valley civilization and its claim has been refuted strongly by true historians of academic and archeological eminence. Such attempt of making claim is kept in abeyance by Hinducentrism, built on Shakha culture which respects no boundaries between myth and facts of history.  Meera Nanda, historian and philosopher of science exposes, "Shakha interpretations are replete with anachronistic history in which ideas, aspirations, motivations and desires of the present are read back into the past."
'The claim of Hindu historian nationalists at the forum of academicians would be easily efuted when it is allowed for public debate and discussion. But educational bodies have been converted as Hindu nationalist forums, and academicians are inducted into the posts at the helm of affairs who are significant more as saffron outfits rather than their identity of scholarship in the respective educational fields. Any engineered historical output is inducted in educational and academic curriculum; it will acquire the status of scholarliness. Predicting the mythical claim of saffron outfits, the late Anna (endearing form of calling C.N.Annadurai (1909 – 1969), the prime disciple of the social revolutionary Periyar E.V.Ramasamy (1879 – 1973 ) expressed very aptly "It anything mythical is conveyed in scholarly manner, the acceptability of it would be easier and effective." Indian Historical Congress is one such education body, wherein the genuine historians have resigned from their position, owing to the dominance and indifferent attitude of saffron minded academicians who were inducted into it to do top level responsibilities.
The syllabus of school studies has been designed to the promotion of saffron ideology. For instance, in the State of Gujarat, which is being ruled by the Saffron political forces, for quite a long time  they have projected Hitler a genocide dictator, whom the entire human lovers of the world would curse, as a glorious leader for emulation by the youngsters. The reason for such glorification of Hitler is his identity with Swasthik logo (   ), the symbol of Aryan superiority. Poisoning the minds of posterity with mythical venom, by adopting scholarly approach is the functional style of Hinducentrism.
Science
Systematic efforts are being taken up by saffron forces for "fitting modern science into the Vedic frame work". The Hindus have been exhorted to assert the superiority of their dharmic traditions. They want to project Vedas as the mother of science. Meera Nanda points out that the claim of organic unity between the Vedic world view and modern science has been the agenda of Hindu nationalists from the very beginning. The claim is:  "In practical terms, it would involve translating modern scientific concepts as mere subjects of Vedic categories: thus for example, physicists concept of energy – a precise and quantifiable capacity of a system to perform work will have to be interpreted as a gross level subtype of Shakti or 'intelligent energy', known to the yogic adepts, the entire field of physics, because it deals with causation, will become an 'empirical' species of Karma theory." Ah! How does the Hindu nationalist claim their mythical theory in a scientific manner!
The famous Ganesha speech of Prime Minister Modi in 2014 and the proceedings of the Indian Science Congress are well known. By quoting the elephant headed human body of Lord Ganesh, it is being claimed for the prevalence plastic surgery of medical science in ancient days. The cell-nucleus structure of elephant and human are entirely different. The chromosomal counts are also different with 23 and 28 haploid chromosomes in the somatic cells of elephant and human respectively. The current medical science is well aware of chromosomal count variations but ancient period it was unknown. Compatibility of somatic cells of elephant and humans is mythical and it cannot rest on scientific principles. Hindu nationalists fail to understand and accept this hard reality. Even then, they  strongly claim that plastic surgery prevailed during Vedic period.
Science cannot be twisted depending upon the nature of mystical characters. Science is built on significant proof. Even intermittent theories have been debased by the subsequent proofs. Charles Darwin (1809 – 1882), natural scientist founded the 'Theory of Evolution'. But he contended that traits were inherited through the blending of 'gemmules' – tiny particles that were supposedly shed into the blood by all the cells of the body which was proved wrong after the Gregor Mendel (1822-1884) sustained that somatic cells do not have any role in the inheritance of traits of species from one filial generation to the next. Gene became the discrete unit of heredity in the 20th century. Similarly, Isaac Newton (1643-1727) invented and founded two comprehensive and successful physical theories viz., Laws of Motion and Law of Gravitation in 16th century. In 20th century, the long-held theories of Newton were shown not to be correct in all circumstances. In the ever-changing environ, science theories are subject to be perceived differently, which are proved with later studies. When science theories which are once founded, can change with science development, how can an unquestionable, mythical and static belief in scriptures could be considered as science?  The mythical claim of its organic unity in the modern science is unsustainable; it is incompatible and cannot last.
Mathematics
The earliest prevalence of Indian mathematical knowledge goes to the period of Indus Valley civilization. Even though the period is pre historical, the excavations in Mohenjo daro, Harappa remain as proof. The people of this civilization made bricks whose dimension was in the proportion of 4 : 2 : 1, considered favourable for the stability of a brick structure. As documented in 'Elements of History and Philosophy of Science', edited by Ephraim – Stephen Essien and Iniobong Umotong, 2013, they tried to standardise measurement of length to a high degree of accuracy. They designed a ruler – the Mohenjo daro ruler – whose unit of length (approximately 1.32 inches or 3.4 centimetres) was divided into ten equal parts. Bricks manufactured in ancient Mohenjo – daro often had dimensions that were integral multiples of this unit of length.
Instead of staking claim over this mathematical knowledge of the ancestry, Hinducentrism tries to establish that the theorem that goes in the name of Pythagoras, a mathematician born  around 570 BCE was discovered by Baudhayana, a priest – crafts man whose work dated anywhere between 800  and 200 BCE. There exists an interpretation; since Baudhayana texts predate Pythagoras, it is assumed that Pythagoras must have travelled to India and learned the theorem. The longstanding demand of Hinducentric historians that the theorem should be renamed "Baudhayana Theorem".
Meera Nanda disputes the claim thus:
All the claims about Bandhayana's priority are false. The claim of Hindu centric historian evaporates the moment one looks beyond India to see what was going on in other major civilizations around the time when the 'Sulvasutras', the text of Baudhayana were composed. At least a millennium before Baudhayana was even born, Mesapotamians had figured out the relationship between the sides of a right – angle triangle described by Pythagoras theorem. Mesapotamians (and their neightbours, Egyptians) took to measuring land in order to affix the boundaries everytime the Euphrates – Tigris and the Nile would flood and wash away the existing boundaries.
All these practitioners of the theorem did not give any proof. The first proof came from the Chinese around the time of Confucius (approximately 600 BCE). Further Meera Nanda quotes that the Chinese evidence comes from a text called Chou Pei Suan Ching. Later, Han dynasty (3rd Century BCE) mathematical texts formalized the theorem and name it kou-ku (or (gou – gu) theorem. The Chinese achievement brings us to the issue of proof. The Sulvasutras being manuals for constructing altars … They do not set out to prove or justify the rules of geometry … The first Indian proof of this theorem comes only from Bhaskara in the 12th  century and as the eminent historian of Chinese science Joseph Needham and many others have pointed out, Bhaskara's proof was an 'exact reproduction' of the Chinese Hsuan – third diagram from Chou Pei."
"When science theories which are once founded, can change with science development, how can an unquestionable, mythical and static belief in scriptures could be considered as science?"
Is there any intellectual honesty on the part of Hindu centric science – historians to stake claim for the theorem, for which they did not establish any original proof in priority? The copied version of the proof of much later period did not support their claims.
The founders of Dravidian political party in late 1950s used to point out during the political campaigns, the strategic approach of Joseph Goebbels, the lieutenant of Nazi leader Adolf Hitler thus:  "If you state a wrong statement and make false claim repeatedly, people would start to believe them as truth".
Anna used this quote to dispel the utterances of the political opponents. The quote exactly applies to the Vedic and mythical claim of Hindu centrics which is founded on the supremacy of Aryan over the rest of culturally opponent civilizations many of which are of higher order both in contents and antiquity.
(The article of Meera Nanada and the arguments put forth in it with due documents and academic proof are duly acknowledged,
which inspired this cover story article)