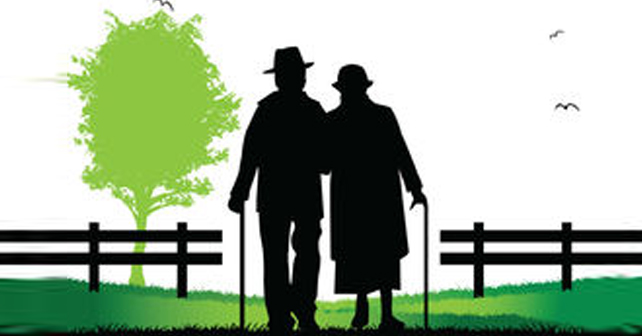 S.Rajaratnam
prolific Writer and Renowned Tax Consultant
"Crabbed age and youth cannot live together;
Youth is full of pleasance, age is full of care;
Youth like summer morn, age like winter weather;
Youth like summer brave, age like winter bare."
– Shakespeare in  "Passionate Pilgrim"
An age, which exceeds a normal life expectancy of human being in the life circle, is normally known as old age. The aged adults are more acceptable by the appellation as senior citizens. The organic process of ageing is senescence and medical study of ageing process is gerontology, while medical treatment for them is known as geriatrics. The elders besides physical also have social issues like retirement, loneliness and other psychological aspects of ageing. There is a growing interest  as to the need for keeping the elders, who become frail and the infirm in some comfort before death overtakes them. United Nations held a special convention for protection of the aged persons.
When does a person become old?
Life circle consists of youth, middle age and old age. Middle age stretches with improvement of health and life expectation. United Nations has agreed 60 plus as old age, so does the Income Tax Department in India for concessions for senior citizens with another category of super seniors, who are 80 and above treated even more liberally. World Health Organisation, however, set 50 as the beginning of the old age for purposes of retirement. Different ages 55, 58, 60, 62 and 65 are variously accepted. There are countries, where the age of retirement is as late as 70 and it is recognised that it is only after 75, the aged become increasingly frail with mental and physical debilitation.
Society may consider a person to be old, when he becomes a grandparent. In other words, there is no precise definition of old age leading to a belief that a woman is as old as she looks and a man as old as he feels. Age of retirement is stipulated for all in Government and private service, but where services of retired employees are considered necessary, there is extension or re-employment. Age is, therefore, a poor criterion for retirement, since there are many who have already become unfit before the retirement age, while others are perfectly fit to continue.
Aged population – A burden for the economy
Aged pose a problem for any country, since they consume without contributing to the economy causing a growing burden with increased life expectation.   A recent study on China shows that it is marching towards a situation, where before the next few decades, a quarter of its population will be aged above 65 years as against only 5 per cent  a few decades earlier because of population control for past few decades.  It is feared that it will reduce China's international competitiveness with its dearth of persons in middle age with low cost labour no longer available. All over the world, the growth rate is now facing a crisis with increasing liability for old age pension, health care and rehabilitation.
Growing demand for social security for aged has sent alarm signals even in an opulent country like U.S. where it is feared that it will one day match the requirement of defence budget.
Against all odds,  it is recognised worldwide that attention to the welfare of the aged is a matter which cannot be relegated as it would  otherwise be a total lack of humanity.
Signs of old age
Gerentologists would classify the problems of age in four areas, chronological, biological, psychological and social with the fifth area known as developmental as recently recognised.
Age  for a person to be known as an aged person is not the same for every one. Marks of age are different for different people. Slowing down in advancing age is a common trait. The state of mental happiness, however, does not depend upon age. Aged are often found to be happier in their age group than with younger counterpart as was found by the studies in two U.S. Universities.
Physical marks of old age is weakness in joints, onset of age related illnesses like diabetes, hyper-tension, dental decay, slowness in digestion, body tremors, failing eye sight and hearing, lesser immunity towards common illnesses like cold, hair becoming greyer and thinner,  lack of steadiness and gait with tendency to get tripped or to fall, lesser expansion of lungs limiting the oxygen supply leading to heart and other ailments with bodily pains and skin losing its elasticity, besides urinary incontinence and weakened voice with lesser sexual drive.   The feeling of loneliness will be aggravated on parting with life partner and some dear ones.  Depressed mood due to fear of health, finance and death is not uncommon.  A minority among the old  may develop mental disorders with memory loss and Alzheimer's disease. Old age is described as the sixth stage in life described by Shakespeare through a character in "As You Like It."
"The sixth stage shifts
Into the lean and slipper'd pantaloon,
With spectacles on nose and pouch on side,
His youthful hose, well saved, a world too wide
For his shrunk shank; and his big manly voice
Turning again towards childish treble, pipes
And whistles in his sound. Last scene of all,
That ends this strange eventful history,
Is second childishness and mere oblivion,
Sans teeth, sans eyes, sans taste, sans everything."
Reaction of the family
Old age has been considered as a period of decline and decrepitude, defiling and ugly, sometimes considered as worse than death. The attitude had not been uniform as sometimes the aged are given position and status venerated by their families and the period of ageing is described as golden age.  The aged are either respected and honoured or despised and left to die unglorious death. In ancient societies, it was felt, that it was  not wrong to let them die by starvation or by administering drugs like opium, so that they may end the miseries of old age.
The present perspective
There is an increased interest in making the life of senior citizens more tolerable by providing closer attention to their health and giving various concessions like pension, discount in pricing of goods and in travel. They are no longer embodiments of shame and not to be ostracised, neglected or overlooked. A recent study in US, however, showed there is little tolerance for older people more due to what is felt to be their negative attitudes, but another study in 2014 found old age to be age of love and spreading goodwill and friendliness within the family and friends. The aged are able to enjoy life after retirement, if  they are not a burden on their families, notwithstanding their frailty and age related problems. With the help of geriatricians, a well chosen diet, exercise and engagement in activities, hobbies and interest in public affairs without  being over-concerned with the inevitable problems of old age, but dealing with them with increasing detachment, the aged can largely overcome the challenges of age.
The need for a social network for the aged  other than what is  available in the old age homes away from their near and dear ones, is felt  by integrating them with leisure activities not confined to the aged. While life expectation depends on genetics and life style, home care is still considered to be the best that can be given for the aged.
What should be done for senior citizens?
Importance of personal care for the aged is recognised. Lack of mobility makes it difficult for elders to participate in clubs or social activities. Free public transport in cities may help.  At a stage, aid becomes necessary even for eating, bathing and dressing, so that the final option is to provide a nursing home, where  professional care is available. There is  realisation  prompted by social conscience, that the aged need special attention. Society generally recognises that the elders need respect and attention, but the compulsions of economic necessities and the fact that the other members in the families have  otherwise little time for the aged makes them lonely persons. It is not surprising that the old persons have better company in grandchildren than with others as long as they are active, but not when they become solely dependant on others.
Elders in some families have to be protected from physical, financial and emotional abuse even from their dependants, so that they may be required to be separated from them.  In some advanced countries, geriatricians recommend legal  guardianship or conservatorship under the care of the Government.
State should promote and finance voluntary agencies with trained personnel to help the aged to supplement its efforts.