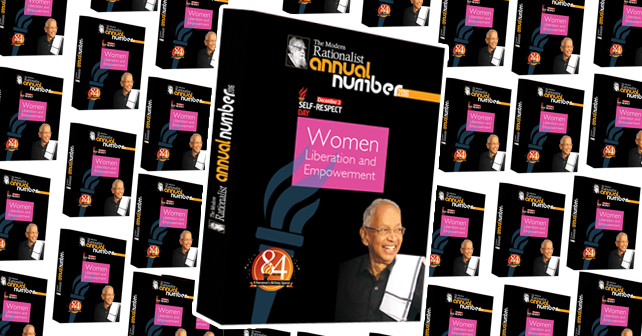 This special publication coincides with Dr.veeramani's 84th birthday.
M R VENKATESH
Just a few days ago, on January 17, as the AIADMK's founder-leader, late M G Ramachandran's birth centenary evoked an extraordinarily vibrant response from political parties across the spectrum, not just the main Dravidian parties, the Dravidar Kazhagam (DK) president, Asiriyar Dr K Veeramani, after garlanding MGR's statue in Tiruchirappalli, reiterated the need for striving for a casteless society.
It was a very thoughtful remark, with Veeramani subtly pointing to the need for revisiting the basics of the 'Dravidian Movement' launched by Periyar, who was also the founder-president of the DK, as Tamil Nadu, politically, is going through trying times in the post-Jayalalithaa scenario.
It is that spirit of the continued relevance of the social and reformist ideals of the 'Dravidian Movement' that is reflected in the 'Modern Rationalist Annual Number, 2016', published recently, with the theme, 'Women: Liberation and Empowerment'. This special publication coincides with Dr Veeramani's 84th birthday.
The entire gamut of issues related to gender discrimination, how women at the receiving end for centuries, have been empowered thanks to modern social movements and advances in scientific biology, have been dwelt upon in detail in this special number.
Various scholars, activists, academicians, and those familiar with the vast body of literature on the late rationalist thinker and social reformer, besides vignettes from the past, right from an article written by Periyar on the plight of widows, published in Kudi Arasu in 1926, have made it a very valuable collection of essays and articles for students of modern Tamil Nadu history.
Periyar was always candid, sharp and unabashed about his views, whether it was critique of 'Brahminism', or fighting 'exploitative social practices' anchored in on outmoded patriarchy under the guise of religious sanctions, like the 'Devadasi system' for instance. In fact, the DMK president, Mr M Karunanidhi, had once said that though Periyar was often accused of using language harshly and even crudely at times, it was part of a conscious communicative mode to unsettle long-held viewpoints, to deconstruct the symbols of tradition and religion that could pave way for a new way of looking at things.
This methodological approach is not new to the Indian intellectual tradition, if we take right from the days of the 'Charuvakas' to the Buddhists and the Jains who rejected the core of the 'Vedic' tradition, though Jainism later made some amends. But what marked out Periyar's approach was that it was radically modern, unafraid of the status quo and one that defined a political firebrand who walked out of the Congress on the issue of caste discrimination, and who had already made waves all-India with his role in the 'Vaikkom Satyagraha', a precursor to later Temple entry movements in South India.
And combined with opposing Sanskrit hegemony, caste oppression and giving equal importance to women's empowerment as part of the 'Self-Respect Movement', it turned a potent praxis.
That perspective imparts a progressive and contemporary ring to Periyar's reformist legacy, which has grounded socio-political changes in Tamil Nadu for a century now. The flavour of this complex phenomenology of thought and being of Periyar is not lost in this special edition of  'The Modern Rationalist'.
The various reflections on women's issues discussed in this number should be seen in this larger background of Periyar's contributions. "In the light lit by Periyar, women's liberation has transformed into women empowerment at present.
As such, 'Periyar Feminism' has shown the way for the 'Women's Liberation Mission' globally," writes Veeramani in his contribution to the special number. Periyar's role in this regard is an important chronicle from the South, on par with other leaders who had the foresight to bring women's issues to the forefront during the Indian freedom struggle.
The role of pioneers in the Women's movement in the erstwhile Madras Presidency, Dr Muthulakshmi Reddy, who piloted the historic bill in the then Assembly to abolish the 'Devadasi system', reprint of a moving article by Gopalkrishna Gandhi, former Governor of West Bengal, on the sacrifices made by MS Subbulakshmi's mother, Shanmugavadivu, until MS left her mother to join Sadasivam in Madras in 1936, insights into the lives of two women who played a very important role in Periyar's life — Nagammaiyar (1885-1933), the 'jewel of the Self-Respect Movement' and Maniammaiyar (1920-1978), 'A symbol of devotion' — as their biographer puts it- and Dr S Dharmambal (1890-1959), another pioneer in social service, are some of the historically rich pieces in this volume.
Another essay by Dr Ajay S Sekher, Sree Sankarcharya University of Sanskrit, Kalady, Kerala, on the brave woman Nangeli, who turned a martyr of women's liberation in ending a dehumanising practice of disallowing 'Avarna women' in erstwhile Travancore state from wearing upper garment, is a unique study on gender and caste in itself. Rare and colourful photographs add more value to this collector's volume.
Courtesy: Deccan Chronicle