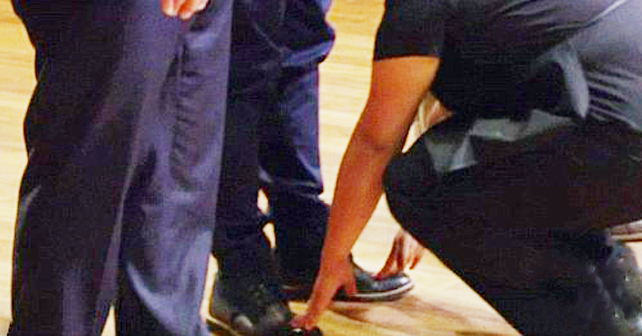 prof. A.Ayyasamy
The practice falling at other's feet is against a person's human dignity. To fall at anyone feet and, owing to that very reason, is insulting to the recipient also. When one who falls at the feet of the leader thinks that it will be to the leader's liking and expects the leader to be pleased with it, he makes the leader a small person, one who gets pleased at the other person's loss of dignity.
Konrad Lorenz, the well known behaviorist, touches upon this habit in his famous work 'On Aggression'. Early man has always been suspicious of his neighbors and hence has introduced many customs which may reassure the other person that you do not mean him any harm. One of the ways of expressing that you are harmless is to let the other person know that, you are, after all, smaller than him, too small to think of harming him. what other way to communicate this to your opponent them making yourself look small, at least smaller than your opponent, than bending yourself, dwarfing yourself, so to say.
As so many of human habits, this bending oneself became a ritual. Suppose there is a competition where you want to prove to your leader that you are more loyal than all the others around you . You try to bend yourself more and more, until you touch his feet, ostensibly out of reverence. The maximum you can do in this game is to fall that on the ground, prostrating in the leader's presence.
This culture of falling at the feet started very recently in Tamil Nadu politics, not known until the nineteen eighties. As far as I can remember I cannot recollect a single instance of any political functionary or worker falling at the leader's feet. Even Rajagopalachari who was in ripe old age was not venerated by anyone in this manner. Periyar openly decried that habit. He held the hands on anyone who tried to touch his feet out of genuinely felt reverence. Such dignified practice has become the organizational culture of Self-Respect Movement in Tamil Nadu.
Based on the appeal made by Dr.K.Veeramani, President of the parental organization for the Dravidian parties, the Working President of DMK., M.K.Stalin has advised in a very strict sense their cadres and others not to fall at his feet. It is against the self respect of the concerned individual.
The tradition entered the political period only during late leader of AIADMK Jayalalithaa's days and was carried on to the extreme. Photographs of all the cabinet ministers standing in a row with their backs bent, when she was just leaving for home after completing her day's work, got into papers and became a laughing stock of everyone. There have even been photographs of ministers touching the wheels of the helicopter the chief minister supposed to use, and looking up at the sky with joined palms.
When any one of the party functionaries was looking for some favour from the Chief Minister, he prostrated in her presence. When he wanted to make it doubly sure that his loyalty was understood by his leader, he took his wife along and both of them fell on the ground simultaneously. What an obnoxious act!
It is an act of sycophancy, simulated reverence. While carried to the extreme, it is insulting to the recipient, and smacks of hypocrisy. Sycophancy, even when it is born out of sincere loyalty, is dangerous because it makes the recipient feel elated and think that he is actually bigger than he actually is, and fills him with conceit. This conceit, or bloated ago, has been the cause of the downfall of many a leader and history is replete with instances. Conversely, it will not work with leaders with assurance, confidence and humility, who are aware of their strengths and weaknesses. They can easily see through flattery. It is heartening to know that M. K. Stalin is growing into one such leader.
It is but natural in a person who has grown in the shade of Arignar Anna and watching Kalaignar M.Karunanidhi. Of course, there has been a tradition of falling at the feet of family elders, followed in our country for centuries, but let it be confined to the families ; do not bring it into public domain. To the extent possible this habit confined to the family cirlce has also to be discontinued.