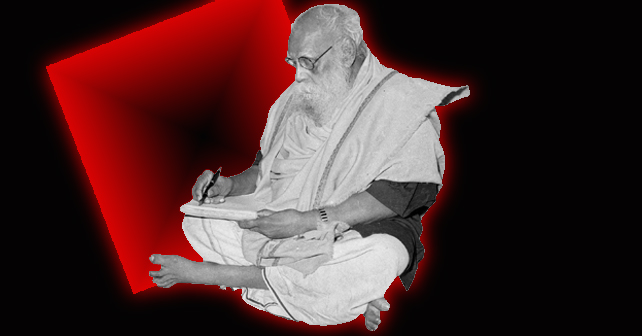 Periyar on the of his wife Nagammaiyar
My beloved life companion and sweetheart Nagammal passed away at 7.45 p.m. on 11th May 1933.  Should I feel sad about it or feel happy? Her debilitating illness and the death that followed – was it gain to me or a loss? As it is, it is impossible for me to decide.
Whatever it could be, I took Nagammal as my life partner and have lived for thirty-three years.  While it is true that I have had her as my life companion, I cannot recall if I have in any way  been a companion to her.  I have been a selfish person, a spoilt rich man, a wastrel and a debaucher. Later I took part in public life and have been a social worker.  It is an undeniable fact that on all those occasions Nagammal has been extremely supportive of me in my programme in every field.  I have been professing a lot regarding the worth of women and their emancipation, but I can in no way assert that I followed even a hundredth part of my sayings as far as my dear Nagammal was concerned.
Our scriptures have been stern and stubborn while speaking of women's servility and man's superiority.  She followed all those injunctions with utmost sincerity and I admit with a sense of shame that I have been accepting her doting behaviour.  I was aware at every moment of my life that she was living and wanted to live entirely for my sake and never for herself.  It I were to offer any explanation for accepting all this, it will be extremely inadequate.
That is, I have been making use of all her services, after my involvement in public life, for public welfare and for my Self Respect Movement.  Her participation in all my struggles during my Congress days, my Vaikom satyagraha and my Self Respect Movement are well known to everyone.
Shall I say that I have lost a slave in her demise? That I have lost my happiness? That I have lost my sensitivity?  That I have lost my will power?  Or that I have lost everything? I don't know.
Whatever it is, Nagammal's death is not a rare happening.  She has given up her life.  There is nothing unusual about it.  No one can say that Nagammal's death was premature.  Though she was only forty eight, which is a little less than half the spell of human life, if it is reckoned that the average life of an Indian is only 23 1/2 years, she has lived double the average.  Men of wisdom say that one must laugh at death and cry at birth.  Following it, I want to desist from considering Nagammal's death as a sorrowful event and loss, but take it as a happy and gainful occurrence.  I not only wish that, I feel that it is a fact.
The chapters that follow in my life may be somewhat unusual.  If Nagammal were to live to witness them, I have little doubt she would be pained and anguished on witnessing than.  Even I may be somewhat shaken, being unable to withstand her reaction.  Therefore, Nagammal's demise has given me greater freedom and I have reached a stage where I am totally freed from family burdens.
But while I am considering Nagammal's death as a happy occasion and a profitable occurrence, Nagammal would not have considered my death or my illness in the same vein.  Hence, in a way.  Nagammal having died before me is immensely good for her happiness and welfare.
Many of my close comrades would take Nagammal's demise as an irreparable loss.  I think that it is not right.  It they are a little patient and watch the events that follow, they would concur with me that Nagammal's departure has been for her good.  The real cause for Nagammal's illness has been her pangs of separation caused by my year long tour of the western countries.  Secondly, she thought my trip to Russia might be somehow dangerous to me.  Thirdly, when she learnt of my future programme, she was gripped with fear at every moment.  It was such a petty factor which caused her death.  If she had lived further, real separation, financial constraints and danger for life that were sure to follow, would have made life unbearable for her. My comrades who think of all this will not feel sorry about Nagammal's death.
For the past two or three years I have been contemplating spending the whole of my future life in touring, like Sankarachariar, (not with so much of pomp, not for collecting money) without having any permanent home or residence.  Though there is nothing to prevent me from undertaking such life, Nagammal was a great impediment.  Now that the barrier has gone, it is a happy occurrence.  Let Nagammal's demise augur well for all of us.
– Editorial; 'Kudi Arasu' – 14 May 1933.
Shall I say that I have lost a slave in her demise? That I have lost my happiness? That I have lost my sensitivity?  That I have lost my will power?  Or that I have lost everything? I don't know.