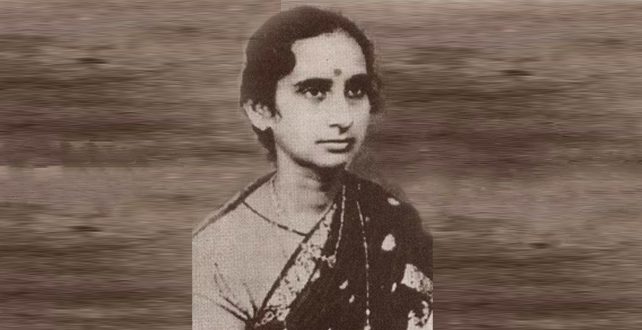 Ankita Singh
Meenambal was born is Rangoon, Burma (presently Myanmar) to the parents who had irrigated from Tamil Nadu in order to escape the oppression of the dominant caste system prevailing in colonial India.
Having been born in a renowned family associated in public life, and educated, she joined hands with Dr. B.R. Ambedkar and Periyar E.V. Ramasamy in spreading the consciousness message of the oppressed and the message of anti-caste revolution in Tamil Nadu.  At the Adi Dravidian Conference, held at Tirunelveli in 1937, she said,
"It is said that a family without unity will perish.  For this reason it must be known that a society, nation or anything else needs the strength of unity to gain its progress.  Although it will take a long time to do away with this sin of caste consciousness from our country, all the people of our community must unite together with each other to prove that we are too human beings."
Meenambal became the first Scheduled Caste woman to become a member of the Madras Corporation representing Madras University Senate .  Apart from this, she became the first Dalit woman President of the All India Scheduled Castes Federation (AISCF), the first all India political party exclusively for the Scheduled Classes started by Dr. Ambedkar.  She presided  the AISCF's national women's conference at Madras in 1944 alongside Dr. Ambedkar and then the subsequent session on May 6, 1945 held at Bombay, all the while strongly articulating the need for women's education.
Meenambal held positions like the honorary magistrate for Madras province, member of the post-war rehabilitation committee, Director of Scheduled Castes Co-operative Bank and leader of the anti-Parry corporation labour struggle.  Known fondly as the beloved sister of Dr. Ambedkar, and she was one among the women stalwarts who gave the title of  'Periyar'  or  the  Great  One  to  E.V. Ramasamy.   She was  married to N. Sivaraj, the known lawyer, politician and the right hand of Dr. Ambedkar.
Work and Later Years: A   strong   proponent   of  the  Self-Respect  Movement  (started  in  1925  by  Periyar E.V. Ramasamy) and a feminist at heart, she encouraged the women on the importance of their active participation in the fight against untouchability, oppression, caste inequality through education.  She tirelessly worked throughout her life for the oppressed community.
She left behind a rich legacy of her struggles which still serve as a beacon for the contemporary fight against caste oppression.