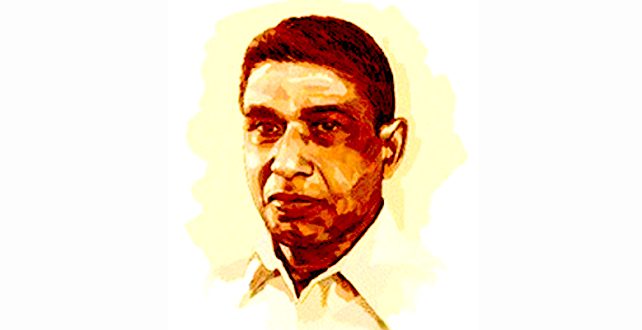 Leslie Amarson
The Centenary Celebration of Rationalist  Movement is being held on May 27, 28 & 29, May 2017 at Kozhikode, under the auspices of Kerala Yukhtivadi Sangham commemorating the Centenary of Mishrabhojan, the Inter – Caste Dining, organized by Sahodaran Ayyappan, a staunch rationalist, on 29th May 1917.  Brief contribution about the life and mission of Sahodaran Ayyappan is published in the memory of the renowned social reformer
"Sahodaran Ayyappan stands shoulder to shoulder with the great luminaries of modern India, Jothiba Phule, Periyar Ramasamy and Babasaheb Ambedkar,"  asserts his biographer M. Sahadevam, because, "nationalism never meant to Ayyappan a mere movement for transfer of power from the British to the minority of caste Hindus.  To him nation meant the whole people of the country enjoying equal rights and nationalism a condition that provides o pportunities for all to share the fortunes of the state without any discrimination."
One of the forerunners of much needed social reform of India, who selflessly struggled throughout his life, risking his own life, for establishing real equality in this caste-ridden society, Ayyappan was born in August 1889 in a little island in the Ernakulam District of Kerala.  Losing his father at the early age of two, he was brought up by his elder brother, a traditional medical practitioner of moderate means and more than moderate reputation owing to his learning, whose company was sought by such eminent social  reformers like Narayana Guru, Chattambi Swamigal and Kumaran Asan.  Their conversations left an indelible impression on the psyche of the young boy, and shaped him into a social reformer who relentlessly fought for the uplift of the oppressed masses.  His coming into contact with other social activities even before the completion of  his studies made him realize the evils of the caste system, and impressed upon him that caste system could not be eradicated unless the lower castes rose up in their own self-esteem and prepared themselves for a fight for their rights.  And Ayyappan took it as his life's mission to make the oppressed people,  Ezhavas and Pulayas, stand up and fight for their rights.
As a first step he organized inter-caste dining, wherein people of different communities would sit together at the same place and consume a meal.  As a first step, he organized a session where a handful of Ezhavas would partake a meal with Pulayas, who came a little lower to Ezhavas in the obnoxious caste system.  But both the communities were untouchable and were ill treated by the other, upper caste, people.  Yet, many Ezhavas, even the enlightened among them, would not endorse the idea of inter caste dining.  Then we can understand how vexatious the caste problem was.  Yet Ayyappan went ahead with more such inter caste – dining sessions, subjecting himself to ridicule and abject humiliation.
Vilification campaigns were not able to deter Ayyappan and his companions, who went on to found Sahodara Sangam (a forum of brotherhood) to carry on their fight.  Ironically, Ezhava organizations were against Ayyappan and they put out a false propaganda that the Ezhava spiritual leader Sri Narayana Guru did not approve of Ayyappan's move.  As a result, Sahodaran Ayyappan, as he was being known after starting his organization, approached Sri Narayana Guru and asked for his clarification on the issue.  The Guru gave the following message in his own handwriting.  "Whatever may be religion, dress or language etc, of the people, there is nothing maleficent in intermarrying and interdining between them since they all belong to one caste."  Though the Guru's support invigorated Ayyappan, his opponents continued with their  battle and would not allow him peace of mind.
Braving all opposition, Sahodaran Ayyappan, went on bombarding the caste system that crippled the society.  He declared that people should no longer be Brahmins or Izhavas or Nairs of Pulayas but were to form a casteless society of brotherly Keralites
Significantly, Ayyappan set down the ideals of the Sangam as communal harmony, universal brotherhood and perfect humanity.  He believed that any struggle for political freedom would be meaningless without achieving political freedom.  He staunchly advocated inter-caste marriages which, he believed, would promote friendship and co-operation.
Ayyappan was a strong and consistent supporter of communal representation in legislature and administration.
Ayyappan was a strong and consistent supporter of communal representation in legislature and administration. He had arrived at this conclusion through analytical reasoning and unassailable logic.  He argued that in a country where communal discrimination was rampant, responsible government without communal representation would only mean the perpetuation of such discrimination.  He did not accept the argument that the demand for reservation of jobs would foster communalism. The demand was raised as means to solve the problem of denial of jobs to members of certain communities even when they possessed the necessary qualification.  They remained undeveloped because the socalled developed sections denied them the opportunities for development.  It must also be noted that Ayyappan opposed reservation for economic classes because different economic classes were dispersed in all communities.
The Cochin Legislative Council was established in 1923 and Ayyappan got elected to it in 1928 and remained its member till 1951, when he fought for a number of social issues apart from reservation.  He fought for universal franchise, since, without it, the government would be no more than oligarchy.
The well being of the entire society was the condition in which the well being of the under privileged classes could be secured and sunstained, believed Ayyappan, and accordingly, lent his voice for the welfare and reform of all the communities including the Nambudris and Nairs.
He introduced a bill of radical nature in the Council for giving legal validity to inter caste marriage.  He argued that only through inter caste marriage can oneness of society be forged, as it would destroy caste loyalty and strengthen national loyalty.  The bill, which became Cochin Civil Marriage Regulations of 1935, was a trailblazer since no such bill had been passed at that time in any of the princely states.
As early as 1931 Ayyappan introduced a resolution in the Council recommending the introduction of birth control, since he strongly felt that the population of the country must be brought under control.  The resolution was not passed as it was opposed by majority members, either on the grounds of religion or in the name of morality.
In March 1931, Ayyappan introduced a resolution for making Malayalam the medium of instruction in all the schools in the state.  Though the advantages of learning English cannot be gainsaid, he argued, the cultural progress of a people could be achieved only through the development of their mother tongue.
With regard to the question of official language, so long as English remained official language, the government and the governed would remain poles apart.  Ignorance of the masses would be exploited by the elite and this was not what was meant to be achieved by democracy.
He supported industrialization as long as it would assure employment and general prosperity.  All the same, as a convinced socialist, he envisaged a larger role for the State in bringing about systematic social transformation, by curbing monopolistic practices of vested interests.
Ayyappan had the opportunity to serve the state as a minister for ten years.  When he was minister for Revenue and PWD, the royal family made a request to the Government of India to provide the palace with security from pollution by untouchables.  Ayyappan, as minister for PWD, had the courage to note on the file :  "It is injustice that human beings should not go where cats and dogs have access." Consequently, he resigned his post in 1951.
By the time he completed his education, Ayyappan had became a rationalist.  With all his reverence for Sri Narayana guru, who had proclaimed "One Caste, One Faith, One God," Ayyappan coined the phrase, " No Caste, No Faith, No God."  He started a journal, Sahodhara  for the promotion of free thinking.  Above all, he was a humanist and inculcating human values was a task of paramount importance to him. He had an admiration for the Buddha who preached purity of mind, who emphasized the equality of all individuals, who denounced the authority of the scriptures, and who kept silent on the existence of God.
Having had a simple but contented life, having enjoyed whatever he did for promoting the well being of the society, and having been decorated with coveted awards by the Maharaja (Veerasringala) as well as the British Government (Rao Bahadur), he passed away at the age of 78, on 6 March 1968.
The Chief Minister, EMS Nambudripad, gave him the following, richly deserved, tribute.
"He was a gentleman who rendered greater service than any other person could have for the social change in Kerala…….. It is doubtful whether there was anybody else close who had so great a role in moulding a new generation?"