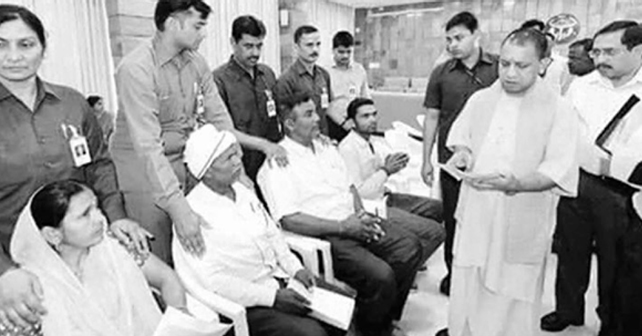 The minions of Modi in Tamil Nadu keep singing the praise of Yogi Adityanath, hand picked by Modi himself to head the Government of the sensitive state of Uttar Pradesh.  He is projected as a model chief minister.  But the reports we get from the state show him as a bigoted Hindu.  Though, he is doing his best in presenting to the world a picture of himself as a person believing in equality, the fact is that, he cannot help revealing his true self.
An instance is his recent meeting with the Dalit leaders, which was stage managed to make the world believe that he is interested in their welfare.  The meeting was organized in the wake of the horrible Saharanpur massacre of the Dalits. The yogi-cum-Chief Minister's intention was to assuage the feelings of the Dalit community through the representatives who attended the meeting.
When the Dalit representatives entered his office, they were offered seats, no doubt.  But, what followed was a despicable act which stressed on inequality.  There was a guard for each of the visitors, whose duty it was keep the visitor physically immobile on the chair, by pressing his shoulders, lest he might get up and pollute the Yogi-Chief Minister. (see the picture)
It has been reported in the Northern press that no minister of Uttar Pradesh has come forward to use the car which was formerly in the use of the Dalit ministers.  The houses formerly occupied by their Dalit predecessors were purified by an elaborate ceremony.  What about the Yogi himself?  When he had to occupy the residence which was formerly occupied by Akilesh, who belongs to the most backward community, the house was purified by the waters of seven holy rivers!
This is the kind of equality the saffronites believe in and the country is in their hands.
– A.S. Mee