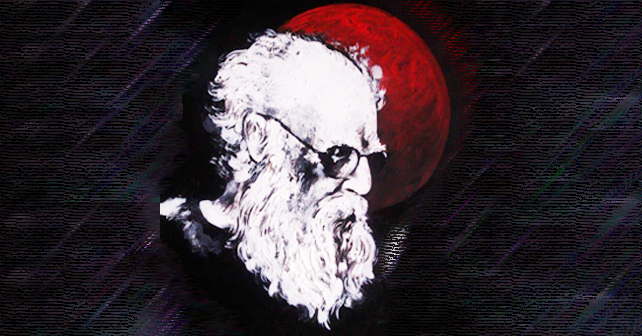 I started a movement and named it as the 'Self-Respect Movement' in 1926.  It is known to all.  I am bound to state why it was started.  Many may like to know the objectives of the movement.  At the outset, I must say a few words about myself.  Then only it will be possible to conclude whether what I did was right or wrong.
I had no feelings about caste or religion from my childhood days.  In other words I did not follow them. But when circumstances forced me I pretended to observe them.  Similarly I had no faith in God.  In all matters I did, I never thought whether God would punish me!  I did not  do anything thinking that it would please God. In my early years, I had no remembrance  I have ever believed in god or religion or caste really!  I have to reminiscence about this many times in the past also.  I do not know as to when I really lost faith in all these.
CASTE-FANATICISM EVEN IN DRINKING WATER
When I was just six years old, I was sent to a pial school.  It was just at a short distance from my home in Erode. Around the school there were few houses inhabited by Chettiars, trading in oil.  Oil mills were working always.  A few people residing on platforms were manufacturing mats and baskets out of bamboo. Some Muslims too were residing in that area.  It was clear that Chettiars, bamboo article makers and Muslims were dwelling in that area.
In those days, other caste people would not take any food in their houses.  So before sending me to school I was advised no not to move with these people.  I was strictly warned not to eat or drink in their houses.  If at all I felt thirsty, I was asked to take water from the teacher's house. The teacher was a strict vegetarian.  He belonged to a caste called 'Odhuvar'. In his house a small girl used to place a brass tumbler on the ground, and pour water into it.  I was instructed to lift the vessel and drink without sipping.  After drinking I was asked to keep the vessel upside down. After that she would pour water on the vessel, lift it and then take it into the house. That was the normal practice adopted in those days by high-caste Hindus to `purify' the vessel touched by a person belonging to a low-caste.
Because I was not allowed to sip water from the vessel, a part of the water would fall on my body.  Only a little water would go into the mouth.  Sometimes water would enter my nose and cause trouble.  I had to spit out water instantly.  Sometimes the girl would get angry on seeing this.  So I decided not to take water from the house of the teacher.
The boys of Vania Chettiar community never went to the teacher's house for drinking water.  They will stand in the class, show their thumbs and the teacher would let them go out and return soon.  They would take water from the Chettiars'  houses nearby.
My close movement with communities, which were considered low and despicable, was the main impediment to my education.  I was considered to be a ruffian because of my movements and behaviour.  My feet were chained to logs of wood.
One day I thought that I could join them and take water in a Chettiar's house.  When a Chettiar boy showed his thumb I also stood up and showed my thumb.  The teacher permitted both of us to leave the class.  The teacher asked me where I was running to.  "For drinking water" I replied. "Are you going with him?"  asked my Master.  So I went to the teacher's house.  When I returned, my body was wet. My dhotis too were partly drenched in water.  Next day I decided to accompany a Chettiar boy for drinking water. I made the necessary arrangement previously.  I stood up in the class first and showed my pointing finger as though I am going out to pass urine.  The teacher nodded his head.  I went out and stood behind the house of the teacher.  The Chettiar boy took the permission from the teacher to quench his thirst.  He came out.  We both joined together and ran up to his house.  He brought me a glass of water.
PUNISHMENT FOR  MOVING  WITH  LOW  CASTES
I drank that water by sipping, as I would do in my house.  Seeing this the lady of the house asked me whether I would not be punished for drinking water in her house.  I said no one in my house would take me to task.  She asked my friend Palaniappan to wash the glass I used.  Then I ran back to the school.
On another occasion I drank the water in the house of a person who made bamboo articles. Gradually I began to taste the dishes prepared in their houses.  Somehow this matter reached my house.  At that time my family was very rich. Our people were observing the rituals like orthodox Brahmins. Always there was talk of divinity in my house.  But my father was not much worried.  He simply chided me saying ' Don't behave like that again.' But my mother was very much perturbed.  She would feel as though she had lost something precious.  But nothing stood in my way.  I even ate whatever the Muslim boys offered me.  My parents came to know about this also. By this time my school career was stopped.  I was then only ten years old.
I was very closely associated with those with whom I should not.  I was not expected to move freely.  My close movement with communities, which were considered low and despicable, was the main impediment to my education.  I was considered to be a ruffian because of my movements and behaviour.  My feet were chained to logs of wood.  Yet I used to move about with my usual company.  This continued for fifteen days!  I used to carry the logs on my shoulder and go about on my usual rounds.  At last I was taken away from that school and sent to a government school.  Even there I was stopped in two years. I was only 12 years at that time.
RATIONAL QUESTIONS  TO  RELIGIOUS  PREACHERS
I was sent to our own business shop. My work was to mark the bags and auction the goods.  During my leisure time, I took keen interest in discussing the puranas (mythologies).   In those days Sanyasis (Saints), Bhagavathars, religious mendicants had great sway over our family.  I disliked them.  I used to heckle them and make fun of what they said.  I used to pester them with questions and make them feel embarassed.  Gradually this practice led to my taking interest in chatting.  This also helped me to spend my leisure time usefully. In fact this practice gave me lively interest.
Moreover the religious pundits (scholars) of Vaishnavism and Saivism were performing 'Kalatshepams' (Story Discourse with songs) in our house.  This was done to gain a  status and name in the society, as my family was rolling in money.  My mother used to hear the religious discourses with devotion.  My father was simply pleased with all these.  So far as I was concerned, I naturally, learnt all about the Hindu religion and its puranas.  I used to put a volley of questions to the pundits.  For some, they struggled to answer.  Different pundits gave different clarifications.  This made me more enthusiastic and incisive.  Neighbours were struck with my intelligence.  Though sometimes my father felt annoyed, in his heart of hearts, he appreciated my brilliance.
Out of all these I began to lose faith in castes, religions, God and Sastras (Hindu Doctrines).
NOT  A  VICTIM  TO  LIQUORS
It is said that one's association and surrounding, give scope to the individual to determine one's life, mission and ideals.  By experience it may be true.  But in no field of activity I was influenced by association or surrounding.  On the contrary I was never a victim of my surrounding and association.  Let me explain this further.  When I was in my youth I was surrounded by friends who were mostly accustomed to drink.  This was during the period when I was 20 to 30 years of age.   Further the government officers, Zamindars and Mirasdars who were very affectionate also had the habit of consuming liquor.  Many nights I used to enjoy their Company and take leave of them in the morning.  Every night I used to spend Rs.40, 50, 60 on liquor like brandy.  I would myself mix the liquor with soda in glasses and offer them as a mark of respect.  When they got intoxicated some of them used to spit the liquor on me.  On one occasion, a deputy collector and a salt commissioner pushed me to the ground and forcibly tried to pour liquor into my mouth.  I say this to prove that association or surrounding had no power to influence me, I never had the interest to taste any liquor. Yet my wife used to suspect me because of my association and surroundings. She would ask me to open my mouth and try to smell whether I had consumed any liquor. Then only she would be satisfied.
Inspite of my being associated with this sort of society, I was very successful in my business.  My father reposed great confidence in me. He removed the name board of the shop bearing his name and replaced it with my name.  Even in public matters he deputed me to represent him.
The works of temples and devasthanams were conducted as if they were purely personal affairs  In this aspect also my father made me prominent.  By doing this, he expected a change in my life.  He might have thought that I would become religious and have faith in god.
I acted as the secretary and president of the Devasthana  Committee.
(to be continued)
Source:  Collected Works of PEIYAR E.V.R., compiled by  Dr.K.Veeramani and published by the Periyar Self Respect Propaganda Institution,
Periyar Thidal, Vepery, Chennai – 600 007. – First Edition 1981.