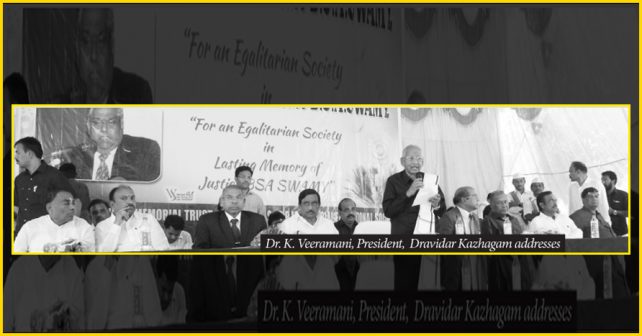 The 75th Birth Anniversary of Justice B.S.A. Swamy (1942-2008) a social justice stalwart of the integrated State of Andhra Pradesh and former Judge of the Andhra Pradesh High Court at Hyderabad was celebrated as 'Social Justice Festival' at Muktheeswaram, Andhra Pradesh on 11th July 2017.
The festival was organised at Sri Y.V.S & B.R.M Polytechnic College, a prominent educational institution, founded by Justice B.S.A. Swamy Trust.  Prior to the anniversary meeting, Dr. K.Veeramani, President, Dravidar Kazhagam, Honourable Mr. K.E.Krishnamurthy, Deputy Chief Minister, Andhra Pradesh, former judges of Andhra Pradesh High Court – Justices G. Yathirajulu, Dr. Bhavani Prasad, K.C. Banu, G.Chandraiah and Mr. Reddi Subramaniam, Vice Chairman, Andhra Pradesh State Legislative Council, Mr. Narayana Murthy MLA and other dignitaries garlanded the statue of Justice B.S.A. Swamy and paid their respect.
The Excerpts from the Presidential address delivered by Dr. K.Veeramani:
Our relationship with Justice B.S.A. Swamy started, in the days of conducting country-wide agitations to implement the recommendations of the National Backward Class Commission headed by B.P. Mandal. Justice B.S.A. Swamy at that time a leading Senior Advocate at the Andhra Pradesh High Court, participated in various agitations organized under the leadership of the leading stalwart of Social Justice, Sardhar Latchanna.
Justice B.S.A. Swamy did not confine himself to the field level activities for the cause of Social Justice.  He also started educational institutions both secondary and higher education at Muktheeswaram, a prominent rural area.  Many children from the oppressed sections were able to pursue their higher studies at their home town itself.
Till date the full-fledged Social Justice has not been dispensed to the depressed people. Even the provisions advocating the equality and equal treatments are not implemented properly. In fact, the implementation of such provisions has been restrained. 'All are Meant for All' is the philosophy of Social Justice. To attain that goal not only the prevailing provisions of Social Justice in the Indian Constitution have to be properly implemented both in letter and spirit, new provisions have to be added due to the changes taking place because of the globalisation process. For instance, provision for reservation for the depressed sections in private sector has to be brought in. That will be the real tribute to the memory of our beloved Justice B.S.A. Swamy. Mr. B. Sudhakar, the Executive member of Justice B.S.A. Swamy Educational Trust had organised the Social Justice Festival.