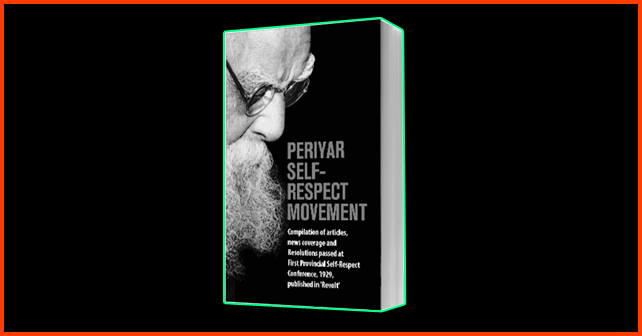 Periyar Self-Respect Movement
compiled by Dr.K.Veeramani.
The Periyar's Self-Respect Propaganda Institution, Periyar Thidal, 50, E.V.K. Sampath Road, Vepery, Chennai-600 007.
Pages :  80   Rs.  100/-
'Periyar Self-Respect Movement' is a compilation of resolutions, articles and excerpts connected with the First Provincial Self-Respect Conference, 1929, excellently documented in 'Revolt' an English weekly published by Periyar.
It appropriately opens with Periyar's address, wherein Periyar asserts with his characteristic forthrightness that social reform as it is talked about would be of little use to the society which has degenerated into an abyss, in a system which nurtures evil in the name of god and religion.  He cites a number of reformists who appeared on the scene throughout history and achieved very little despite their best intention and dedicated work.  Periyar is emphatic that to succeed under the circumstances the paramount duty of the social reformers is to abolish and destroy the religion which have caused the downfall of man.
The draft constitution of the Self-Respect League (as it was called in the beginning) says that one who becomes a member thereof should not hold or exercise religious, social or political privileges attached to birth, and he should not be "a priest not born in a priestly community."
The write up on 'Work Ahead' presents an exhaustive and demanding agenda which, if implemented, would bring about appreciable transformation in the social, political and economical texture of the country.
P.T.Rajan, who unfurled the flag of the conference, after enumerating the evils of the existing social system, assures that the Self-Respect Movement aims "at giving equal opportunities to all, at making men and women all equal in the eye of law, godmade as well as manmade, at affording the freest and fullest scope for self development to one and all …….. at creating a sense of oneness so that all may share alike in the joys and sorrows, and be animated by the ideals and hopes of the nation."
In his analytical and comprehensive inaugural address, Dr.Subbarayan lists out all the social ills the Movement has sworn to fight and makes out a convincing case that as long as those ills continue there will not be true democracy wherein total equality will take root.  He is also happy that the Self-Respect League has been properly organized with a constitution and regular meetings.
W.P.A. Soundarapandian, President of the Conference, points out that ancient Tamil Society was free from such ignominious blots like caste distinction and religious dissentions and were leading "a life of utter simplicity resulting in true happiness.  He then lashes out at the Aryans and the Northern whose banal customs vivisected the Dravidian Society while making them willing and complying slaves.
He concludes his address with this inspiring call.  "We are living in stirring times. Tremendous changes are taking place all around us in the world today…. Let us take advantage of the world forces functioning for progress and let us advance to the first place in the vanguard of nations."
The resolutions are epoch making and comprehensive.  They touch every aspect of social and political life besides ensuring equality and protecting human rights without any reservation.  That the party has given such in-depth consideration to every aspect of social life as early as 1929 when concepts like democracy and equality had not been fully grasped by a vast majority of people, even intelligentsia, is indicative of the wide sweep of Periyar's thinking which has been successfully passed on to his comrades-in-arms.  There is a concerted attempt to free the society from the stranglehold of religion and priestcraft on one side and from the vicious traditions and superstitions on the other.
Periyar's starting of the Self-Respect Movement signified his partying ways from the Justice Party of which he was a frontliner for years.  Unfortunately, most of the leaders were conservative and were rather guarded in their approach to social problems.
An article in the 'Sunday Times' weekly, titled 'Self-Respect Movement Will and Must Triumph", has been reproduced.  The article brings out the shameful way in which Brahmins chose to treat Non-Brahmins at dinner time, by making the latter wait for them to finish their meal, even when they were invited guests.  This has happened even in Congress Conferences.
There is a well documented article on temple entry by K.M.Balasubramaniam.  An article by Viswanath emphasizes birth control.  Dr. S. Muthulakshmi Reddy has advocated the need for raising the marriageable age of girls through legislation in a heart rending article.  And T.S. Kunjitham has lamented the position of Indian women who are not given even freedom to breathe fresh air.
The compilation fittingly concludes with a speech delivered by Justice Govindan (Retired), General Secretary of SNDP Yogam who unveiled a portrait of Periyar at Kottayam in July 1929, and paid rich tributes to Periyar with whom he had been acquainted during the historic Vaikom Satyagraha of which Periyar 'was the life and soul'.
Asiriyar Dr.K.Veeramani, President, Dravidar Kazhagam, who has brought out the book deserves a word of praise for the care and dedication with which he has chosen the material.
This book is a must for everyone who is interested in the uplift of the society and the progress of humankind.
-Leslie Amarson