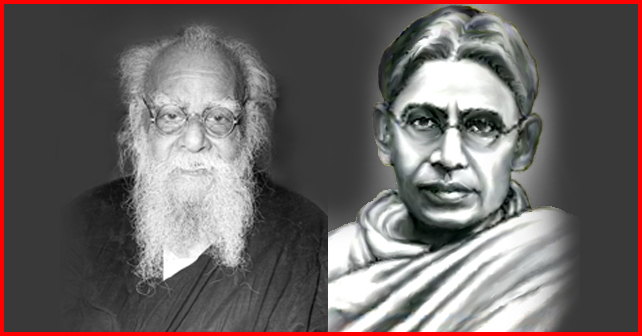 For the progressive cause of unalloyed Tamil, anti-Hindi policy, anti-casteism and marriage of widows, Periyar found in Adigalar, a person of identical views.  The societal hegemony and adroit cunningness of Brahmins, Adigalar detested.  His attachment towards the ancientry of Dravidian elements in Tamil culture was one more reason for Periyar to respect him.
Dr. Palany Arangasamy
Periyar E.V. Ramasamy, the patriarch of Tamils, ever since his boyhood has been a person of critical temperament, inquisitive mind and innate talents.  His orthodox parentage and devotional homely environs have not deterred him from these congenital qualities.  Neither the periodical worship not the religious lectures arranged at home and delivered by the Vaishnava Brahmins has not changed him a wee bit but gave him a chance to critically question those pundits on absurdities of puranas and awkwardness of myths and to relish a malicious glee at their embarassment and inability to answer him.
Periyar never minced his words in outrightly negating the existence of god.  But never did he personally offend those who believed in god.  He was a humanist par excellence and a staunch advocate of human rights.  Advocacy of atheism was his ideology but he never allowed it to ruffle personal respect and relationship.  Showing courtesy to young and old was his quality in-born.  It is in this respect a review of his relationship with Maraimalai Adigalar deserve consideration.
Maraimalaiyar was a prolific tri-lingual reader, researcher and writer with a retentive memory.  Endowed with a sweet voice and deep scholarship, he swept the audiences wherever he went and delivered lectures extemporaneously.  None could excel him in literary platforms, be in Tamil Nadu or in Sri Lanka that he visited umpteen times on lecture tours.  Nearly sixty books he has written and out of which seven in English.  Well versed he was in Sanskrit also.
Young E.V. Ramasamy was a promising socio political activist in the twenties of the last century.  He must have looked at Maraimalai, an outstanding scholar at a distance.  Adigalar's second son introduced EVR to his father on the occasion of the Golden Jubilee of Karanthai Tamil Sangam on July 24, 1927.  They exchanged formal courtesies.  Adigalar requested the young leader to be seated on the stage, but EVR politely declined it and sat among the audience.  Both of them never expected that an incident was about to occur in the meeting which would ensure Periyar's appreciation and respect towards Adigalar in the years to come.
The incident was a genuine call of Adigalar that purity of Tamil should be maintained and on no account Sanskrit words be allowed to blend with it.  Brahmins may adulterate Tamil and it has to be curbed, he cautioned.  Pandithamani Kathiresan, a bi-lingual scholar objected to the remark of Adigalar and there arose a mild hubbub in the meeting.  The interruption of Pandithamani infuriated the audience but, for the sake of discipline, they kept quiet at length.  The impression that Periyar gained on Adigalar's love of Tamil and his discrimination of Sanskrit continued to be, ever since, despite a very few differences in outlook.  But Adigalar's support of anti-casteism, widow marriage, contempt of Puranas and myths, abrogation of Devadasi system and anti-Hindu stance are the principles that endeared him to Periyar.
Though Adigalar was religious in outlook and called himself a Saivaite, he maintained a liberality and progressive attitudes.  As early as June 2012, he wrote an article in English entitled Elevating of Depressed Classes and another in Tamil on Pseudo-Saivas and Caste Differences.  Periyar championed the cause of widow marriages and conducted a few, much against the social boycott.  Adigalar was also a supporter of widows getting a fresh lease of new life.
Sometime in December 1921, he was at Ceylon on a lecture-tour.  When he visited Keerimalai near Jaffna, he was happy that widow marriages are arranged there with the approval of society and so also divorces.  Both Periyar and Tamil savant have seen eye to eye in societal uplift and in condemning puranic love and its blatant lies in the garb of imagination of poetic license.  It may be recalled that Adigalar minced no matters in outnightly castigating Ramayana and blamed Kamban, the poet for having poetized the story that goes against Tamil culture and civilization.
In a meeting at Royapettai on 22nd July 1928 Adigalar spoke on one god with his opposing remarks on Periyar's outright atheism.  One Mr. Thandapani Pillai of Self-Respect Movement raised a number of questions in the meeting itself and Adigalar suitably answered him.  But still, Thiru. Vi.Ka, a reputed Tamil scholar got a letter from Adigalar to Periyar stating that his comments at the Royapettai meeting need not be misconstrued and if anything objectionable, it may kindly be condoned.  Periyar was kind enough to acknowledge it in his reply to Adigalar and also published that reply in Kudi Arasu in the first week of September 1928.  When Periyar published an English periodical Revolt in November 1928, he sent a complimentary copy to Adigalar.
When Tamil dailies Dinamani, Sudesa Mithiran and a weekly Vikatan demanded Madras University to cancel a Tamil textbook of Adigalar from the syllabus, Periyar wrote a lengthy editorial on June 27, 1935 in Viduthalai, vigorously supporting the continuation of the text.  A few books of Periyar published by Kudi Arasu Pathippagam, he himself sent to Adigalar on August 1935.  The cover price of all the books, Adigalar sent to Periyar by money-order.  Periyar returned the amount stating that the books were sent as complimentary copies.  Such was the respect and courtesy.  Periyar has extended to Maraimalaiyar.
When Rajaji was Chief Minister of Tamil Nadu in1937, he introduced Hindi as one of the languages to be taught compulsorily for the 5th, 6th and 7th standard in the schools.  To make it as a common language of India was also in the agenda of the Government at the Centre.  This was strongly opposed by a few states in India including Bengal and Tamil Nadu.
Adigalar, on the 4th of October 1937 presided over an anti-Hindi meeting at Gokhale Hall in Chennai and released his book in English, Why Hindi should not be made the common language of India? Next year, on the 4th of June, in  an all-party conference against Hindi at Saidapet, Adigalar presided over it. Also in a public meeting at Triplicane Beach, he addressed a mammoth gathering.
Adigalar congratulated in a letter, the strenuous efforts of Periyar, not only against the imposition of Hindi but also against the cunning and ambivalence of Brahmins in the language issue.  Periyar published that letter of Adigalar in the pages of Kudi Arasu in the last week of December, 1938.
In an anti-Hindi conference in July 1948 at St. Mary's Hall at Madras, Periyar and Thiru. Vi. Ka requested Adigalar to preside over it.  Arignar Anna and Bharatidasan were among the other speakers.  Adigalar not only presided but did not object to his son Thirunavukkarasu to actively participate in the anti-Hindi agitations that led this young man to be arrested and imprisoned for six months.  For the progressive cause of unalloyed Tamil, anti-Hindi policy, anti-casteism and marriage of widows, Periyar found in Adigalar, a person of identical views.  The societal hegemony and adroit cunningness of Brahmins, Adigalar detested.  His attachment towards the ancientry of Dravidian elements in Tamil culture was one more reason for Periyar to respect him.
Periyar used to quote in his lectures, passages from a book of Adigalar where he criticized the Pseudo-Saiva devotees and their immoral and clandestine relationship with low-caste women by cutting across the castes.  Such being the case, what right the puritan Saivas have to assert the sanctity of castes and religions, Adigalar questioned.  What is wrong in young men and women of different castes genuinely fall in love and marry publicly, he added.  Periyar, therefore found in Adigalar, a set of frank and forthright views that go hand in hand with those of himself in social and political realms.
Belief in God was the only factor that differentiated Periyar from Maraimalai Adigalar. But that has outweighted by quite a number of socio political views that were identical with those of Periyar.  It is not a surprise therefore that Periyar, an optimist held the great Tamil scholar in respect and admiration.  Along with Mr. Aadal Arasu, Periyar went in person to Pallavaram to pay a courtesy call on Adigalar and spent an hour with him.  A few months afterwards, Adigalar fall ill due to old age and breathed his last on 15, September 1950.  Periyar felt it as his personal loss and deeply condoled the demise of Maraimalaiyar  in an obituary note in Viduthalai.