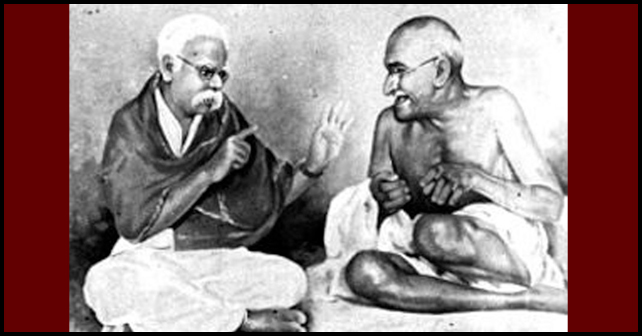 A part of the conservation that had taken place between Periyar E.V.Ramasami and Mahatma Gandhi at Bangalore in the then Mysore State in 1927
" Untouchability is not an aspect of Hinduism;  it is a dirt sticking to it."
– Mahatma Gandhi, the Father of the Nation
" Untouchability is very praiseworthy."
– Chandrasekarendra Saraswathi,
Pontiff, Kanchi Kamakoti Peetam
E.V.Ramasamy : Hindu religion should disappear.
Gandhi: Why?
E.V.R.: There is no Hindu religion as such.
Gandhi: There is.
E.V.R.: It is an illusion created by the Brahmins.
Gandhi: All religion are like that only.
E.V.R.: No. Other religion have history, ideals and principles that are accepted by the people.
Gandhi: Is there no such thing in Hindu religion?
E.V.R.: What is there to say?  There is no other code and evidence in it except the caste denominations like, Brahmana, Sudra and Panchama. Even among them the Brahmin is considered to be a high-born whereas the Sudra and Panchama, the low-born.
Gandhi: Atleast it contains this principle.
E.V.R.: Still, what is the use? According to it, the Brahmins belong to high-caste and you and I belong to low-caste.
Gandhi: You are wrong. There is no such distinction as low-caste and high-caste in the varnasrama dharma.
E.V.R.: You may tell this.  But, practically, it can't be otherwise.
Gandhi: No.  There is equality.
E.V.R.: No one can achieve this as long as there is Hindu religion.
Gandhi: One can achieve this through Hindu religion.
E.V.R.: If that is the case what about the religious evidence that go to prove Brahmin – Sudra distinctions?
Gandhi: You only argue that there are no evidences to prove the existence of Hindu religion.
E.V.R.: I have been telling that there is no religion, hence no evidence to prove it.    If the existence of religion is accepted, the evidences that go to prove it should also be accepted.
Gandhi: We can accept religion and develop evidences.
E.V.R.: That is impossible. We cannot change or transform anything if the existence of religion is accepted.
Gandhi: What you say is correct as far as other religions are concerned but not to Hindu religion.  You can do anything after accepting it and in the name of it.  Nobody would object to it.
E.V.R.: How do you say this? Who will accept it? Could you play pioneering role in that?
Gandhi: Whatever you said is true. I agree there is no Hindu religion as such.  I also agree that it has not a definite code.  That is why, branding ourselves as Hindus, we can form general ideals for it as we like.  I would say this with certainty that Hindu religion alone could take people towards good directions, because other religions have history, principles and other evidences and if anyone alters them would be finished.  Christians should act according to the sayings of Christ and Bible. Likewise, the Muslims live as they are said to live by Muhamad Nabi and Koran.  It is against the dictates of religion if any attempt is made to alter it.  Those who deny it may come out and proclaim; but cannot deny it from inside.  This is the true nature of other religions.  But unlike them, in Hinduism anyone can come forward and preach anything without inhibition. Emerging from this religion were many great men who said so many things.  So while remaining in the Hindu religion, we can reform it and do so many things for the benefit of humanity.
E.V.R.: Sorry. It cannot be done.
Gandhi: Why?
E.V.R.: The self-centred group in Hinduism would not allow you do so.
Gandhi: Why do you react like this?  Do the Hindus agree to the fact that there is no untouchability in Hinduism?
E.V.R.: There is difference between accepting the precept and putting it into practice.  So it is difficult to practice it.
Gandhi: I do it.  Have you not noticed a perceptible change that has taken place in the past four or five years.
E.V.R.: I understand.  But basically there is no change.  It is all due to your popularity and the necessity of your lead for them and out of self-interest they pretend obeying you.  In return you trust them.
Gandhi: (Laughter) who are they?
E.V.R.: All Brahmins.
Gandhi: it is true?
E.V.R.: yes. For that matter, all Brahmins who accompany you.
Gandhi: As such, don't you trust any Brahmin?
E.V.R.: They fail to attract me.
Gandhi: Don't you have trust even in Rajagopalachari?
E.V.R.: He is good, honest and a man of sacrifice.  But these noble traits help him serve his community well.  He is selfless at it.  But I cannot pledge out the welfare of my community to his interests.
Gandhi: I wonder at this.  If that is the point, is it your opinion that it is very difficult to find an honest Brahmin in this world.
E.V.R.: May be or may not be.  I don't see one.
Gandhi: Don't say like that. I have seen a Brahmin.  Still I consider him a good Brahmin.  He is Gopalakrishna Gokhale.
E.V.R.: Oh…. To a Mahatma like you it could be possible to find only one good Brahmin in this world.  For ordinary sinners like me how can it be possible to find out a good Brahmin?
Gandhi: (Laughing) The world is always under the control of the intelligentia.  Brahmins are the learned people.  For ever they will exercise control over others.  So, no useful purpose will be served if they are criticised.  Others should also reach their level.
E.V.R.: We don't find such people in other religions.  It is here in Hindu religion alone the Brahmins seem to represent the intelligentia section.  The rest, ninety out of the hundred people either remain illiterates or innocents.  So, if in a society, one section of people alone do belong to intelligentia and literateur group, does it not detrimental to the welfare of the other section of the society?  That is why, I have been clamouring that the religion, being the main cause for this state of affairs, should go.
Gandhi: What is your stand?  Can I presume that you stand for the abolition of Hindu religion as well as for the removal of Brahmins in the society?
E.V.R.: If the false Hindu religion goes away, there may not be any Brahmins.  We belong to Sudra varna. Everything is in the hands of the Brahmins.
Gandhi: It is not correct.  Do they not listen to me now? United under the banner of Hinduism, we would still remove its negative aspects.
E.V.R: It is my humble opinion that you cannot achieve this.  Even if you achieve this some great people like you would emerge in future and alter your work.
Gandhi: How would it be possible?
E.V.R.: As you said earlier, in the name of Hindu religion anybody can bring the mass to one's line of thinking.  In the same way a-would-be-great man may do anything in the name of Hinduism.
Gandhi: It is not practicable to attempt a change by anybody in future.
E.V.R.: Excuse me for telling this.  It is impossible for you to do anything solidly with the help of Hindu religion.  The Brahmins won't let you do the change.  They will start fighting you if they find you working against their interest.  So far, no great man has attempted a change at it and if anybody attempts it the Brahmins won't leave them free.
Gandhi: You have developed a hatred towards Brahmins.  That stands foremost in your thinking.  I think we have not reached to any agreement so far from our speech. However, we shall meet twice or thrice in future and shall decide about our stand.
Courtesy : 'Social Protest in Tamil Nadu' by Dr. B.S. Chandrababu, published by Emerald Publishers, Chennai.