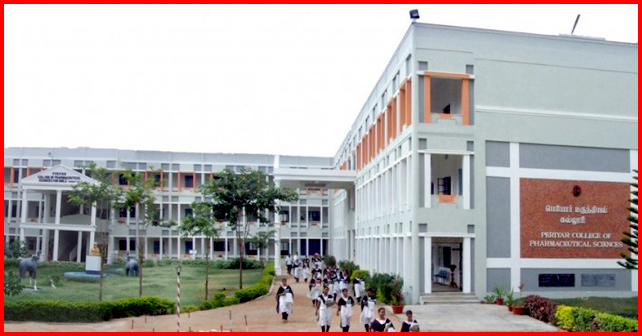 Prof. Dr. Mohan Kameswaran
Managing Director
Madras ENT Research Foundation
Chennai
Graduation Day address, delivered by
Prof. Dr. Mohan Kameswaran MS., FRCS(Ed), FICS., FAMS., DSc., DLO.,
at Periyar College of Pharmaceutical Sciences, Thiruchirappali
on 27th September 2017
one must have the ability to think out of the box and also have the courage of conviction to follow the dictates of his / her conscience. But the lateral and rational thinkers achieve recognition and greatness in society by virtue of their original contributions
Revered Chancellor / Chairperson, Distinguished members of the Management Committee, Dynamic Principal, Respected Faculty, Proud Parents, Invitees, Member of the press corps and above all proud graduates who get their Degrees, Diplomas, Prize winners and my dear Students.
Let me first of all thank you most sincerely for this huge honour that you have bestowed on me by inviting me to share this special day with all of you.
For the special heroes of this day – the Prize winners, awardees and graduates and diplomats this day is the culmination of years of hard work and determination and you are quite justified if you feel you are on 'Top of the world'. Your pride is specially reinforced by the fact that you have achieved your dreams by being mentored in one of the best Institutions in this country and the world at large, in your chosen discipline of Pharmaceutical Sciences.
The Periyar College of Pharmaceutical Sciences has been a trail blazer in this particular discipline of Sciences as exemplified by its numerous research publications and achievements of both the faculty and students. No wonder it has earned the title of a "Center of excellence".
I have had a special affinity for the institution for various reasons; most  importantly because my mother Prof. Lalitha Kameswaran, the founder Vice Chancellor of the Tamil Nadu Dr. M.G.R. Medical university and Ramachandra University  was one of the key persons who was responsible for influencing the Chairman Dr. Veeramani to start this institution. She was a Pharmacologist, a medical doctor but she obtained her Ph.D from London University in 1963 working at the London School of Pharmacy, one of the foremost research institutions of the University of London under Dr. G.B. West, one of the giants in the field of Histamine research.
On her returning to India she set up one of the earliest Ph.D programs in this field at Madurai Medical college and guided over 64 Ph.Ds spanning the entire spectrum of Pharmacology and Pharmaceutical Sciences. She firmly believed in the necessity of producing good pharmacy graduates with a strong scientific temperament as a basic necessity for a strong country with a scientific basis. She was also a strong proponent for empowering women with a strong education and I am happy to see both her dreams have been more than realized in this glorious institution.
Those of you who graduate today have a bright Future waiting for you. At no time in the history of our country has there been a greater need for qualified pharmacy graduates diplomats and post graduates. You have a wide choice of careers waiting for you. Some of you will pursue a career in research, others may join industry, some may start your own enterprises and yet others may join institutions as faculty. Indeed some of you may consider a career as managers of health programs and hospitals. For those with enterprise, the sky is the limit! But whatever career you choose remember the core values that has been instilled in you and what your alma mater exemplifies. Those values will stand you in good stead all through your life.
Let us then examine what those core values are. The institution carries the name of Thanthai Periyar one of the greatest philosophers and social reformers who lived in our times. Although his physical presence is sadly not with us now his philosophy lives on deeply embedded in the thinking of his innumerable admires and followers and espoused by his greatest disciple – none other than the president and founder Dr. Veeramani. Those values are more relevant today than at any time in over 3000 year history of our land.
What then are these values? The first principle is the ability to approach any problem with a scientific temperament – the ability to defy convention if it is morally and ethically wrong and dispassionately dissect and follow the truth. This is what we call the 'rational approach'. To do this one must have the ability to think out of the box and also have the courage of conviction to follow the dictates of his / her conscience. But these lateral and rational thinkers achieve recognition and greatness in society by virtue of their original contributions which is a natural byproduct of this ability of lateral thinking.
Many years ago I had the unique privilege of visiting the museum at Athens. The Curator, who was a Professor of History at Athens University, was explaining to me how every aspect of modern science and knowledge as we know it today had its origin in ancient Athens. The fathers of every discipline of knowledge had their roots in ancient Greece particularly Athens be it Hippocrates, Plato, Aristotle, Asclepius, Pythagoras and so on. I was intrigued. How did a small city, smaller than Kanchipuram achieve these unique distinction, was it the soil or water or the air? I voiced my question to her to which she replied that ancient Greece particularly, ancient Athens respected original thought no matter how different it was. Original thinkers were respected and adulated as heroes (not the wealthy and the powerful).
No wonder we still look up to these heroes. I beseech you my young friends to keep this in mind as you embark on your careers.
The second quality which your institution demands of you is the courage of conviction to fight for social justice. No matter what religion or lack of it, Caste, Colour or Community we are all equal and one. We simply cannot allow, leave alone encourage those elements in our society who espouse negative emotions and hatred in the name of these divisive factors. Indeed one cannot but admire the extraordinary prescience of the great thinker, philosopher mathematician and Nobel Laureate Bertrand Russell who predicted that 'more people would die in the name of religion than war'. We the Tamils have an extraordinary legacy. We have written literature and history which is nearly 3000 years old, something we can be truly proud of.  Very few countries or civilizations can match us. Yet it is a sad reflection of reality that at no time in our history have we forsaken our self respect and cultural identity as now. It is you, the future leaders of this land who must rise above those petty and parochial sentiments to restore the true legacy of our culture which has always encouraged the principles of equality and social justice throughout its rich history.
Finally my dear young friends immerse yourself in whatever you choose to do with passion.
"You have to be burning with an idea or a problem, or a wrong that you want to right. If you are not passionate enough from the start you "never stick it out" – said Steve Jobs the Cofounder of Apple Inc.
So my dear young friends on this very special day when you graduate and go out into the real world remember these three virtues that your institution and Thanthai Periyar espoused –
    1) A scientific temperament
    2) Social justice and
    3) Passion in one's belief
I am sure each one of you will attain greatness and glory and make your institution, your faculty, your family and your country proud of you.