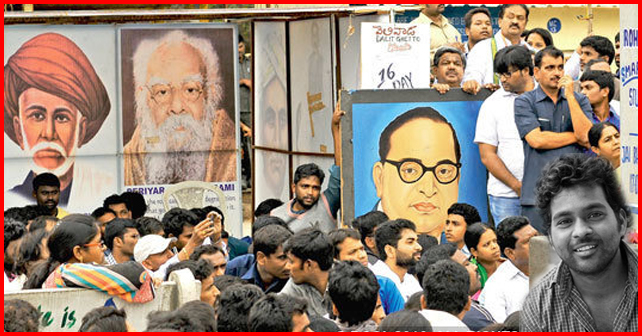 The students' wing of RSS viz. ABVP has been creating disharmony and discrimination among students by advocating Hindutva policies.  Despite its meticulous planning and execution it could not succeed in higher educational institutions.  Only chaos, and  unrest prevail which are eventually proved by the students agitations held in Jawaharlal Nehru University, Delhi and Central University of Hyderabad.
Already the secular student forces won the Student Union election at Jawaharlal Nehru University defeating ABVP candidates with a large margin.  Recently, elections to the Student Union was held at Central University of Hyderabad (UoH), which witnessed two years ago, the suicide of research student Rohit Venula, due to the discriminatory treatments, experiences of him in the educational campus.  It has been the practice of the Management of UoH to change the rules and regulations of the student union unilaterally, detrimental to the interests and welfare of the students' community.  When the victimisation of student leaders who fought for righteous cause, surmounted under such circumstances, the election to the student union was announced.  The student forces opposing the communal, religious fanaticism aligned under the banner as Alliance for Social Justice (ASJ) and contested the elections held on September 21st.  ASJ comprises of Students Federation of India, Front for Scheduled Tribes, Muslim Students' Wing, Dalit Students' Wing, Ambedkar Students' Circle.  ASJ opposed the alliance formed by ABVP and Forward Community Front and won the election.  All the functionary posts of Student Union were won by ASJ.  ABVP and its allies were defeated.  It is very much significant that AVBP which was at the helm of Student Union for the past EIGHT years, lost very miserably.
As a prelude to this defeat of ABVP, in elections held at Jawaharlal Nehru University, Delhi in the beginning of the month Student Federation of India and the other leftists and secular students' groups captured four prominent positions in the Student Union.
Despite the patronage and support given by the BJP rulers and its ideological organization, RSS, the students' wing, ABVP could not muster strength among the students community.  Such results will be replicated, wherever ABVP tries to penetrate into educational institutional.  Students are vigilant.