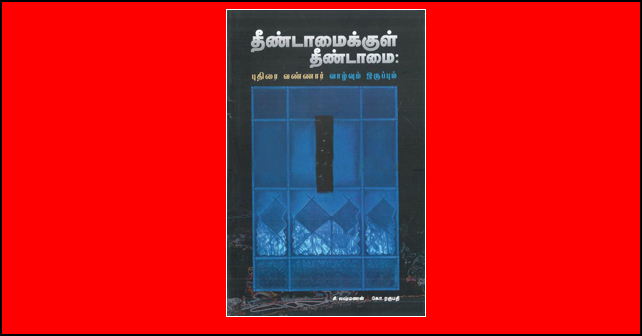 Theendamaikkul Theendamai
Puthirai Vannar Vazhvum Iruppum (Tamil)
By C.Lakshmanan and Ko.Ragupathy
Pulam, 97/55, Arcot Road, Kodambakkam, Chennai-600 024.
Pages : 120              Price : Rs. 100/-
The book under review, which bears a rather intriguing title which can be rendered in  English as 'Untouchability within Untouchability', bares certain hitherto not much known bizarre facts which have been practised in this 'Incredible India' from time immemorial. That the communities  which remain oppressed and outcast for centuries would perpetrate the same evil design on a community which is supposed to occupy a rung lower than theirs in the 'varanasrama' hierarchy is certainly incredible, but true, as the authors  C.Lakshmanan and G. Ragupathy have taken pains to authenticate every remark made in the book.
This book is about the community of 'Puthirai Vannar' whose ordained occupation is washing the clothes of the untouchable communities of Pallar, Parayar and Arundathiyars.  As these people perform the menial jobs for those communities, themselves untouchable, these 'vannars' become untouchables to those communities who have no qualms in ill treating, insulting, exploiting and discriminating against these people.
Puthirai Vannar have to do hair cutting and clothe washing for those three communities, besides, supplying clothes on the occasion of such 'dirty' rituals like puberty ceremonies and funerals.
Another sad fact is that they cannot choose the place of their occupation.  They are employed at the rate of one person per about fifty families.  If there are no vannars in a place, just the required number – one or two – are brought from other places.  While doing all these jobs, they should keep a distance from persons and their habitats so as not to pollute their employers, who themselves are untouchables in places occupied by caste Hindus and Brahmins.
They lived in a spot allotted to them by their employers in the village common.  Though they were paying tax for it from their own earnings, they were not the real owners; it was in a 'poramboke' land.  If, for any reason they thought of giving up their employment, they had to vacate the place forthwith, indicating that their occupation of the house – no more than a hutment in fact – was solely at the mercy of their overlords.
They had no culinary choice either.   They had to eat only the leftovers of their masters, which was given to them with considerable reluctance, often making them make more than one trip for receiving it.  Sometime what was given could be old and rotten stuff.  Along with their food, they had to stomach insults, too, since they were left with no choice.
While the land owning communities could purchase their slave communities, the masters of Puthirai Vannar, untouchables themselves had no wherewithal to purchase these slaves.  They could not even supply them with money or grains or lands for tilling as they themselves received.  Yet they could retain these slaves, and exploit them to the full, giving them very little in return, through trickery conditioning and by sheer brute strength. Even if all the Puthirai Vannars were to join together, which is impossible, their number would be negligible.
Above all, it is amazing as well as agonizing that the communities  who have been placed in the lowest step of the Hindu hierarchy, have created a community which is one step lower than themselves and keep them at a distance at every place, raising the bogey of pollution.  The travails Puthirai Vannars undergo in procuring drinking water will make any sensible and sensitive person shudder.  From the very childhood they are made to believe and accept the inferiority of their birth.
Though everyone knows that they belong to the Scheduled caste, the difficulties they undergo in getting community certificate from the authorities concerned are insurmountable. Many of them do not get them at all.  Those who get it, succeed in their efforts only after spending a lot of money in supplying the proof demanded and paying a hefty such as bribe. Above all, they could not even organize themselves an association, owing to their ignorance, inherent sense of shame, induced feeling of despair and helplessness, and lack of exposure to outside world.
In conclusion, the authors point out that the oppression perpetrated by the dalits on this community is not as oppressive and as aggressive as that perpetrated by Brahmins and the so called caste Hindus on the panchamas.  This problem, according to the authors, can be solved by inculcating progressive thinking among the dalits.  Though it seems to be highly optimistic, let us hope that spread of education in general and Periyarism in particular, will put an end to such atrocities before long.
This book, though agonizing, will also make rewarding reading for all those who believe in human dignity and equality.
Prof. A. Ayyasamy