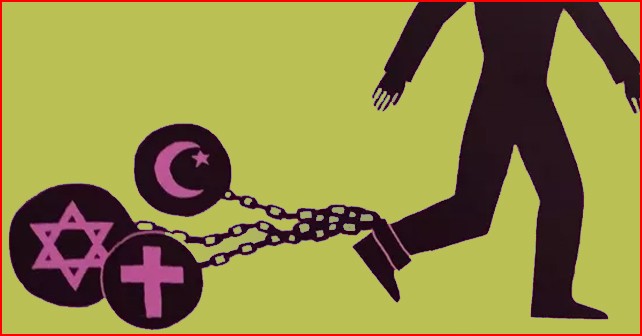 Especially in a country like India with a time honoured religion with its adherants proclaiming it to be the mother of all religions to say the least against Hinduism is indeed worse than hersy and doomed to the seventh hell, (if it exists).  The force with which the simbile is used adds fuel to the fire.  Opium, stupefies the mind, slowly but surely makes one a physical wreck and the worst of it is that its effect extends to generations.  So also dogmas in a religion make the followers blindly follow them and in the case of Hinduism the whole nation is condemned as a physical wreck groaning under several superstitious beliefs.  Can we say a nation with half its population made slaves to the other half with life-long widowhood and interned within four walls of room is healthy?  Can we say that a nation with twenty five percent of them as untouchables and treated worse than dogs is healthy?  Yet when an American Mayo points out these defects, instead of thanking her the India lions, the custodians of religion roar and product," "Father India", "Brother India" "Sister India" and what not?
RITUALS
Let us now examine briefly some of the beliefs of people under the spell of religions and how these superstitions are justified.  Taking Hinduism as one, it there ever exist a god or Brahman, can we not accuse that great judge of partiality when he whispered into the ears of that venerable soul the twice born Brahmin, the Vedas.  If god cannot be accused of partiality the Vedas is only the handiwork of that privileged class for enslaving the less fortunate.  There may be a good deal of Philosophy in the Vedas and that gives us the high standard of thought among the humanity living during that period and nothing else.  The puranas also give us the standard of life during that period, but what we cannot understand is the necessity for that Almighty to be born in the world in the human form, detect things as a C.I.D., report to the "Father in heaven" the mistakes of humanity and ask for a means of punishment like the Regulation III of Bengal or Section 144 of I.P.C. Prevention is better than cure and does it mean that Almighty cannot understand this elementary principle and allow humanity to commit mistakes and punish them.  If we accept the theory of karma, where is the necessity for an incarnation to teach humanity better ways of living or to plead on behalf of the humanity before that Great Judge, Mythology is mythology and nothing else.
WORSHIP
It is indeed funny that Indian Gods and innumerable of them want palatial buildings and profitable endowments to live on luxury.  What a luxury it is?  The God is awakened in the morning from its deep slumber by melodious voice of music and chanting of Vedas by twice-born.  Have ablution with holy and scented waters and sumptuously breakfasted with niceties.  The God is fed so much that it is tempted to go asleep in midday under the hot Indian sun, wakes up in the evening with the same reception.  While being fed again sumptuously, enjoys the music and dance of the sacred women on whose behalf a Swarajist member pleads in the Legislative Council.  Shall we ask whether the God living on such luxuries can see beyond the threshold of the temple or hear the cry of a human wreck at the adjoining Paracheri?  It is indeed natural that the Master must treat cook better, and the servant next and the sweepers last and it is no wonder that many masters do not know which soul cleans their latrine.
Then again even Goddesses hate the fair sex and they are not allowed into the sanctum sanctorum.
What shall we say about the worshippers of these gods, tax payers of temple kings, the bribers of these great judges.  To be accused for usuary, hordes of wealth is offered to God to be blessed with a son, ornaments are promised, to be cured of disease or epidemic and lives of dum creatures are promised.  So there is no wonder if foreigners accuse use of offering sacrifice.  A Kali wants human sacrifice a Mari wants lives of goats and sheep and yet when another god wants cow sacrifice there is a bitter cry.
Thus to state briefly religion is responsible to make people stupid and superstitious.
WASTE OF WEALTH
Mahatma Gandhi need not think deep to find out the cause for Starvation of millions when millions of stone gods are surplously fed in name and millions of idlers in temples growing fat.  Again under the garb of religion everyday we see idlers (with Kavi cloth and ashes) and professional beggars.  If all of them are made members of Spinners Association and asked to spin we can clothe all living creatures including animals and we need have no foreign cloth boycott movement.  Millions are illiterate and yet few come forward to endow schools.  Millions are dying of disease yet few endow hospitals.
REFORMS
How long will the mantras, hypnotise us and how long the cry of "religion in danger" will be the slogam.  Even after Miss Mayos "Inspection of gutter," when a Sarada wants to raise the age of marriage there is an Acharya saying "Religion in danger".  When poor Muthulakshmi wants to deprive Gods of their dancing girls there is a Satiamurti to say "Religion in danger".
Therefore it is no wonder that that religion should beget a Ramasami to Revolt.
Source :  'Revolt'
6th March 1929