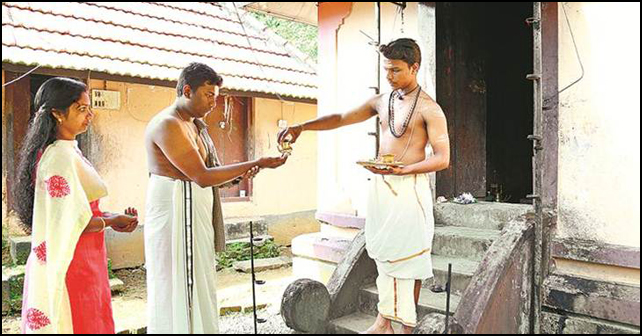 Prof.  A. Ayyasamy
One cannot help being jealous of Kerala, which has stolen a march over Tamil Nadu in a measure which forms a corner stone in the philosophy of Self-Respect.  We are referring to the recent recommendation of Kerala State's Travancore Devaswom Board for the appointment of 36 non-Brahmins including 6 Dalits as priests in temples that come under the board's purview.  The temple board has shortlisted a total of 62 people for the post of which 36 are either Dalits or from other backward castes.  The list was prepared after due process of tests and interviews.  The total reservation of SC/ST and OBC categories is 32 per cent, which makes room for 20 candidates; however, as many as 36 persons from backward communities were selected which means 16 of them were chosen on merit.  Notably, it is a first in the history of the Board that 6 people from the Scheduled Castes  are being appointed as priests.
The Board Chairman, Rajagopalan Nair claimed, "Earlier, we had some priests from backward communities who made it to the list through merit.  The Travancore Devaswom Board came into existence in 1949 and the demand for reservation for Dalits in appointment of priests had been made for several decades.  Previous attempts to meet the demand had faced stiff resistance from certain quarters.  But now we have made it a reality".
Underlining that due procedure was followed by the Public Service Commission in recruitment of priests for temples under the Travancore Devaswom Board, he also said, in future, priests in other devaswom boards, particularly Cochin and Malabar, will be done in the same manner.
In Tamil Nadu, a Bill passed in the Legislative Assembly as early as 1970 when Kalaignar Karunanidhi was the Chief Minister, and hailed by Periyar has been put in cold storage since then.
206 candidates of various communities who have received proper training for carrying on the job in the accepted manner, are still waiting for their appointment.
The demand for appointment of archakas from all castes had been raised in Tamil Nadu for decades.  Kalaignar made herculean efforts in this regard, meeting virulent opposition from all quarters, some of them unexpected ones.
This measure was dear to Periyar, who wanted Brahminical hegemony in temples to be brought to an end.  When the act was passed, he remarked in jubilation, 'A thorn in the chest of Periyar has been removed'.
Dravidar Kazhagam has been raising voice for it and conducted agitation many times including picketing which made multitude of its caders get arrested.
Let the Tamil Nadu government act at once and appoint these trainees in temples, and prove that they are interested in Social Justice.