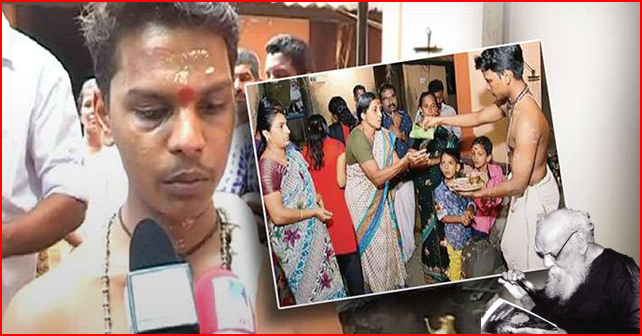 Thanthai Periyar, the "Socrates of South East Asia" on 26.01.1970 has announced the "Karuvarai entry" (entry into sactum sanctorum) agitation.  At that time Periyar's chief disciple Dr. M. Karunanidhi, the Chief Minister of Tamil Nadu  requested Periyar not to launch any struggle as he would himself take action to appoint BCs and SCs as temple Archakas.  Periyar considered the dominance of Brahmins as Archakas as 'thorn in his heart'.
When Dr. Kalaignar assumed as Chief Minister of Tamil Nadu for the fifth time, he enacted a law (Act 15 of 2006) enabling non-Brahmins to be appointed as temple Archakas.  In Tiruvannamalai and Thiruvarangam, training schools were established to train non-Brahmins in agamas.  207 non-Brahmins were given training in agamas.
When the ADMK was in power, Dr.K.Veeramani, President, Dravidar Kazhagam started an agitation to appoint members of all castes as archakars.  The DMK also joined the struggle with the Dravidar Kazhagam.
In Kerala under the direction of Chief Minister Hon'ble Pinarayi Vijayan the Travaancore Devasam Board has appointed 36 persons of non-Brahmin community as temple archakas, out of whom 6 belong to SCs.
In Tamil Nadu leaders of various political parties Mr. M.K.Stalin, Dr. K. Veeramani, Thol. Thirumavalavan, Mr. Mutharasan and Mr. Vaiko, have urged the Tamil Nadu Government to follow the revolutionary example of Kerala in appointing members of BCs, SCs and STs as temple archakas.
During the British rule, in the Vaikom town of Kerala, Ezhava caste an untouchable caste was not allowed to walk in the surrounding streets of the temple.  After the Kerala Congress leaders were imprisoned after the agitation in Vaikom, they invited Periyar Ramasamy, the leader of the Congress party in Tamil Nadu to lead the agitation in Vaikom.  Periyar was imprisoned twice during the agitation in Vaikom against the unapproachability.  After one year the agitation ended in success and Ezhava caste was free to walk in the streets adjoining the temple.  Periyar was called the "Vaikom Hero" by the people of Tamil Nadu.
Compared with the untouchability in Vaikom during the British rule, the appointment of S.C.s as temple archakas by Kerala Government under the Chief Ministership of Pinarayee Vijayan is an historic achievement.
Cheyyar R. Chengalvarayan