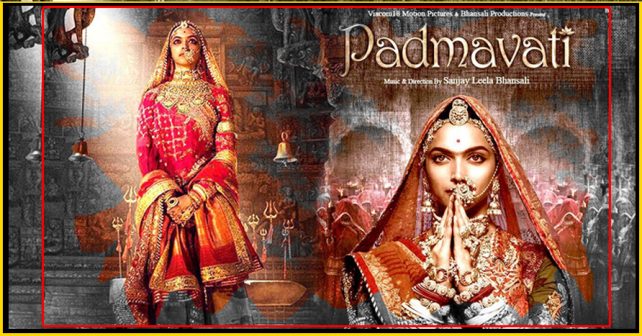 There seems to be no end to bigotry, Hindutva elements seem to flare up on next to nothing.  The latest instance is their taking cudgels against a movie made by the renowned director Sanjai Lila Bansali, on Padmavati, the queen of Chittorgarh, a tiny kingdom of Rajasthan. The Hindutva fundamentalists, including Karni Sena of Rajputs and Sarva Brahmin Mahasabha, consisting of 'Agmark' Brahmins. The trouble-makers also include Divya Kumari, a member of Rajasthan legislature.
There is a legend that Alauddin Khilji, the Muslim emperor, happened to have a momentary glimpse of the queen, after which he madly fell in love with her.  There is an alternative version which holds that the emperor saw only the reflection of the queen in a mirror, or the waters of a lake.  She was so charming that the emperor waged a war against the kingdom.  At the end Padmavati immolated herself rather than falling into the hands of an alien.
Mind you it is only a legend and its historicity is yet to be conclusively proved.  The story no doubt had attracted directors and it has already been filmed once in Tamil and another time in Hindi.
Why then all this row?  To sow the seeds of hatred, no doubt.  The Hindutva elements say that there is a love scene between the couple, the Hindu queen and the Muslim emperor, which according to them would make heavens fall if viewed by the public.  The statement by the director that there is no such scene in the movie has not assuaged the peddlers of hatred who are merely waiting for a pretext to create trouble.
Hours after the producers of film Padmavati announced they were deferring the release of the film, Haryana BJP chief media co-ordinator said that he would reward Rs.10 crore to those who behead Sanjay Leela Bhansali and the actor Deepika Padukone, who depicts the role of Padmavati in the film.
Already a lawless crowd had vandalized the movie set at Kolapur where the film was being shot. The Board of Film Certification seems inclined oblige the rowdy elements since they have asked for a re-submission of the application from the movie makers.
How long will such madness and lawlessness continue, sowing seeds of dissention among peace loving people?  Such atrocities must be nipped in the bud, lest the entire society be poisoned.