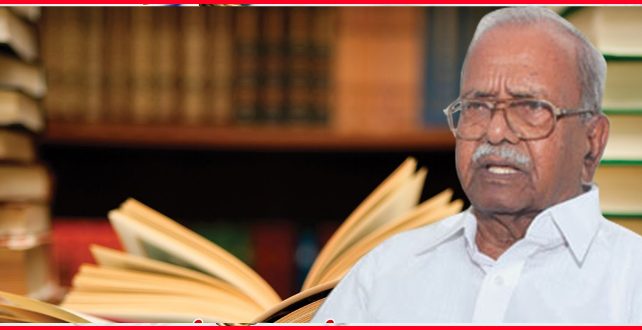 Prof. Nannan, who spent all his life in working for preserving the purity of Tamil, Tamil culture and spreading Periyarism was born at Kavanur, Cuddalore District in 1924, as the son of Manikkam and Meenakshi.  He started his education at Annamalai University getting the diploma of Pulavar.  He continued his education at the University of Madras, getting a Master's degree and Ph.D.  Though he started as a believer in his boyhood, he became an out and out rationalist and atheist once he attained maturity.
He has taught Tamil at all levels, starting at the primary level and going up to university level.  He has also worked in teacher training colleges.  He has been associated with imparting training in official Tamil, teaching Tamil to non Tamil knowing people and to adults.
He has offered sterling service as the Director of Tamil Development.  He has been associated with syllabus committees, text book committees, text book experts committees, Board of Secondary Education and Adult Education Board and special bodies like University Syndicate. Starting in 1942, he has spoken on platform on a number of topics connected with education, sociology, politics, literature, labour problems and the like.
He has written many text books, non-detailed text books, more than a hundred research papers, a number of books on literature and education.  He has served the cause of Periyarism by writing a number of books on individual topics connected with it.  He came to the limelight and became a house hold name when he started taking lessons on the Television on how to speak and write flawless Tamil, in a simple-but effective language.  The serial went on for more than sixteen years.  He wrote and directed more than fifty playlets which were telecast to the delight of the viewers.
His crowning glory is his evolving a method of teaching Tamil, which came to be known as 'Nannan Method', preparing textbooks, and methodology for it.
He involved himself in the Quit India Movement of 1949, and went on to participate in a number of agitations connected with the Dravidian Movement like the Anti-Hindi Agitation and Tamil Music Movement.  He has also accompanied Periyar in some of his tours, besides offering his services as the President of Tamil Nadu Rationalists' Forum.  He was decorated with the 'Periyar Peruraiyalar Award' by the Dravidar Kazhagam for his excellent lectures in Aruppukottai Kailasam Trust.
He has served as the Chairman of the Committee which was appointed by Chief Minister M.G.Ramachandran for compiling the biography of Periyar. He was the Chairman of the Social Reform Committee in the DMK rule at the latest.
On the memorial day of his departed son
Annal, he used to award Rs. 10,000/- to five selected inter-caste couples.
When he was ailing for a few days towards the end of his life, he declared in a firm voice:
"I have led a rounded life as a Periyar follower.  Everyone who follows Periyar's way of life will meet with both total success. I am a confirmed atheist.  I am completing my life with perfect satisfaction."