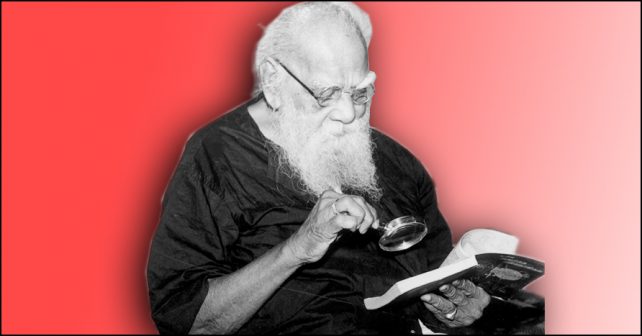 I say, "He who invented god is a fool". Why do I say so?
The aboriginal man at first began to think of many things.  He wanted to know how the world was created.  He could not understand how the world continues to exist.  He wanted to know the cause for birth and death.  He saw around him many things created by man.
He personally understood how such things existed.  It is quite natural that he had an urge to understand about other things also.  When he could not find an answer for existence of birth and death, he wrongly guessed that there should be someone else behind all these things understandable.  He remained in darkness with contentment.
That is the reason, why even now the third rate fools ordinarily put the question "If there is no god, how were you born?"  He further says in his talks, "Man only built the house.  How were the mountains, seas, rivers, trees and shrubs created?  There must be a cause for all these creations" With these words he comes forward to prove the existence of god.
So, it is ignorance or inability to seek the truth that leads him to believe in god and his creations.  So, the very thought of god is merely the outcome of one's ignorance.  His conception of god is built on the bedrock of mere guess.
He merely invents god, for all those things which he cannot fully understand or completely realize.  On account of this, ordinary men who could obtain the real truths with their average knowledge felt it unnecessary and unwanted to probe further into the matter.
He felt it convenient to believe in mere myths.  Such a state of affairs kept the majority of the people away from thinking deeply and to carry on research.  Man's ability to probe deep and carry on research work was practically banned.  That is why, the people who believed in the existence of god are considered to be irrational.
Even though the man is endowed with abundant powers of thinking, the way and the extent to which it is actually put to use alone is to be judged.
I like to enlighten you further, by stating my own experience some 75 years back.
There was a Municipal Hospital at Erode in those days.  There were two or three indigenous medical practitioners and a Christian preacher attached to the hospital.  There was the outbreak of the disease called Cholera twice every year.  The then population of Erode was only about 15000 people.  Every year about 300 people fall victims to Cholera.  In some years even 500 people died.  In those days people believed "Cholera" is the game of an evil goddess called "Om Kali Amman".
So they avoided any treatment by doctors.  Even if doctors came forward to give medicine they refused to take.  They used to say that the goddess would become more agitated, if medicine is taken.  They even rebuked the doctors.  Cholera used to spread for about a month or two.  When it naturally subsides and the deaths decrease at the rate of one or two after a month, they used to offer their prayers to the goddess Om Kali Amman.  On that occasion elderly women used to tease others by saying that the goddess 'Amman' has entered their body and scolds the people thus: "You people do not mind or respect me unless I play my game.  When I actually show my powers you offer special prayers.  I will wreak my vengeance." On hearing these words the people were actually afraid and made promises on the spot to offer special prayers to the Amman.  In a few days the Cholera would subside on its own accord.
God is not a necessity for intelligent man. God is not like food that is indispensable. It is only just like dress worn to suit the surroundings. That is the truth about god.
In the meantime the authorities of the Municipality would take all measures to fight out Cholera.  They would advise the people to boil the drinking water before using.  They would advise the children not to purchase eatables, which are not fully covered. They would advise the people not to eat the old and cold dishes.  They would guard the water resources from pollution.  While these things are going on, all on a sudden a woman would cry stating that her words are the words of Amman. "I brought two pots of oil (Cholera). I take the balance to some other village. I am leaving your village now". People used to offer prayers in the night and take out a procession with the old mats, rags and pots and keep them beyond the boundary of the village.
You may be aware that when quarrel arises between two women, one would accuse the other saying, 'will not the Amman give you a spoonful of oil'. Because one gets loose motion or purging by taking oil, those people referred cholera as oil.  In those days Cholera deaths were shocking. In some villages more than 75 per cent deaths occurred due to Cholera.  People would not take any precaution.  They refused to get treated. They did not care to find out the real cause for the outbreak of Cholera.
As a matter of fact Cholera broke out only during the festival months.  People from various towns and cities used to congregate at a particular place.  They had to eat whatever was available.  They committed nuisance anywhere they liked.  Drinking water was easily polluted. Lack of sound sleep and consumption of half baked mutton, fish and other non-vegetarian dishes are common during the festival months (Margazhi, Thai, Masi, Panguni). It was so even during the other Hindu festivals as Ekadasi, Poosam, Magam, Deepam etc.  The ordinary people, who met at the specific places of worship, carried the infectious germs to the rest of the houses, inns, choultries, trains, buses and lodges.  Infection was easy.  People of those days could not really understand what infectious diseases were, how they were caused, and how one could prevent them.  So they believed that it was all the work of god.
If the situation was so, just 70-75 years back, it is no wonder that people who lived some 100-200-500-1000 years ago were so blindly believing the existence of god.
However, the blind belief that Cholera is the work of god, has gradually faded.  Today people believe in the treatment for eradication of Cholera.  The health department has carried out a number of good schemes.  They take vigilant steps to protect the tank water, well water and other sources of drinking water by modern scientific methods.  On an average about three hundred people died every year when the population of Erode was 15000.  Today the population is 70,000.  Yet rarely 20 to 30 persons die every year.
Now it is clear how the belief in god, and his powers made the people ignorant and foolish.  As the people began to shed their belief in god and his powers, they have gained wisdom and the society has consequently gained much.
Even in Western countries, even though people believe in god, they do not believe in his powers nowadays.
'Believe in god; but keep the iron safe carefully locked' is what the Christian follows.
"Believe in god; but keep the horse safely tied in the stable" is what the Muslims follow.
What do we learn out of these? God is not a necessity for intelligent man.  God is not like food that is indispensable.  It is only just like dress worn to suit the surroundings.  That is the truth about god.  If anyone is to say that the belief in god is absolutely necessary for life, I would only say that such a person is merely a distilled dud or a log of wood.  Moreover, such a person would not come forward to prove the existence of god to us.  He will leave it to god himself to prove his existence.  So, there is no denying the fact that god is the creation of fools.
I say he who preaches god is a rogue.  I say so because he has given a definite shape to god and attributed high qualities to god.  Those who define god go on saying that god is omnipotent, omniscient and so on.
They say that god has no shape.  They say that he is kind.  How could we say that they are ignorant?  We could say that a person is ignorant, if he is unable to know a particular thing.  But these people come forward to define and explain god.  They intentionally dupe the people.
If a fool says that there is god, these people go a step forward and attribute to god as though they have really seen god.  When we ask him how he is, they say that he is shapeless.  How could one see a thing that has no shape?  There are certain things which we can feel even though they have no definite shape.  Senses of taste, smell, touch, sight and sound make us feel and realize them.  For example, we cannot see air.   But we feel it as it blows.
Similarly though we cannot see the electricity we feel it as it functions.  We realize it when we find its light or heat.  We make use of it as we like.  We are able to control it by merely pressing a button in the switches.  Thus we are able to know its various qualities.
That is why I say that it is absurd to believe a thing that we can neither see nor feel. He who wants us to believe must be a rogue.  God is a myth.  He who indulges in dishonest means can never be considered as honest.  Yet the Brahmins do so only with the intention of making the gullible public as scapegoats.  People are intentionally made idiots.  By such roguish and dishonest means they want to defraud the people.  God is a big hoax.  They not only say that god is shapeless but also proclaim that he is everywhere.  It is another Himalayan fraud.  What are we to call their boldness?
When we tell them, "What sir, you are telling so many things about god.  We do not understand.  To our minds god is not clear". They reply, "God cannot be seen by anybody.  He is not comprehensible to any human mind.  So you cannot see him or understand him.  That is why god is defined as one who has no shape.  He cannot be felt or understood even to the educated and the intelligent".  Is it not a big fraud played with the people, in an orderly disciplined manner by the rogues?
"God cannot be seen by anybody.  He is not comprehensible to any human mind. So you cannot see him or understand him. That is why god is defined as one who has no shape. He cannot be felt or understood even to the educated and the intelligent". Is it not a big fraud played with the people, in an orderly disciplined manner by the rogues?
How could a thing that is neither perceptible nor clear to the intelligent sections be seen, felt and understood by these fools?
Comrades! If you meet such fellows who are theists, you may yourself put these relevant questions with the intention of understanding god.
The two things that render people irrational are god and religion.  God is an elixir to be given to a man to convert him into a fool.  No man invented the sun, moon, fire, water, wind, stone and mud.  Man only gave the names.  There is no need to explain them or find the causes for these.
Man is bound to know them and enjoy them.
But, god is not the one like that.  God has to be preached by one. It is not enough if one simply preaches.  One must blindly believe what another preaches.  Not only that.  One must be made to believe god by force or compulsion.  Unless one takes so much pain, poor god cannot enter the minds of others.  Yet god is said to be omnipotent.  What a pity!
The story of god is what a fool has imagined.  His imagination has made the thinking talents of man inactive.  Even as the burning flame in the hands of a child sets fire to the house and renders the city to dust and ashes, the thought of god has practically killed the thinking ability of humanity.  Some people described god as 'Namasivayam'.  Namasivayam means nothing or vacuum.  That is the interpretation given by some saivite scholars as M L Pillai and Thiru Vi-Ka.  Yet they were worshiping idols for a long time and later on they changed.
I do not understand why a man needs god, particularly when one does not really believe in all the powers of god.  Everyone for the sake of custom says ordinarily that everything is the direct result of god's actions.  But in actual life, every man distinguishes what is self action, what is nature, what is sudden, what is accident and so on.
Even those who believe that everything is god's action, do not fail to take precautionary steps.  If everything is god's creation how has an atheist who denies god come into existence?
Further, if it is true that god is everywhere, why is he not able to prove his presence, by his own appearance?  The believer in god does not think of these relevant and sensible questions.
A Christian says that god has given man wisdom.  Man has to seek god through wisdom.  When we ask how god that was clear to their wisdom is not clear for our wisdom, they say that atheists are sinners and so cannot reach god.
Who created those sinners?  If god has created sinners; why did he make them sinners?  If god has not created sinners then who created them?  When we put this question they say that devil or satan has been responsible.  They are not willing to answer further.  It is all because they themselves are not able to understand what they are speaking.  It is so with the orthodox Islamites.  So far as Hinduism is concerned, there are Mummurthis called Brahma, Sivan and Vishnu, Kali, Kathavarayan, Maduraiveeran, Karuppannan, Alwars, Nayanmars, dead ones, stones, pictures birds, beasts, trees, cow-dung and so many others worshiped as gods.
Why do I enumerate so many gods?  If it is true that god is omnipotent, how ridiculous it is that he is not able to reveal himself in a definite form or shape.  Is god so weak, impotent and incapable?
Added to this sorry state of affairs, there are people who talk of previous life, next life, fate, dharma, heaven and hell.  They seem to me like the blabbering of the drunken mad fellows.
Man has enough to suffer from birth to death.  Added to these sufferings these gods and superstitious thoughts as fate, heaven and hell play havoc.  They practically torture the mind of man.  The living beings are still unable to understand why they suffer from pain, sorrow, worries and calamities.  Of all the living beings man is said to be the only rational being.
It is because man is endowed with rationalism, he suffers more than other living beings.  The real cause for it is the damnable god.
If we are to share the food and work equally there is no necessity for god.  In such a state, god has no work.
Today man is subjected to slavery, misery and difficulties, because his interests are vested in the hands of the mighty and fraudulent religious cheats.
In another 50 years the average longevity of man is going to reach 100 years.  That is certain.  Already in some countries the average life of man has gone up to 67-74.  In our own country in 1950 the average life of man was 32 years.  The percentage of literacy in 1940 was 9%.  By the efforts of the Chief Minister of Tamil Nadu Mr. Kamaraj the percentage of literacy has rapidly increased to 50 percent.  Added to this, the belief in god has been considerably reduced.  So I say the more and more, the thought of god diminishes, the people would become wiser.  If our women enjoy their independence in life and if socialism spreads in leaps and bounds, the wisdom of man and his longevity would simultaneously go on increasing.
Today the Government is in the hands of Dravida Munnetra Kazhagam (DMK).  They are atheists.  If they increase their membership by a few more lakhs, they will ever remain in power sound and stable.
Of all the foolish notions which ruined the human race on earth, it is the thought of god that is of foremost significance.  Of all the religions of the world, there are only three big religions considered important.  They are Christianity, Islam and Hinduism.  Of these three, the first two have historic significance.  So far as the third religion is concerned, it is a religion that was built up gradually with more and more fantastic ideas.  It is a religion forced on the people with the primary intention of hood-winking them.  It may be called a mixture.  It attained the name of Hinduism at a very later stage and after the spread of the other two religions only.
At first it was the Vedic religion for sometimes.  Then it was called the Aryan Religion.  Later it was called the Brahmanic religion.  At last it was christened as Hinduism.
In the world, Christianity is the biggest religion having the largest following.
Next comes Islam.  When compared to Christianity, Islam has ¾ of followers.
Whereas, the followers of Hinduism are only about ½ of the followers in the Islamic religion.
Apart from these three religions, there is another religion called Buddhism.  There is no particular god for this religion.  Yet they have the belief and follow certain rituals.  Buddhism is in fact next to Christianity so far as the followers are concerned.  It is a religion prevalent mainly in China, Siam, Burma and Ceylon.  If we are to call Buddhism by another name, we may call it the religion of wisdom, because "Buddhi" means knowledge.  Why should Buddhism be called the religion of wisdom?  While all other religions have a god, Buddhism has no particular god. It is so, because, there can be no god for a religion that is based on wisdom.  That is why Buddhism is said to be the religion of wisdom.
Yet even the Buddhists and intelligent people will not accept Buddhism as the religion based on wisdom.  Why?
For a religion to thrive, it must have a god and people should have belief in god.  Added to these the followers have to blindly believe absurd stories and irrational beliefs.
When one considers Buddhism on this basis, it may be defined as a mere way of life.  Its preaching and ideas are like that.
Words: 3075
Date:  22.12.2017