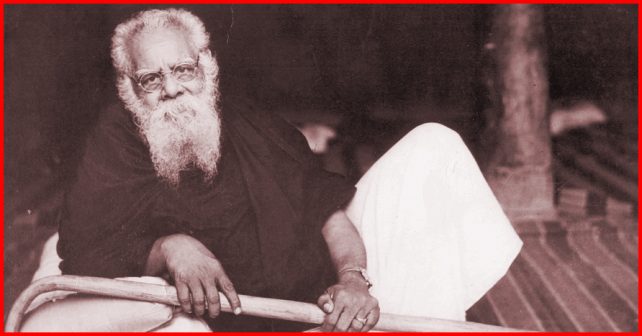 Continuing from the previous issue…
A Christian says that god has given man wisdom.  Man has to seek god through wisdom.  When we ask how god that was clear to their wisdom is not clear for our wisdom, they say that atheists are sinners and so cannot reach god.
Who created those sinners?  If god has created sinners; why did he make them sinners?  If god has not created sinners then who created them?  When we put this question they say that devil or satan has been responsible.  They are not willing to answer further.  It is all because they themselves are not able to understand what they are speaking.  It is so with the orthodox Islamites.  So far as Hinduism is concerned, there are Mummurthis called Brahma, Sivan and Vishnu, Kali, Kathavarayan, Maduraiveeran, Karuppannan, Alwars, Nayanmars, dead ones, stones, pictures birds, beasts, trees, cow-dung and so many others worshipped as gods.
Why do I enumerate so many gods?  If it is true that god is omnipotent, how ridiculous it is that he is not able to reveal himself in a definite form or shape.  Is god so weak, impotent and incapable?
Added to this sorry state of affairs, there are people who talk of previous life, next life, fate, dharma, heaven and hell.  They seem to me like the blabbering of the drunken mad fellows.
Man has enough to suffer from birth to death.  Added to these sufferings these gods and superstitious thoughts as fate, heaven and hell play havoc.  They practically torture the mind of man.  The living beings are still unable to understand why they suffer from pain, sorrow, worries and calamities.  Of all the living beings man is said to be the only rational being.
It is because man is endowed with rationalism, he suffers more than other living beings.  The real cause for it is the damnable god. If we are to share the food and work equally there is no necessity for god.  In such a state, god has no work.
Today man is subjected to slavery, misery and difficulties, because his interests are vested in the hands of the mighty and fraudulent religious cheats.
In another 50 years the average longevity of man is going to reach 100 years.  That is certain.  Already in some countries the average life of man has gone up to 67-74.  In our own country in 1950 the average life of man was 32 years.  The percentage of literacy in 1940 was 9 per cent.  By the efforts of the Chief Minister of Tamil Nadu Mr. Kamaraj the percentage of literacy has rapidly increased to 50 per cent.  Added to this, the belief in god has been considerably reduced.  So I say the more and more, the thought of god diminishes, the people would become wiser.  If our women enjoy their independence in life and if socialism spreads in leaps and bounds, the wisdom of man and his longevity would simultaneously go on increasing.
Today the Government is in the hands of Dravida Munnetra Kazhagam (DMK).  They are atheists.  If they increase their membership by a few more lakhs, they will ever remain in power sound and stable.
Of all the foolish notions which ruined the human race on earth, it is the thought of god that is of foremost significance.  Of all the religions of the world, there are only three big religions considered important.  They are Christianity, Islam and Hinduism.  Of these three, the first two have historic significance.  So far as the third religion is concerned, it is a religion that was built up gradually with more and more fantastic ideas.  It is a religion forced on the people with the primary intention of hood-winking them.  It may be called a mixture.  It attained the name of Hinduism at a very later stage and after the spread of the other two religions only.
At first it was the Vedic religion for sometimes.  Then it was called the Aryan religion.  Later it was called the Brahmanic religion.  At last it was christened as Hinduism.
In the world, Christianity is the biggest religion having the largest following.
Next comes Islam. When compared to Christianity, Islam has three fourth of followers.
Whereas, the followers of Hinduism are only about half of the followers in the Islamic religion.
Apart from these three religions, there is another religion called Buddhism.  There is no particular god for this religion.  Yet they have the belief and follow certain rituals.  Buddhism is in fact next to Christianity so far as the followers are concerned.  It is a religion prevalent mainly in China, Siam, Burma and Ceylon.  If we are to call Buddhism by another name, we may call it the religion of wisdom, because "Buddhi" means knowledge.  Why should Buddhism be called the religion of wisdom?  While all other religions have a god, Buddhism has no particular god. It is so, because, there can be no god for a religion that is based on wisdom.  That is why Buddhism is said to be the religion of wisdom.
Yet even the Buddhists and intelligent people will not accept Buddhism as the religion based on wisdom.  Why?
For a religion to thrive, it must have a god and people should have belief in god.  Added to these the followers have to blindly believe absurd stories and irrational beliefs.
When one considers Buddhism on this basis, it may be defined as a mere way of life.  Its preaching and ideas are like that.
Source:  'Collected Works of PERIYAR E.V.R.' published by The Periyar Self-Respect Propaganda Institution, Periyar Thidal, Vepery, Chennai