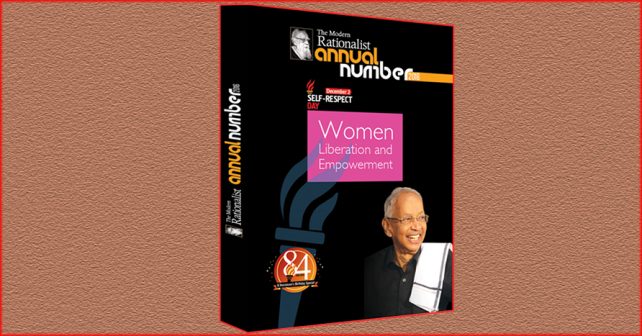 The Modern Rationalist – Annual Number 2017 is different from those issued in the past, in that it celebrates three events.  The editorial observes, "This year happens be more special to all the cadre of the Movement, and the followers of Periyar, for December 2 of this year marks the eighty-fifth birthday of our beloved Asiriyar Dr. K.Veeramani, President, Dravidar Kazhagam.  So, this year, we decided that the Annual Number must celebrate his birthday.  The theme is dear to the heart of the Asiriyar : "Self Respect is the Congenital Asset of the Humans".  And so it is, the year as well as the theme is special, marking the celebration.  A spectacular global conference of Periyar Self Respect Movement, has been held in July 2017 in Germany.  Naturally, this Number contains a lot of material on the proceedings of the Conference.
As could be expected, the Number almost opens with an extract from Periyar's writings 'Self Respect, and God and Religion' where he nails religion for having created inequality.  "Has not religion created a separate class of people who are hard working and a separate class of people who enjoy without any hard work?" he asks. An analytical article by Dr. G. Vijayam on "Atheism and Scientific Way of Life", traces the history of skepticism in India from early days, gives an account of scientific temper in India and concludes, "Human life and its problem must gain precedence over others.  We have to move away from the imaginary god-centered universe to the human-centered world."  In an interesting and sarcastic style Prof. Narendra Nayak, National President of Federation of Indian Rationalist Association, ridicules the baseless claims of charlatans that advanced science and technology existed in ancient India, and gives a serious warning that in our country, "the next battle is not going to be between the political left and right but between the right and the extreme right."
In his timely article, Justice A.K. Rajan gives an account of the much talked about but little known agamas, shows that there are quite a few practices in temple against the agamic stipulations, but no agama is against persons of any community taking over as temple archakas.
While S. Ratnakumar brings out the similarities in Periyar's thoughts, Tirukkural and Singapore's secularism, S. Arivukarasu shows Periyar made a call and as a result, "People woke up and broke the shackles put by Brahmins."  V. Anburaj gives a copious account of the journalistic tools of Periyar Mission, starting with 'Kudi Arasu' upto 'Periyar Pinju' and 'The Modern Rationalist' and how effective they are in disseminating Periyarism, 'bringing betterment of humankind through their thought and action.'  In his article displaying remarkable originality, V.Kumaresan delineates how Periyar made use of the 'nudge theory', formulated by Richard F. Thaler that got him Nobel Prize, had been effectively used by Periyar in all his endeavour to bring about the expected change of mind in his fellow humans.
More than seventy pages have been allotted to the Periyar Self Respect Conference that took place at the University Of Cologne, Germany.  In his presidential address to the conference, Asiriyar Dr. K. Veeramani, gives a detailed account of Periyar thoughts, how he conceived them, how he wanted every human being to be a rational thinker and how he belongs to the whole world.
Poet Kali. Poonkundran proclaims that Periyar aimed at a world where the total equality of all human beings would be assured, sans subjugation and exploitation, and marvels at "Periyar's forethought which made him create an organization, stipulate its mode of functioning and produce a dedicated leadership for continuing his work."
A.Arulmozhi goes through the history of India since its early days, and shows how "despotism of caste and religion was enforced through power of the state" in all periods, leading to the upsurge of the downtrodden during the British period and how Periyar was able to combine "all the social evils by tracing the links between them," and fight against them by working his unique ideology of Self Respect.
Latharani Poogavanam of Kuwait goes through the indignities heaped upon women and shows how the Self Respect Movement "not only took up women's issues as its concern, but also provided great stimulus for women in all its forums and activities."
There are many interesting and thought provoking articles on Asiriyar Dr. K. Veeramani.  Perasiriyar K. Anbalagam gives rich tribute to him, lauding his ceaseless endeavor to globalise Periyar.  The article by S.Rajaratnam makes an interesting reading, narrating how he happened to endear himself to the 'Thidal', as he puts it, through a just and fair judgement he wrote in the tax exemption case and later how he served the 'Thidal' to the best of his abilities.  Dr. A. Rajasekaran hails Asiriyar Dr. K.Veeramani, as a symbol of dedication, while another medical man, Dr. M.S.Ramachandran finds him a reservoir of knowledge.  Soma Ilangovan asserts that Periyar's organization "has withstood all the onslaughts… only because Veeramani has given his entire life to the cause."  Com. Ponneelan, recollecting all the services of Asiriyar Dr. K.Veeramani, calls upon everyone to strengthen his hands.  Palani Arangasami gives a graphic account of Asiriyar's achievements.
While Nam Srinivasan is amazed at Asiriyar's dynamism, refusing to be weakened by illness, N.K. Mangalamurugesan recollects his acts of compassion and concern.  P.Seetharaman warmly recollects his close association with Asiriyar whose concern for the employees knows no bounds.  Asiriyar's chauffeurs, S.Tamil Selvan, K.Ashok Kumar and photographer B.Sivakumar are grateful for the opportunity to serve such a noble man who is also unbelievably simple.
Kavignar Erode Tamilanban asserts, "Asiriyar Dr. K. Veeramani / has long years yet / as there are still / battlefields awaiting him."  The verse penned by Pavendar Bharatidasan greeting Veeramani – Mohana couple on the occasion of their wedding recalls that Veeramani "spent but little of his time in reading / and eight times more in storming Brahmin / fortresses."  Dr. Ulrike Niklas of Cologne, Germany, has sent a song by Bob Dylan which very much fits the Asiriyar.  It says, "May your hands always be busy / may your feet always be swift / may you have a strong foundation / when the winds of changes shift."
A unique feature of the Number is 'Asiriyar 85', wherein 85 questions put to the Asiriyar by a group of five people have been answered by him in a frank and friendly manner.  They bring out various facets of his many sided personality.
The editorial note says, "On the whole, the Number will be a treat, with a variety of its own."  It certainly is a treat, not only to the intellect, but to the eyes too, with a number of photographs.  Even those who are not familiar with Periyarism can enjoy going through the Number for the sheer variety it offers.
Leslie Amarson