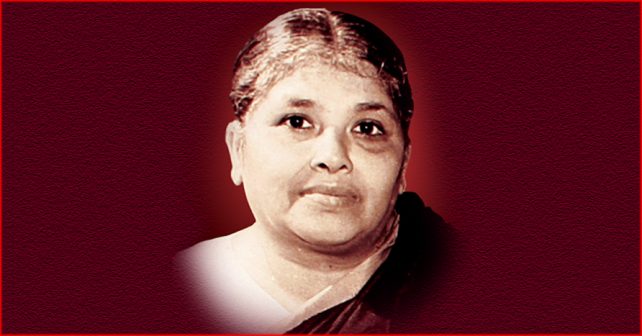 Tata Sivaiah, Hyderabad
E.V.R. Maniammaiar had been a student of the Self-Respect movement since her childhood, and a great admirer of Periyar. In her early 20s, Maniammai joined the movement and accompanied Periyar on all his tours, looking after his well-being, collecting his speeches in the form of booklets and distributing them at Dravidar Kazhagam meetings. This loyal commitment of hers to the organisation led to Periyar's decision to make Maniammai his legal heir.
When Periyar was seventy-two, he announced his intention of naming her organisational heir since his health prevented him from taking over long travels.  He planned to make her the trustee of the party funds too. By 1949, she had been his personal assistant for around five years. This announcement created much controversy and shock, both in the party and among others. All the same, Periyar and Maniammai had a registered marriage. Periyar explained that the sole reason for the marriage was only to ensure that Maniammai would be his legal heir and since she was selfless enough to maintain all the property acquired by his Trust on her.
No woman has received as much criticism and abuse as she has. Society is harsh to women who take a controversial stand. But she had full knowledge of her decision and continued to be Periyar's caretaker till the end.
Periyar has himself written in Viduthalai, the party's daily, about Maniammai's travails.  If my life still active even at this age, it is because of this woman. Who is not unaware of this? It is she who provides suitable food, and dresses for the occasion. Those who do not dare to oppose me directly find fault and decry that woman."
Reason to marry Maniammai:  According to the law of those days, assets can be transferred only to their own bloodline or by adopting only a male and there was no room in law for female adoption. Now Periyar had only one option and that was marrying a woman who can be trusted, and Maniammai was his choice.
After Periyar's death, Maniammai became the leader of the Dravidar Kazhagam for five years until her demise in 1978. In 1978, DK cadres went on an agitation for caste abolition and were arrested. Two people died in prison on March 8th and 10th. The jailor of the Prison refused to hand over the dead bodies. Maniammai appealed to Chief Minister K.Kamaraj and brought the dead bodies out and led the funeral march. After the demise of Periyar, Maniammai headed the Dravidar Kazhagam.  On 3rd April 1974, she led the agitation for appointment of temple archakas from all castes. On 25th December 1974, she conducted the "Ravana Leela" and burnt the effigy of Rama, in retaliation to the "Ram Leela" conducted in Delhi. She was imprisoned for six months.
Prior to her death, Maniammai created a Trust on educational activities and transferred all her personal wealth into the Trust. This trust created in 1974 is today running nearly 40 educational institutions, mostly for women.
Let the country know Maniammai, was a brave woman who faced the Emergency, Conducted Agitations for caste abolition, created a trust for educational institutions and above all, headed the world largest atheist movement. Maniammai was succeeded by Asiriyar K.Veeramani as the leader of Dravidar Kazhagam.