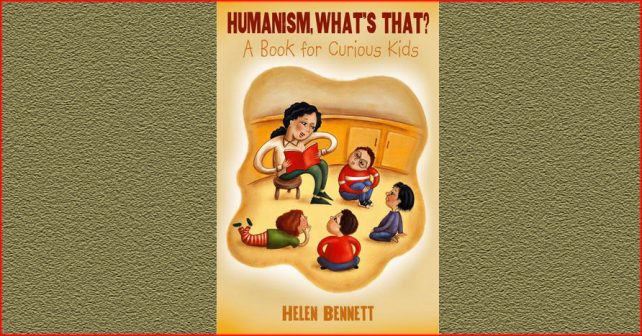 Jesse : Why Doesn't the government allow us to pray in school?  This is not a Communist country!  Don't we have freedom here?
Mrs. Green :   We certainly do have the freedom to express religious beliefs.  Our country has many different groups of people who belong to different religions or they may not hold religious beliefs at all.  Some have deep-felt moral beliefs by which they live their lives.  Therefore, if even one person doesn't believe in the group's prayer, that student's beliefs must be respected.
Mary:   But why can't that person just not pray?
Mrs. Green :   Because he or she would feel left out and possibly teased or bullied into going along with the larger group – the majority.  Our country was founded on religious freedom – and that includes the right to disagree or to hold no religious belief at all.
Chad :   But all good people are religious!  They believe in God, and only God can make people well – if we pray hard enough.
Mrs. Green :   Sorry, Chad, but not all people agree.  Not everyone believed in God, but that doesn't make them bad people.
Jesse :  What kind of people do not believe in God?  How can they be good if they don't go to church?
Mrs. Green :  There are several kinds of non-believers.  Some are called athe ists, while others call themselves agnostics, free-thinkers, or humanists.  All these people are highly ethical.  That means, they believe in doing good because it is the right thing to do, not because they are afraid of God's punishment.
Jesse :  Do you believe in God, Mrs. Green?
Mrs. Green :   Teachers are not supposed to discuss their beliefs  with their students.  So what I believe or don't believe is not important here.  Teachers must remain "objective" and present all sides of a question so that students can decide for themselves.
Steve :   Tell us how people who don't believe in God can be good!  I think teachers who don't believe in God should be fired!
Mrs. Green :   If you really are curious about a different view, we can meet as a group about it after class if you will get your parent to sign a permission slip.  We'll talk about Humanism, an ancient philosophy that many good people follow.
The class took permission slips home and six children (out of thirty-two) were allowed to take Mrs. Green's afterschool class on Humanism.  When the discussion group met, here is my best recollection of what happened.
Mr. Green :   The people I want to tell you about are called Humanists.  I use a capital "H" when I write about them because they are committed to the Humanist philosophy of life.  Other people may be "humanists" with a small "h".   They agree with Humanists on many social issues, but may belong to a religion.
Jesse :   What do Humanists (with a big "H") believe about God?
Mrs. Green :   They believe that God is an idea that people came up with long ago when they were trying to figure out how nature worked and how to get good results when they planted seeds for food.  They wanted to avoid acts of nature that could produce disasters.
Jenna :   Such as?
Mrs. Green :   Such as lightning storms, hurricanes, earthquakes, floods, droughts, famine, sickness – all the bad stuff that can happen that we have no control over.  They wanted to have good luck in their hunting, too.  They also wanted to win battles with their enemies, just as warring nations do now.  People used to believe that all things in nature – such as the wind, the rain, the sun and moon, the animals and plants – and spirits in them that could be controlled through prayer and sacrifice, or giving these spirits what the people thought the spirits wanted.  These spirits eventually were named as gods, like the Greek gods of Thunders (Zeus), of Love  (Aphrodite), of War (Ares), and of Wisdom (Athena).  Each part of activity of human nature was controlled by a god who acted in a very human way.  For instance, Zeus was always fighting with his wife, Hera, in much the same way that married couples quarrel.  However, some wise men called philosophers did not believe in these gods.
Steve :   They were smart!  The gods are not like people who fight.  There is only one God, are you can't see Him.  He lives in the sky and sees you all the time.
Mrs. Green :   What does he do?
Steve :  He writes down in a big book whenever you commit a sin.  We all do sins – we were born that way!  If you have too many sins,  and don't get them forgiven by a priest, you can't get into heaven.  You go to hell!
Mary :   It doesn't have anythign to do with a priest!  Some people will go to heaven no matter what they do.  They are called the "elected."  There's a big election in heaven between God and the angels.  Whoever gets the majority vote goes to heaven.
Mrs. Green :   When does this happen ?
Mary :   Before you are born.  Before everyone is born, the election is held for the whole world.
Joan :  That's not what my church says.  Our minister told us that Jesus died for our sins.  That means everybody gets to go to heaven.  Even if we sin some more.
Jesse :   Don't the Humanists understand Jesus?
Mrs. Green :   The Humanists have a different idea here.  They do not believe that Jesus was a god, or the son of God.  They think he was a great teacher who had many wise things to say, but they don't believe that he was born of a virgin or rose from the dead.
Jesse :  Wow !  How can you say that?  I'll bet all Humanists are Jews!
Mrs. Green :   What do you mean, Jesse?  Tell us what you know about the Jews.
Jesse : That they are bad people because they killed Jesus.  They didn't believe that He was the Messiah!
Mrs. Green :   You are right that most Jews didn't believe that Jesus was the Messiah.  The Jews thought that an inspired leader, someone they called "the Messiah," would come to rescue them from the Romans, who had taken over their land and were cruel to them.  But Jesus didn't fight the Romans, as he spoke of the "Kingdom of God," not the problems here on Earth.  The new religion called Christianity believed that Jesus was both the Son of God and God Himself, as that was most important to them.
Jesus himself was a Jew who did not intend to start a new religion.  But some Jews felt threatened by Jesus, as he didn't follow all their old rules.  The Jewish priests who feared Jesus had him captured and them turned him over to the Roman authorities, who put him to death.  Though some thoughtless people accuse all the Jews of killing Jesus, we don't blame people for the sins of their ancestors.  Today we try to make amends for a wrong that has been done in the past, such as slavery, but that doesn't mean those living now are actually guilty of the evil.  If someone in your family has committed a crime, would you think it fair if you went to jail for it?
Jenna :   No! I wouldn't take the rap for something my great-grandma did!  She died long before I was born !
Source:  Humanism, What's That? A Book for
Curious Kids by Helen Bennett
to be continued….