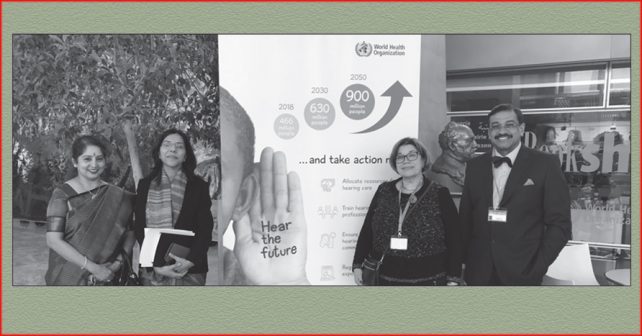 Dr. Mohan Kameswaran, Chief Surgeon and Director, Madras ENT Research Foundation, Chennai delivered a talk at the World Health Organization (WHO) at Geneva on 2nd March, 2018 at the invitation of the WHO.  This was to commemorate the World Deafness Day on 3rd March 2018.
In his lecture on 'Policy Implementation for ear and hearing care' – Dr.Kameswaran highlighted his vast experience in combating deafness in various parts of the country as well as his experiences in starting Cochlear Implant programs in Sri Lanka, Bangladesh, Nepal and in Nigeria.
In his address Dr. Kameswaran stated that hearing loss is fast emerging as the commonest congenital anomaly to affect children globally (1 per 1000 new borns suffer from severe to profound hearing loss).  It is the 2nd most common disability to affect the world population (an estimated 466 million and rising).
By 2050 WHO estimates that over 900 million will be having disabling hearing loss and much of the burden will be borne by developing countries.  The overall annual cost of hearing loss is a whopping 750 – 790 billion dollars globally.  The only silver lining in the cloud is that deafness is one of the few handicaps which can be completely reversed.
Several cost benefit studies from various corners of the world have uniformly highlighted that hearing aids and Cochlear Implants which correct deafness, are amongst the most cost effective inventions available today.
2/3rd of the hearing loss in Tamil Nadu is attributed to consanguineous marriages and hence preventable.  He highlighted that Tamil Nadu Chief Minister's Comprehensive Health Insurance Scheme (TNCHCHIS) and its predecessor Kalaignar Kapittu Thittam (KKT) have both been trail blazers in the field of deafness alleviation and correction.
Nearly 3000 Cochlear Implants have been done through this scheme in Tamil Nadu and this fact was highly appreciated by the Member States of WHO.
The unique 'Hub and Spoke' model of habilitation developed in Tamil Nadu was deeply appreciated by the WHO as a model worthy of emulation by all the developing countries.
Dr. Kameswaran also pointed out the positive role of the National Program for Prevention and Control of Deafness (NPPCS) in various parts of the country and the importance of the nationwide insurance scheme introduced by the Government of India in the present budget.
Dr. Kameswaran concluded by laying out a road map for a 'Deafness free Tamil Nadu by 2025 and pointed out that this could very well be applied to all developing nations'.