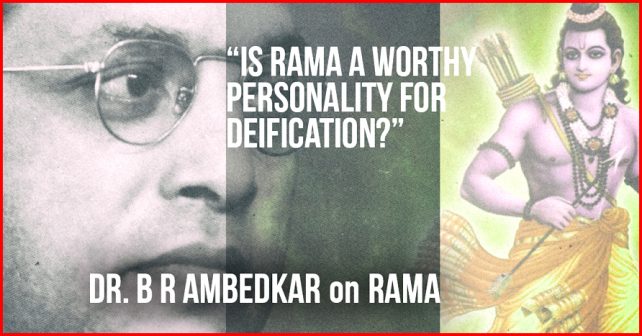 Continued from the previous issue…
Rama keeps it away from Sita as a closely guarded secret and was waiting for an opportunity to put his plan into action. Eventually the cruel fate of Sita gave him the opportunity he was waiting for. Women who are carrying exhibit all sorts of cravings for all sorts of things. Rama knew of this. So one day he asked Sita if there was anything for which she felt a craving. She said yes. Rama said what was it. She replied that she would like to live in the vicinity of the Ashrama of sage on the bank of the river Ganges and live on fruits and roots at least for one night. Rama simply jumped at the suggestion of Sita and said "Be easy my dear I shall see that you are sent there tomorrow".
Sita treats this as an honest promise by a loving husband. But what does Rama do? He thinks it is a good opportunity for carrying through his plan of abandoning Sita. Accordingly he called his brothers to a secret conference and disclosed to them his determination to use this desire of Sita as an opportunity to carry out his plan of abandonment of Sita. He tells his brothers not to intercede on behalf of Sita, and warns them that if they came in his way he would look upon them as his enemies. Then he tells Laxman to take Sita in a chariot next day to the Ashram in the jungle on the bank of the river Ganges and to abandon her there.
Laxman did not know how he could muster courage to tell Sita what was decided about Sita by Rama. Sensing his difficulty Rama informs Laxman that Sita had already expressed her desire to spend some time in the vicinity of an Ashrama on the bank of the river and eased the mind of Laxman. This confabulation took place at night.
Next morning Laxman asked Sumanta to yoke the horses to the chariot. Sumanta informs Laxman of his having done so. Laxman then goes into the palace and meets Sita and reminds her of her having expressed her desire to pass some days in the vicinity of an Ashrama and Rama having promised to fulfil the same and tells her of his having been charged by Rama to do the needful in the matter. He points to her the chariot waiting there and says 'let us go!' Sita jumps into the chariot with her heart full of gratitude to Rama. With Laxman as her companion and Sumanta as coachman the chariot proceeds to its appointed place.
At last they were on the bank of the Ganges and were ferried across by the fishermen. Laxman fell at Sita's feet, and with hot tears issuing from his eyes he said 'Pardon me, O, blameless queen, for what I am doing. My orders are to abandon you here, for the people blame Rama for keeping you in his house."
Sita abandoned by Rama and left to die in a jungle went for shelter in the Ashrama of Valmiki which was near about. Valmiki gave her protection and kept her in his Ashram. There in course of time Sita gave birth to twin sons, called Kusa and Lava. The three lived with Valmiki. Valmiki brought up the boys and taught them to sing the Ramayana which he had composed.
For 12 years the boys lived in the forest in the Ashrama of Valmiki not far from Ayodhya where Rama continued to rule. Never once in those 12 years this model husband and loving father cared to inquire what had happened to Sita whether she was living or whether she was dead. Twelve years after Rama meets Sita in a strange manner. Rama decided to perform a Yadna and issued invitation to all the Rishis to attend and take part. For reasons best known to Rama himself no invitation was issued to Valmiki although his Ashram was near to Ayodhya. But Valmiki came to the Yadna of his own accord accompanied by the two sons of Sita introducing them as his disciples.
While the Yadna was going on the two boys used to perform recitations of Ramayana in the presence of the Assembly. Rama was very pleased and made inquiries when he was informed that they were the sons of Sita. It was then he remembered Sita and what does he do then ? He does not send for Sita. He calls these innocent boys who knew nothing about their parents' sin, who were the only victims of a cruel destiny to tell Valmiki that if Sita was pure and chaste she could present herself in the Assembly to take a vow thereby remove the calumny cast against herself and himself. This is a thing she had once done in Lanka. This is a thing she could have been asked to do again before she was sent away. There was no promise that after this vindication of her character Rama was prepared to take her back. Valmiki brings her to the Assembly. When she was in front of Rama, Valmiki said, 'O, son of Dasharatha, here is Sita whom you abandoned in consequence of public disapprobation. She will now swear her purity if permitted by you.
Here are your twin-born sons bred up by me in my hermitage.' 'I know,' said Rama 'that Sita is pure and that these are my sons. She performed an ordeal in Lanka in proof of her purity and therefore I took her back. But people here have doubts still and let Sita perform an ordeal here that all these Rishis and people may witness it."
With eyes cast down on the ground and with hands folded Sita swore "As I never thought of any man except Rama even in my mind, let mother Earth open and bury me. As I always loved Rama in words, in thoughts, and in deed, let mother Earth open and bury me ! As she uttered the oath, the earth verily opened and Sita was carried away inside seated on a golden simhasana (throne). Heavenly flowers fell on Sita's head while the audience looked on as in a trance.
That means that Sita preferred to die rather than return to Rama who had behaved no better than a brute.
Such is the tragedy of Sita and the crime of Rama, the God. Let me throw some search light on Rama the King. Rama is held out as an ideal King. But can that conclusion be said to be founded in fact?
As a matter of fact Rama never functions, as a King. He was a nominal King. The administration as Valmiki states were entrusted to Bharata his brother. He had freed himself from the cares and worries about his kingdom and his subjects. Valmiki has very minutely described the daily life of Rama after he became King. According to that account the day was divided into two parts. Up to forenoon and afternoon.
From morning to forenoon he was engaged in performing religious rites and ceremonies and offering devotion. The afternoon he spent alternately in the company of Court jesters and in the Zenana. When he got tired of the Zenana he joined the company of jesters and when he got tired of jesters he went back to the Zenana. Valmiki also gives a detailed description of how Rama spent his life in the Zenana. This Zenana was housed in a park called Ashoka Vana. There Rama used to take his meal. The food according to Valmiki consisted of all kinds of delicious viands. They included flesh and fruits and liquor. Rama was not a teetotaller. He drank liquor copiously and Valmiki records that Rama saw to it that Sita joined with him in his drinking bouts.
From the description of the Zenana of Rama as given by Valmiki it was by no means a mean thing. There were Apsaras, Uraga and Kinnari accomplished in dancing and singing. There were other beautiful women brought from different parts. Rama sat in the midst of these women drinking and dancing. They pleased Rama and Rama garlanded them. Valmiki calls Rama as a 'Prince among women's men'. This was not a day's affair. It was a regular course of his life. As has already been said Rama never attended to public business. He never observed the ancient rule of Indian kings of hearing the wrongs of his subjects and attempting to redress them. Only one occasion has been recorded by Valmiki when he personally heard the grievance of his subjects. But unfortunately the occasion turned out to be a tragic one. He took upon himself to redress the wrong but.
In doing so committed the worst crime that history has ever recorded. The incident is known as the murder of Sambuka the Shudra. It is said by Valmiki that in Rama's reign there were no premature deaths in his kingdom.
It happened, however, that a certain Brahman's son died in a premature death. The bereaved father carried his body to the gate of the king's palace, and placing it there, cried aloud and bitterly reproached Rama for the death of his son, saying that it must be the consequence of some sin committed within his realm, and that the king himself was guilty if he did not punish it; and finally threatened to end his life there by sitting dharna (hunger-strike) against Rama unless his son was restored to life. Rama thereupon consulted his council of eight learned Rishis and Narada amongst them told Rama that some Shudra among his subjects must have been performing Tapasya (ascetic exercises), and thereby going against Dharma (sacred law); for according to it the practice of Tapasya was proper to the twice-born alone, while the duty of the Shudras consisted only in the service of the twice-born. Rama was thus convinced that it was the sin committed by a Shudra in transgressing Dharma in that manner, which was responsible for the death of the Brahmin boy. So, Rama mounted his aerial car and scoured the countryside for the culprit.
At last, in a wild region far away to the south he espied a man practising rigorous austerities of a certain kind. He approached the man, and with no more ado than to enquire of him and inform himself that he was a Shudra, by name Sambuka who was practising Tapasya with a view to going to heaven in his own earthly person and without so much as a warning, expostulation or the like addressed to him, cut off his head. And lo and behold! That very moment the dead Brahman boy in distant Ayodhya began to breathe again. Here in the wilds the Gods rained flowers on the king from their joy at his having prevented a Shudra from gaining admission to their celestial abode through the power of the Tapasya which he had no right to perform. They also appeared before Rama and congratulated him on his deed. In answer to his prayer to them to revive the dead Brahman boy lying at the palace gate in Ayodhya, they informed him that he had already come to life. They then departed.
Rama thence proceeded to the Ashrama which was nearby of the sage Agastya, who commended the step he had taken with Sambuka, and presented him with a divine bracelet. Rama then returned to his capital.
Such is Rama.
Words:   1916
Date:  29.05.2018