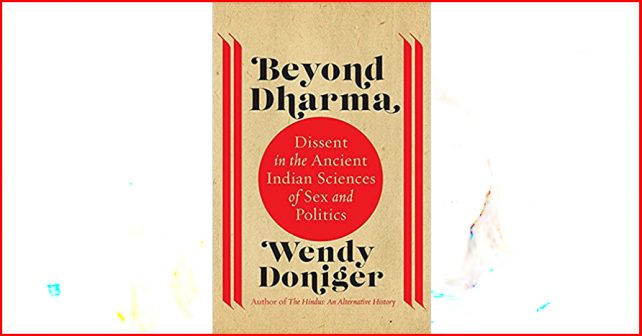 Wendy Doniger demonstrates how the spirit of dissent encouraged by the scientific temper displayed in ancient Hindu texts is being pitted against the 'forces of repressive dharma', writes A.K.Bhattacharya
'Beyond Dharma' Dissent in the Ancient Indian Sciences of Sex and Politics, 
Author:  Wendy Doniger
Publisher:  Speaking Tiger Publishing Pvt. Ltd.,  4381/4, Ansari Road, Daryaganj, New Delhi-110 002.    Pages:  231   Price:  Rs.599/-
Eminent Indologist Wendy Doniger's latest book was published by Yale University Press earlier this year and its title was Against Dharma: Dissent in the Ancient Indian Sciences of Sex and Politics. It has now been published in India by Speaking Tiger. But the title has been changed to Beyond Dharma. Dissent in the Ancient Indian Sciences of Sex and Politics.
This is a significant change. The point to note here is that the phrase "beyond dharma" may include the connotation implicit in "against dharma", but "against dharma" is extremely limited and specific in its scope of meaning. Indeed, the interpretation of "beyond dharma" has immense possibilities and, therefore, it is far more inclusive than what is suggested by "against dharma", which narrowly emphasizes an antagonistic relationship between dharma and ancient Indian texts on statecraft and sex. Since dharma is defined broadly as a matrix for truth and law affecting the universe, the implications of substituting "against dharma" with "beyond dharma" can hardly be ignored.
Why did Doniger make that change?
One explanation could be her realization that "beyond dharma" widens the context of her book and allows greater scope for interpretation of the interplay among the various Indian texts on dharma, statecraft, politics and sex. Another explanation could be the feat that allowing the book to use "against dharma" in the Indian edition could create a political controversy affecting wider dissemination of her book. There is little doubt that "against dharma" could raise the hackles of many bigoted Hindutva zealots leading to protests clouding the prospects of her book being easily available to her readers in India.
Doniger is no stranger to controversies in India, as her earlier books on Hindus and Indian epics had incited the Hindutva brigade to file legal cases against her and one of her publishers had even buckled under such pressure. So, it is possible that the change in the title of the book for release in India was an attempt to rule out even a whiff of a controversy around it. Discretion is the better part of valour after all.
And yet, Doniger does not shy away from courting a bigger controversy by launching a frontal attack against the current political regime under Prime Minister Narendra Modi, which according to her has presided over a "subversion of science by religion" and has attempted to replace "genuine science with ludicrous religious science". She argues cogently and convincingly to show how this tendency devalues the work of many Indian scientists and rejects the ancient Indian tradition of "scientific opposition to religious dogma".
The highlight of the book is in the last few sections of its last chapter, where Doniger laments that the spirit of dissent, encouraged by the scientist temper displayed in Kautilya's Arthashastra, Vatsayana's Kama Sutra and Charvaka's skepticism, has now been pitted against the "forces of repressive dharma" that now support "pseudoscientific claims". Doniger meticulously explains the evolution of the sorry spectacle of Hindu nationalism claiming the superiority of ancient Indian scriptures even on matters such as scientific theories and scientific discoveries.
She refers to the ridiculous claim that the nineteenth century German Indologist Friedrich Max Mueller has stolen ancient Vedic texts that "facilitated German scientists' later development of the atom bomb". She also cites Swami Dayanand Saraswati's assertion that Krishna and Arjun had gone to America 5,000 years ago, travelling through Siberia and Bering Straits. Doniger concludes that all this is an outcome of the Hindu nationalists' desire to claim that their religion is wiser and more advanced than the Western sciences and that the Hindu religious texts contain sciences much older than those that the West boasts of.
This tendency, according to Doniger, has grown worse and taken a new dimension under the current rule of the Bharatiya Janata Party, which seeks scientific authenticity in Hindu religious texts instead of the scientific texts of the past. This is reflected in recent developments such as the revision of school text books (one of which claimed that the nuclear bomb existed in ancient India),  ministerial claims that India knew of algebra even before the Arabs discovered it and the promotion of Vedic quantum mechanics and general relativity or the Vedic string theory. At the Indian Science Congress in 2015, the head of the Indian Council of Historical Research talked about Vedic aircraft that could undertake radar-assisted interplanetary travel.
Doniger admits that the Modi regime's promotion of mythological science has not completely driven out pursuit of real sciences in India. For instance, there are attempts to make sense of the technical knowledge contained in many Sanskrit texts in areas as diverse as mathematics, metallurgy and medicine. That such pursuits are still being undertaken is a relief. But Indian scientists have also expressed their disenchantment with recent unscientific statements made by those who wish to assert the superiority of Hindu ancient texts. Now, as Doniger argues, there is the real danger of religion being used in India for subversion of science.
It is a pity that the last chapter of Doniger's book is so central to the current political discourse in India that her principal thesis propounded eloquently in the previous six chapters gets easily overshadowed. With copious references to the original texts, Doniger explains how Arthashastra and Kama Sutra are closely related, even though the former is on statecraft and politics and the latter is on sex and the art of living. But the traits of dissent and heresy in both the texts are unmistakable. They challenge the earlier treatise on dharma, authored by Manu.
Doniger explains that the challenge put up by Arthashastra and Kama Sutra, however does not mean that they do not accord the due importance to dharma in both statecraft and the art of living. But they also do not flinch from selectively questioning the religious order delineated in Manu's Dharma-Shastra. Such opposition to dharma is nothing else but a reflection of the spirit of dissent that was prevalent in ancient India. The undermining of the social and religious order of the day saw its culmination in the writings of materialists such as Charvakas and Lokayatikas, who kept alive the spirit of dissent and skepticism.
Scientific disciplines had challenged religion in ancient India. The Modi regime is seeing a reversal of that tradition as science is now being challenged by religious views and beliefs. Through her lucid analysis and easy prose, Doniger makes you wiser. Helping a more nuanced understanding of what Hindutva is attempting to achieve.