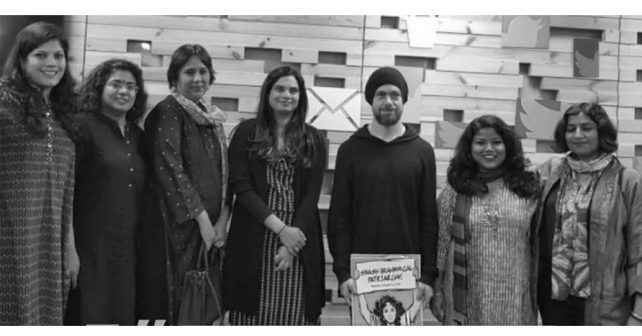 Read the banner 'Smash Brahmnical Patriarchy' held aloft by a girl in a twitter page.  Jack Dorsey, the CEO of the Twitter was severely censured by Brahmins and Hindu fanatics in this 'holy' land.
That was enough to rattle the Brahmins, who ganged up and started showering vituperative on him. They pressurized him so much that he openly apologised the next day for having released in the twitter.
Just a single sentence! But this was seen by Brahmins as a menacing statement, which made the CEO of the website go on bended knees.  Is it an everyday occurrence?
Jack Dorsey who is on a visit to India has met with many Central ministers including Prime Minister Narendra Modi, corporate owners and social activists.  In the course of his meeting with media persons in New Delhi on 19th November a woman gave him the banner depicting a girl carrying the above poster.  The poster exposes the Brahmin hegemony prevalent in India resulting in casteist fanaticism displayed in all the parts of India. The poster does not single out any individual Brahmin or any single group.
Brahmin domination is not something you can ignore and pass by.  In the vast peninsula of India Brahminism reenergized its hegemony forced the exit of Buddhism.  Vedic Brahminism divided people on the basis of caste, introduced inhuman practices like untouchability, excommunicated groups of societies, treated women as inferior to animals, and brutalised them into servility.  They did not permit any group other than Brahmins to breathe the air of freedom.  Brahmins meticulously protect all these evils collectively to this day.
Please point out a single spot in this country which is free from Brahmin domination, Brahmin repression?  Brahminism has its tentacles spread even in crematoria.  Media, judiciary, education, industry, trade and commerce, government – name any place in the country and one could notice the all pervasive Brahminism without any restraint.  Believing that they are on top of others, they try to occupy the top position everywhere, by fair means or foul.
a foreigner (CEO, Twitter) has interrupted the deep slumber, of course without any intent, of the educated non Brahmin masses to realize the social reality of 'Brahminical hegemony' through the glut of comments floated by the Brahmins to blow up.
Marriage alliances must be within one's caste – this policy invests Brahmins with all their strength.  Occupation, food, customs and habits – caste is prevalent in all the aspects of human life.  This helps in maintaining the vision of Brahminism.  This is what we mean when we speak of Brahmin domination.  It is to shatter this domination that Thanthai Periyar from the south and Babasaheb B.R. Ambedkar, Jotirao Phule and Sahu Maharaj from the North devoted their entire life.  Their service was enormous.  There are still a number of people in this country who continue their struggle. The banner in question is the vow of those who fight:  Will the Brahmins silently watch their domination being snatched away?
Social websites have become easily accessible to those who want to express their idea.  Some give vent to their opposition to casteist repression.  What constitutes hate speech?  How to identity it?  Once, even when a girl stood in front of men, it was taken as improper.  But now, after they have been civilized and modernized, women have started raising their voice against their subjugation.  And that is dubbed as hate speech born of arrogance.  Any expression against social or casteist oppression is, in their words, hate speech and anti social.
Sexual intimidation, casteist browbeating, celebrating those who murdered suspected beef-eaters, those who attack the depressed people and tribals – all these are silently witnessed and those pictures are exhibited in the websites – with the threat that such fate awaits everyone.  This is not hate- speech in their opinion.
But to point out that all these are the offspring of Brahminism is hate-speech and communal.  The said banner does not point at any individual or a group of people.  Yet, Brahmins as a whole and all Hindutva outfits have risen against it. And are indulging in hate speech. Thousands of venomous abuses are made against Jack Dorsey.
Those women who came out in support of the banner have met with threat of violence.  One person has even threatened that these women will meet with the same treatment that happened to the Delhi girl in 2013.
Caste will go only if Brahminism is abolished.  Conversely, the end of casteism will spell the end of Brahminism.
Courtesy: 'Viduthalai'  Sunday Special