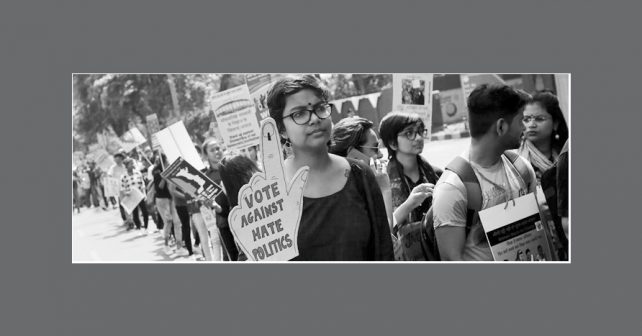 We stand at a critical juncture in our national history on the eve of a make or break election. The results will either take it forward towards our constitutional ideals or back to a brute majoritarian ideal of a so-called "nationalism". We therefore make this impassioned appeal to our fellow citizens to save the soul of our nation from being permanently scarred by attempts to undermine our Constitution and assaults on what we hold most dear. In the last few years we have seen concerted attacks on freedom of expression, imposition of a theocratic state, unchecked mob-lynchings, state-sanctioned terror against the most vulnerable sections of society, and corporatisation of India's national assets. The BJP-led government has created a pervasive atmosphere of fear and all-consuming hatred, which has infiltrated our homes. We believe that this sustained regressive agenda is to impose an intolerant, mono-culture and destroy our rich and diversified social fabric. We do not wish to see it a day more in office. This is thus an appeal to all thinking citizens to see through their subterfuge and vote for change.
When Prime Minister Narendra Modi recently claimed that not a single instance of "Hindu terror" could be found in the history of our country, he in a way admitted that the Bharatiya Janata Party considers itself to be an exclusive party for Hindus and their brand of Hindutva. He of course conveniently overlooked Nathuram Godse's connection to the Hindu Mahasabha. Even if for a moment were we to believe that the BJP and its minions that form the Hindutva brigade can't be held responsible for promoting the reign of terror and communal violence that has rocked the country in recent times, there are enough reasons for us to doubt those claims of innocence given the growing incidents of murders of those who oppose the attempt to stem the flow of their bigotry like Gauri Lankesh, Kalburgi, Pansare and Dabholkar.
It would be a Herculean task to list the wreckage caused by the current NDA government given its abject track record since 2014. It has miserably failed to deliver on any front except on optics. To begin with, we have had the colossal disaster of demonetization. While the move was meant to unearth black money, it continues to be in circulation as ever before, while the government has not deemed it necessary to account for the huge losses owing to the ill-conceived move. The legitimate demands of farmers have not been met, and they are being driven to suicide almost on a daily basis. Corruption has been rampant. The Rafale scam has exposed it at the highest level. Panama papers received no attention in spite of a significant Indian presence. Mehul Choksi, Vijay Mallya and Nirav Modi, among others, were allowed to flee the country, together with their loot.
State-owned institutions across a wide range of fields from HAL to ONGC and from BSNL to the finest of universities have suffered due to bad policies and undue interference. Unemployment is raging, incomes are stagnant, prices are rising, welfare schemes are dysfunctional, RTI laws have been diluted, labour issues have gone unaddressed, environmental laws have been grossly violated, and the list goes on. There has been rampant privatization while crony capitalism has been encouraged. The Prime Minister, meanwhile, spent a large part of his tenure pursuing dubious foreign policy initiatives, while more important core domestic issues that affect the poor and the disadvantaged were completely neglected.
The NDA government at the Centre, and the governments that it has formed in various states, have attempted to cover up their failures by resorting to blatant lies, misinformation and cooked-up statistics. The Central government has interfered with the functioning of autonomous institutions and constitutional bodies to further its self-interest and wield power, be it the RBI, the CBI, the ED or educational institutions. Even statistics are now not sacrosanct but are being conveniently changed to suit the narrative. There have even been attempts to interfere with the judiciary and emasculate and even manage the Election Commission.
The curriculums in schools and universities have been revised to promote Hindutva and key appointments to academic bodies and cultural institutions have been made disregarding norms, to fulfill the broad aims of the RSS. Those owing allegiance to the Hindutva brigade now are at the helm of key art and cultural institutions of the country. We artists condemn, in particular, the waste of public money on fancy cultural art projects and statues taken up by the BJP and its allies. These funds could have been far better utilized for more aesthetically appealing works of lasting significance.
The BJP has been quite vocal about its practices of misogyny, bigotry and Islamophobia and communal polarization is at an all-time peak. Violence based on caste prejudice is the new normal. Terms like love-jihad, gau hatyare, tukde-tukde gang or urban Naxals are coined to incite violence on any flimsy ground against Dalits, Muslims, intellectuals, social activists, artists, writers and vulnerable sections of society. And in almost all the cases the perpetrators of crime and violence have no fear of law and are allowed to go scot free. The concept of an ideal Indian woman being a passive actor with no agency is glorifed, while women are raped brazenly. Ordinances are brought in breach of established parliamentary norms to polarize the polity. Fake encounters are considered a part of normal policing. In a nutshell, the rule of law is dead.
We therefore fervently request you to vote against the BJP, and vote strategically for whichever party stands the best chance of defeating the BJP in your region. On the day of voting, do keep a check on any violations of electoral laws. This is perhaps the most important election that India has ever faced. It is an opportunity to save our democratic polity, protect liberty and our secular tradition. This is the only chance we have. Use it wisely.
'Vote Out Hate Politics' 200 Writers' Appeal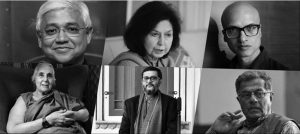 Our Constitution guarantees all its citizens equal rights, the freedom to eat, pray and live as they choose, freedom of expression and the right to dissent. But in the last few years, we have seen citizens being lynched or assaulted or discriminated against because of their community, caste, gender, or the region they come from. Hate politics has been used to divide the country; create fear; and exclude more and more people from living as full-fledged citizens. Writers, artists, filmmakers, musicians and other cultural practitioners have been hounded, intimidated, and censored. Anyone who questions the powers-that-be is in danger of being harassed or arrested on false and ridiculous charges.
All of us want this to change. We don't want rationalists, writers and activists to be hounded or assassinated. We want stern measures against violence in word or deed against women, dalits, adivasis and minority communities. We want resources and measures for jobs, education, research, healthcare and equal opportunities for all. Most of all, we want to safeguard our diversity and let democracy flourish.
How do we do this? How do we bring about the change we need so urgently? There are many things we need to do and can do. But there is a critical first step.
The first step, the one we can take soon, is to vote out hate politics. Vote out the division of our people; vote out inequality; vote against violence, intimidation and censorship. This is the only way we can vote for an India that renews the promises made by our Constitution. This is why we appeal to all citizens to vote for a diverse and equal India.