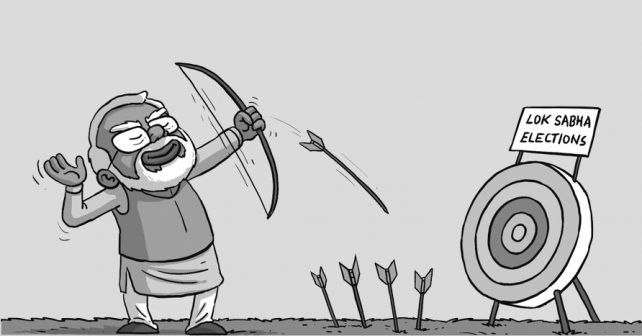 K. Veeramani
The election results of the five states of Madhya Pradesh, Rajasthan, Telengana, Chhattisgarh and Mizoram have come. Madhya Pradesh, Rajasthan and Chhattisgarh were under BJP rule.  In Telengana, the government was led by Chandrasekar Rao of Telangana Rashtriya Samiti.  He prematurely dissolved the legislature and boldly called for election before the anti-incumbency sentiment crystallized.  His party has come back to power capturing two thirds of the total seats.
Success for Social Justice
In Telengana there was always power struggle between Reddys and Kammas.  But Chandrasekara Rao changed all that and brought about a government headed by himself, who belonged to another backward class.  Now the government has been reelected.  Is it not a victory for the concept of social justice?
Bell of Caution
Madhya Pradesh has had a BJP government headed by Chauhan for three consecutive terms.  During the latest term it implemented unvarnished Hindutva agenda, appointing even a minister for cows.  It is a happy news that he lost in the election (It is not known what sin buffaloes and other animals committed).  Since they were feeding and fattening religious bigotry, since there was anti-incumbency factors (they had been in rule for 3 terms) and since the insolent utterances of Modi-Amit Shah combine incensed every voter, people have defeated the BJP in three states and have rung a bell of caution.
These results are but precursors for what is awaiting the parties in the general elections in 2019.
Not only the elections which were held now, but even in the ensuring parliamentary elections the voters must be very vigilant about who should not come to power more than who comes.
This total rout in all the 5 states is the blow dealt by the voters to the Modi-Amit Shah – RSS combine.  In spite of unabashed use money power, muscle power and media power, which they converted into powerful missiles, they have miserably bitten the dust in the elections.
Saffron Never learnt the Lesson of Humility
The brazen talk of Prime Minister Modi and Amit Shah and the bulldozing schemes of RSS.
A few examples are:
A few days before the election for Karnataka Assembly was to take place Modi said:
"Hereafter you cannot see any Congress chief minister anywhere. There will be only one Narayanasamy in a small state."
Even after Ediyurappa's two day BJP government quitted and the Congress – Secular Janata Dal government was formed, he never learnt the lesson of political humility.
The decision for demonetisation was sudden, without even getting the consent of the Reserve Bank Governor, and it plunged the country into chaos causing endless agony and confusion to all the poor, the trading and farming community and the middle class. Black money was not unearthed in a substantial quantity.  It still continues a farce.
The Appeal of Farmers was not Accepted.
The appeals made by the farmers were not accepted. Farmers' suicide is increasing every day.  At the same time the government is partial to the likes of Adani and Ambani with a lot of financial concessions.
Dictatorial approaches, whimsical action in every move.
Freedom of expression and speech are throttled, even elderly people are hauled up to courts with fabricated complaints, and they are stamped as 'urban nexalites'.
Undeclared emergency in all the government departments.
Essential governmental machinery like Reserve Bank, CBI and Income Tax Department are not allowed to function free of governmental interference. Vindictive politics in all sectors.
Goondas posing as Sanyasins and cow protectors attack and kill the depressed and the minorities. The government does not take note of these activities.
Actions that indirectly destroy State governments.
Education, social justice and other rights of states are trampled upon and actions to threaten the very existence of States continue.
The injustice of Modi government of making a partisan approach even while granting disaster relief to States affected by natural disasters.
Rise in price of petrol and diesel, and cooking gas. Poor people are put to a lot of misery.
And many other factors have been behind this debacle.
The Fruits of Hard Work, Fructified!
21 parties have come under one banner, foiling Modi's attempts to divide them asking 'who will be the Prime Minister'.  The Congress leadership cleverly said, "It is not a problem to be tackled immediately. All this has augured well for their success.  The hard work put in by Rahul Gandhi has yielded the desired results.
The opposition has to be more cautious.  They must avoid inter party rivalry, should not get complacent, keep their unity intact, and work for generating peoples' faith in them, like fixed deposit.
If the ruling AIADMK in Tamil Nadu, the Chief Minister and their colleagues believe that travelling in the sinking ship of BJP will protect them and their government for ever, let them learn a proper lesson. The fact that an actor who just a month ago proclaimed "Modi is a strong man," has now made a somersault is a political joke.  It is also a warning.
There is no Modi Wave
Only Modi has been making a lot of trotting BJP is finding it impossible to get a foothold in the South. The situation has now changed for worse. These election results have come as a clear writing on the wall that BJP cannot continue to exist even in the North.
It is clear that the success the BJP-RSS combine got in 2014 is no more than a chance occurrence and has nothing to do with their Hindu Rashtra theory.  There is no Modi wave, only he has been doing a lot of strutting around.
As BSP went alone without aligning with Congress the latter lost 23 seats in MP and 7 in Rajasthan.  At last from now the Bahujan Samaj Party leader Mayavati may do well to avoid such situation.
It is good if she did.  Everyone must learn their lesson.
The united move against the saffron forces is the need of the hour. The pace of countdown to defeat the saffron outfits at all levels rests on the unity among the opposition!
Let wisdom dawn on the side of the opposition!