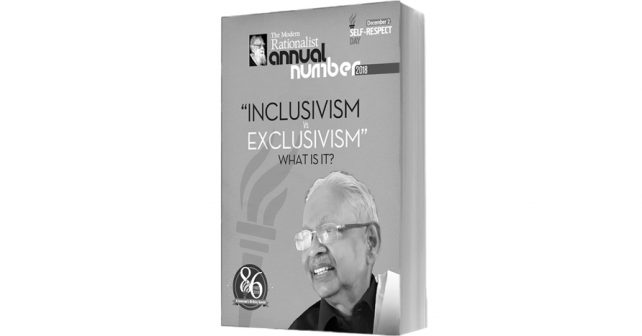 'The Modern Rationalist
Annual Number 2018'
The Periyar Self Respect Propaganda Institution
84/1(50), E.V.K. Sampath Salai,
Periyar Thidal, Vepery, Chennai – 600 007.
Pages: 184                    Price: Rs.200/-
As usual 'The Modern Rationalist' has brought out a colourful Annual Number on  2nd December to mark the 86th birthday of Asiriyar K.Veeramani, President, Dravidar Kazhagam. This year's number has a topical theme "Inclusivism vs Exclusivism", which is at present agitating everyone who is interested in the progressive march of the country.
The number opens with a homage to Kalaignar M. Karunanidhi, a stalwart of the Self Respect Movement who believed in, and practised, inclusivism in the political field of Tamil Nadu, and catelogues his accomplishments as a chief minister all of which were realizations of what were once dreams of the Movement.
Asiriyar Veeramani, in his birthday message, reminds us of Thanthai Periyar's statement on the eve of Independence that what was required was "not a mere transfer of power but a real transformation of power which is always a symbol of inclusivity, signifying the real democratic spirit as adumbrated in our Constitution."
The article on "Gandhi's death and Periyar Movement" deals with the dignified manner Gandhi death was reacted to in Tamil Nadu unlike in the North which witnessed ugly communal clashes. Periyar clarified, referring to Rama's killing of Sambuka in the Ramayana days, that "the murder (of Gandhi) was caused by Gandhi's belonging to the race of Sambuka and the murderer to that of Rama." The article attributes the peace that prevailed in Tamil Nadu to Periyar and Drvidar Kazhagam.
Dr. Ram Puniyani of Mumbai, alarmed at the chauvinistic tendency of presenting myth as science and technology, expresses his despair (horror?) in his question, "whether this community of scientists and Indian society at large will be able to resist these impositions on the march of direction of our science.  Will our next generation be able to benefit from the rational thinking and achievements of science in modern times?"
Research scholar Neha Dabhode is horrified at the design of the RSS to present exclusivism under the label of inclusivism. The recently convened RSS Conclave, she holds, "was an exercise to make people internalise the cultural agenda which privileges the upper caste Hindu male and homogenize all identity as Hindu without challenging the existing structures of inequality and negates diversities which will ultimately facilitate acceptance of an authoritarian state."
Writer Kancha Ilaiah, traces the destiny of the Sudras since Vedic days, when they were barred from getting education. The same kind of dispensation obtains even at present when they have scope for liberation.   Retired IAS Officer, P.S. Krishnan has given an account of the various dubious means undertaken to sabotage Mandal Commission Report, and how he was able to carry out the uphill task of implementing it.  He points out there is a need for concerted action on the side of all those interested in the uplift of the downtrodden masses.
Rajaratnam's article on 'Women and Hindutva' points out all the factors which are against women getting their rightful place in the society. Justice A.K. Rajan's article touches upon everything connected with Sabarimala pilgrimage in a realistic and rationalistic manner. G. Vijayam from Vijayawada Atheist Centre goes into the history of secularism in the European countries, points out the challenges it faces in the modern world and examines the question of strengthening the principle.
In his article on deteriorating Indian economy, economist M. Naganathan has adduced indisputable facts backed by statistical data and supported by expert opinions how the country's economy records a steady downward trend owing to the misguided and ill advised policies pursued by the BJP government headed by Narendra Modi and concludes that decentralization of power would go a long way in achieving socio-economic goals.
Mathivanan, Director of Indus Script Study Centre has presented an in-depth study of rare suffix patterns in Indus Valley seals and Tamil Brahmi inscriptions with ample illustrations.
Drawing from his experience in conflict zones, the UN functionary R. Kannan has presented a thought-provoking article, which analyses the present political scenario of India wherein absolutism seems to be winning at the cost of national good, and concludes, "It would require much introspection and a great deal of give and take from all Indians to check the march of the right."
Former member of parliament Dr. R. Senthil has exposed the designs of the Sanskrit chauvinists to put the language, undeservingly, on a pedestal, analyses the folly of the claim and establishes the unassailable superiority of Tamil with archeological evidences and recent DNA findings.  Prof. Ulrike Niklas, German Tamil scholar goes into the history of Tamil literature and history of modern Tamil Nadu and establishes the greatness of Tamil.
Prof. Dr. P. Jagadeesan exposes the calculated massive move of Sangh Parivar to distort history to serve the purpose of their divisive ideology and concludes with a warning. "History makes the man wise" says Francis Bacon. But this should not be mistaken in a perverted form to distort history. It will not only erode and corrode the mind – of the people but also make the man a violent terrorist."
Prof. A. Karunanandan's article on Vivekananda is a painstaking attempt to portray the many sided personality of the saint who "was a brilliant Hindu monk, but he did not fit into the Hindutva agenda of either Tilak or R.S.S.".
Tamil scholar Maraimalai Illakkuvanar takes head on the "Neo Aryan Onslaught on Tirukkural" the diabolical attempts of the neo Aryan activists to belittle Tamil, projecting classical Tamil works like Tirukkural as adaptations of Sanskrit works and exhorts, "Academicians should understand the imminent danger of their neo Aryan onslaught and rise to the occasion."
Karunanidhi exposes the fallacy of invoking the concept of creamy layer, which he calls a virus, in reservation, quoting extensively from court orders, contention of parliament members and opinions of intellectuals.
"Graded Inclusion" of S. Anada Krishna Raj goes into the pros and cons of inclusivism and exclusivism in the present day Indian context, and concludes, "Forcefully imposing a particular culture over the people of various strains will lead to anxiety and threat to other cultures."
Poet Kali Poongundran has gone into the dangerous trend to crown fascism, with the Hindutva elements taking the entire country into ransom using their browbeating tactics. S. Arivukkarasu shows how the RSS follows the fallacious theory of Hindu supremacy and the fascist elements want to get elected again undoubtedly to ruin India. The late S. Pirainuthal Selvi cites many instances to prove that women are the stronger sex.  "As Thanthai Periyar said if the uterus were not there really women will be bolder and stronger."
Anburaj gives a copious account of the fully residential children training camp conducted at Thanjavur for children of 6-8 age groups and the magnificent manner in which it was conducted. It concludes with a thought provoking 'Declaration' pronounced by the participant children.
Going into the 'Myth of Inclusivity', G. Olivannan, relates how "right wing forces rightly capture the attention of young minds and add fuel to the fire to cause further disturbances, conditioning them into the state of mind that makes them believe that they are perpetually threatened by enemies, both real and imaginary,"
Kumaresan exposes how "Manusmriti still Rules the Roost", despite constitutional proclamation and provision to the contrary. Even Thanthai Periyar and Babasaheb Ambedkar could do little in breaking its monopoly. Quoting voraciously from Manu's work, he reveals how most of those commands are still at work.
There are quite a few articles on Asiriyar and his services.  Justice Akbar Ali asserts the Asiriyar is a fine human being and feels connected to him, both intellectually and emotionally," as he is a great humanist. Soma Ilangovan of United States recounts Asiriyar Veeramani's fight against exclusivism. M. Govindasamy of Malaysia goes into the numerous achievements of Asiriyar Veeramani and conduces that he is a large diamond in Periyar's crown, together with Anna and Kalaignar. Palani Arangasamy gives an account of the harrowing experiences of Asiriyar as a MISA detenu.
The article by M.P. Satyavel Murugan, Agama Expert and Saivaite Scholar easily takes the cake as, out of his admiration for the Asiriyar, he goes on adding epithet after epithet, in dozens, as if he is conducting archana in a temple.
The Annual Number is a treat to all those who believe in human rights and human dignity and want the country to steer clear of all the dangers lurking in the way to progress.
– Leslie Amarson
Temple Prasadam Has its Troll
Only last month we had written a word of caution about temple prasadam being unhygienic. Now we have been proved right. There has been an incident at Kichugathi Mariamma temple in Chamraj nagar District near Mysuru, Karnataka where as many as 184 people who have consumed prasadam, distributed in temple met with sudden death. Though any vendetta has been ruled out for the time being, there is no doubt of food poisoning. 11 of them have died and 29 are battling for life various hospital. The others are not in the danger zone, though they are in the hospital.
The prasadam retrieved from the dead bodies after post mort
em has been sent to Mysuru based Central Food Technological Research Institute for examination.
Let everybody insist on temples preparing prasadam in hygienic manner!