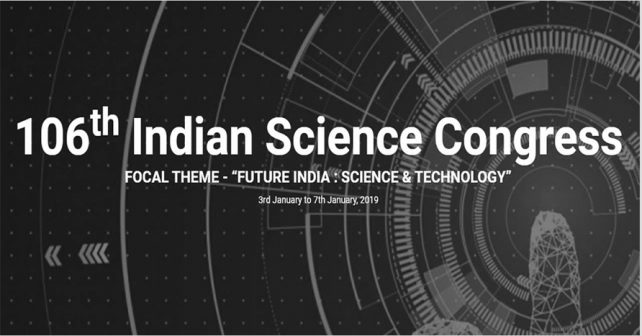 Polonius
In arriving at a scientific law there are three main stages: the first consists in observing the significant facts; the second in arriving at a hypothesis, which, if it is true, would account for these facts; the third in deducting from this hypothesis consequences which can be tested by observation. If the consequences are verified, the hypothesis is provisionally accepted as true, although it will usually require modification later on as the result of the discovery of further facts.
– Bertrand Russell
Many intellectuals within and outside the scientific community have been expressing concern, even  shock, at the way the Indian Science Congress conferences are conducted.  Mostly mythology and legend without any scientific basis, which have never been subjected to any semblance of experiment, are bandied about as proven scientific facts, to the dismay of the people who are interested in scientific research.  The speakers are persons occupying positions of eminence in the universities and scientific forums.  Some of them are ministers in the Central government in whose hands lies the responsibility of taking the country forward.
The 106th Indian Science Congress was held in Jalandar, Punjab in early January, in which more than 200 child scientists – school students – who had been the winners of multi layered science contests participated.  Obviously this was the right step in exposing them to the world of science, so that most of them would be induced and encouraged to pursue science as their vocation. But, for the past few years, talks that are made there are not only unscientific, but one can even say anti-scientific.  They present unproved and unprovable legend as science.  Worse still, even proven scientific theories are decried as unscientific.
In the whole history of scientific progress Issac Newton was considered to be the greatest, that is until Albert Einstein came on the scene, who proved himself to be equal to Newton owing to his equally far reaching discovery.  Now, both the theories of both the scientists have been belittled by a person who belongs to the scientific community of India. He is K.J. Krishnan, a scientist (?) working in Chennai Science Centre.  He charged that Newton had only a perfunctory knowledge of the gravitational force which he discovered.  Similarly Einstein's epoch making discovery of Theory of Relativity, according to K.J. Krishnan, was an erroneous concept which misguided the scientific world. There cannot be worse distorting and misrepresenting of scientific facts than this.  It is declared in a science conference of global nature in the presence of representatives of a government which encourages such misrepresentation.
Nageswara Rao, Vice chancellor of Andhra University who holds a doctoral degree in Chemistry, refers to the episode in Mahabharata of Kandari's fetus being broken into a hundred pieces and becoming the hundred siblings of Kauravas, (Duryodhana and his brothers) and unhesitatingly says that it was possible because stem cell technology was known in those days and was made use of in this case.   Stories in the past made use of wild imagination which was accepted without question because in those days stories were not subjected to scientific analysis.  People accepted such stories with all these fantasies because of the overall impact of the whole story.  Gullibility is a part of rural culture in this country. But education must free one from it.  For a scientist to be gullible is unpardonable.
The babbling of the 'scientist' did not stop with that.  He claimed Ravana had twenty four types of aircraft including fighter planes.  He also said that his paper containing all such non science had been forwarded to 400 universities located in 40 countries and if any scientists in those universities were to disagree with his findings it was up to them to disprove his conclusions.  All this was said in the presence of the child scientists, the most receptive part of the audience, who might have believed in what they heard.
While remarking on this unwanted development the chairman of Indian Science Congress Manoj Chakraborthy admits that the speeches had been selected despite his warning to the committee to bestow utmost vigilance while selecting any paper.  Yet this has been selected.  He was shocked at the way in which the young scientists would react to such utterances and be influenced by them.  Not only this one paper. He says most of the papers that had been supposed to be selected with care were unscientific.
When the general secretary of the Congress questioned Vice Chancellor Nagaswara Rao regarding his paper, he got upset.  He further claimed that Ramayana and Mahabharata were not fiction but history and he got the facts from them.  How preposterous!
It is not for the first time that such pseudo science is presented in this conference. In the seminar that took place in 2015, Anand Bonday, the head of Flying Academy and Prof. Amiya Jadav of Mumbai claimed that all the science and technology of today could be traced back to Sanskrit works.  They pointed in particular that aeronautical technology was prevalent in ancient India, and planes were made and flown in those days.  Such baseless claims were severely questioned by other delegates.
Hemalatha, the Puducherry state co-ordinator of children's Science Congress who has been participating for the past twenty years along with child scientists said in exasperation,
"This science congress is being conducted every year for the past one hundred years for encouraging the scientific development of the country.  Nobel laureates in science, reputed educationists, great scientists, and young students who excel in science participate in these meets every year.
Avram Hershko who was awarded the Nobel Prize for chemistry in 2004 and Frederick Duncan Michel who won the Nobel Prize for physics in 2016 inaugurated the conference. This is followed by a session in which usually the Nobel Laureates who are invited as chief guests for these conferences give an account of their findings to the young participants in a simple language.  But this year very little time had been allotted to these Nobel laureates who concluded with a brief greeting, disappointing the youngsters as well as the other participants."  It was as if the scientist-participants had no use for the talk by the chief guests.
The scientist who followed him made the fantastic claim that the water in the River Ganga had bacteria phage, the virus capable of destroying bacteria, which was the reason for the water being pure and sacred forever.  His further claim was that while Darwin's theory stopped with humans, the Indian scientists as early as 3000 years ago went up to avatars like Rama and Krishna representing the perfect man.
Significantly the usual question and answer session was cancelled as if the organizers feared that the pseudo scientists could not face such sessions.  And they say science is born out of, and is sustained by, enquires.
Kumaran Valavan a doctorate in theoretical physics says "All the universities in the world continue to teach the theories of Newton and Einstein till date.  So, it is upto those people who call them false to prove their theories, and the others do not have to submit their proofs.  Leonardo da Vinci of Italy foresaw 500 years ago that man would fly with wings and he even drew a diagram of the machine. Imagination is one of the finest gifts of the human being.  Mythology and epics are expressions of excellent imagination.  But science is not imagination, the central point of science is experiment leading to proof."
Sudakar Pichai of Tamil Nadu who is doing research work in the United Republic of Wales says, "There is an increase in expressing such pseudo scientific matter to placate those who are in the top position of Government of India. If information without basis and proof become documents in the  course of history, the youngsters may take them as factual and will start believing in them.  This will affect scientific discoveries in India.  Just as the Italian astronomer Galileo was persecuted by the faithful for stating the truth that the word was round, a time may come in India when our young scientists would be persecuted."
Already the Prime Minister and other ministers are claiming Darwin's Theory of Evolution as false, that cow's dung and urine are antidote to cancer and that a cow exhales oxygen.
As if this were not enough, if educationists start presenting pseudo scientific thoughts, it will impede or even retrograde the educational development and scientific progress of the country. The efforts to plant falsehoods in young scientists who evince zeal in progressing in the field of science is dangerous, and must be condemned in no uncertain terms.
As if such presentation of religious beliefs as science were not enough, the conference culminated with a Ganesh procession accompanied by shouts of "India for Hindus". When it is a question of scientific progress what is required is a universal vision and strict adherence to truth. When even patriotism is harmful to scientific progress, what about chauvinism, which is undoubtedly harmful in any field.  Then chauvinism added to falsehood, where will it lead, one shudders to think.