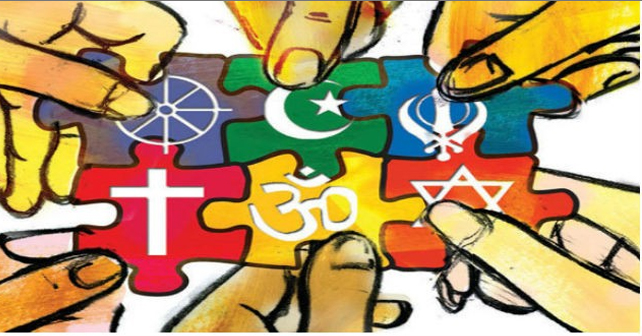 Neha Daghade & Irfan Engineering
Recently in an interview at an award function, Amir Khan, mentioned that his wife, Kiran asked him whether they should leave the country. To Amir Khan, the statement of his wife was disastrous and indicated growing intolerance in the country. Though we condemn any such sweeping statement coming from a celebrity idolized by millions in the country, one must without politicizing the statement, reflect over the context it was made in. The Indian Prime Minister in London rightly pointed out, "India is full of diversity. This diversity is our pride and it is our strength. Diversity is the speciality of India." (The Indian Express, Nov 14, 2015).
The lynching of a Muslim man in Dadri on mere rumors of consuming beef sent shock waves in the country. Along with this incidence, the murders of prominent writers/rationalists and lack of thorough investigation in these cases are a cause of concern. These acts are a window to the growing intolerance in the country and shouldn't be dismissed as stray incidences. They are not normal and cannot be compared to any such acts for the following reasons: first the frequency of hate speeches (that constitute offence under Indian Penal Code) have increased dramatically; secondly, the intensity of hate has become vicious, bordering even on abusive language, calculated to insult and provoke those abused and insulted; thirdly, new issues are exploited to spread hate – ghar wapsi (forced conversion to Hinduism); fourthly, the statements are accompanied by lynch mobs and street violence in an unprecedented manner and fifthly even those officiating on constitutional posts and those who have taken oath to uphold the Constitution and implement law without fear or favour like the Union Ministers, Chief Ministers of States, Members of Parliament, MLAs, Governors and President of BJP have been making such hate filled statement and entire BJP's leadership defends and protects them. Such instances compel one to question if diversity in India can survive in such an environment of intolerance created by Hindu nationalists. Footloose hoodlums and goons having no fear of law are freely intimidating people critical of NDA Government and their policies – on streets as well as in social media. The Prime Minister has not once publicly rebuked such elements; let alone taking any penal action as per law. These hate speeches are polarizing the society and reducing religion to identity marker and wholly determining the conduct of individuals.
These statements essentialize religious identity of the citizens and put religions as irreconcilable binaries leading to increasing intolerance for any pluralism or dissent from the mega narratives designed by Hindu nationalists. All acts, phenomenon and institutions are looked from the lens of religion. The statements of the Hindu nationalists are calculated to achieve the following objectives:
1. To impute that Pakistan was created for that Muslims and that is where they belong to Pakistan; that state of Pakistan cares for the Indian Muslims; and more alarming, that Hindus have a right to kick the Muslims out of India. By imputation, India is fancied as a homeland for all Hindus, wherever born and citizen of whichever country.
For example, Giriraj Singh during the general election campaign said,  those who want to stop Narendra Modi are looking to Pakistan for support. In the coming days, there won't be place for such people in India, in Jharkhand because their place will be in Pakistan, Pakistan," Giriraj Singh is now the Union Minister. The 69 per cent of Indian voters in General Elections and the 75 per cent in Bihar elections were not looking towards Pakistan!
The Assam Governor, P B Acharya said, "Hindustan is for Hindus"…. And, "They (Indian Muslims) are free to go anywhere. They can stay here (in India). If they want to go to Bangladesh or Pakistan, they are free to go". He further added, that Assam has nothing to fear about Bangladeshi 'Hindu refugees' settling in the state and there is nothing wrong in Hindus from other countries taking shelter in India ( The Times News Network, 2015).
2. To impute that only Hindus can be naturally and inherently nationalists and patriots, the rest would have to prove their patriotism and nationalism.
3. Seek to de-citizenize Muslims – Shiv Sena MP Sanjay Raut wrote "Balasaheb Thackeray had made a demand that Muslims should be stripped of their voting right. This is an appropriate demand".
4. To instill in sub-conscience of all Indians that upper caste way of life is above law and law has to confirm to and affirm their way of life, else, law could be violated to impose upper caste way of life. They seek to impose upper caste way of life on everybody – including on Hindus disagreeing with them and on those belonging to other faiths – and make them behave in accordance with upper caste way of life imposed through khap panchayats. Post the Dadri lynching, Sakshi Maharaj said: "We won't remain silent if somebody tries to kill our mother. We are ready to kill and get killed". Haryana Chief Minister Manohar Lal Khattar opined, "Muslims should stay, but they will have to give up eating beef" because "the cow is an article of faith" for Hindus". The lynch mobs of Dadri, Manipur, Himachal Pradesh and in other states going in the name of Gorakshak Dals in various states are an example.
5. To imputing inferiority of non-Hindus and stigmatize them, particularly Muslims and Christians. Sadhvi Niranjan Jyoti, Union Minister, said while campaigning during Delhi elections: "You must decide whether you want a government of progeny of Ram or of those born illegitimately." The hate statement divided the Indians into two categories – either they were progenies of Ram (Hindus believing in Ram) or they were illegitimate offspring.
The statement of the Prime Minister taking pride in its diversity in India then sounds utterly hollow and mere lip service to please statesmen abroad. Diversity entails space for different cultures to co-exist.  No one can be allowed to thrust their culture on others. Such statements full of hate creates an intimidating environment wherein culture of the dominant elite alone will prevail and the rest would have to perish. Expression of every dissent is tarnished as a political conspiracy and sought to be silenced by attributing political motives, howsoever highly respected, decorated and accomplished the dissenter may be. The writers, artists and scientists returning their awards met the same allegations. Dissent with the government is equated with being anti-nationalism and unpatriotic. Yogi Adityanath, a BJP MP, had the gumption and timidity to ask Shahrukh Khan, an accomplished actor to settle in Pakistan where his soul lies and compared him to Hafiz Saeed, the alleged mastermind of 26/11 Mumbai attack. Arrogating to themselves the arbitrary right of determining which Indians have a right of residency in India, the Hindu nationalists have been ordering Muslim community who chose to be Indian citizens during partition to now go to Pakistan, where, according to them, they belong. By repeatedly associating Indian Muslims with Pakistan, the Hindu nationalists want to fuel the myth that the loyalty and allegiance of Indian Muslims lie with Pakistan. Such orders are to intimidate and silence dissenters, so that voices for democracy are stifled and way cleared for creation of Hindu Rashtra.
The statement of FIVE times BJP MP, Sakshi Maharaj, threatening to kill humans to protect cows was not a stray response to the Dadri lynching incident. Narendra Modi, campaigning during general elections had hit out against the Congress for promoting "pink revolution"- export of beef from India to other countries. Further Maneka Gandhi, Union Cabinet Minister stated, without substantiating, that the money received from the pink revolution was used to fund terrorism in the country. It is only very well documented how beef formed a part of the diet of 120 million Hindus including dalits and adivasis (as per NSSO survey) and none other than the Hindutva icon Savarkar endorsed the consumption of beef. Interestingly, people consuming beef or protesting against the beef ban are derided and asked to go to Pakistan as suggested by union minister Mukhtar Abbas Naqvi. PM's exhortation after a long painful silence after the Dadri killing, "Some politicians are making irresponsible statements for political interests… Such statements should end… Do not pay attention to such statements, even if Modi himself makes any such statement. India is the land of Buddha and in our society, we don't accept unconstitutional things. The law will deal with these severely", did not spell out whose and which statements he was referring to. Those who were making such hate speeches, which are offence as per Indian Penal Code, were rewarded by the PM in various ways.
The PM said that Constitution of India was his bible. However, he has failed to register criminal complaints and cases investigated even when committed in New Delhi where his writ runs. Section 153-A of IPC makes it an offence to promote enmity, hatred or ill-will between different groups on grounds of religion, race, place of birth, residence, language, etc., and doing acts prejudicial to maintenance of harmony; Section 295A penalizes deliberate and malicious acts, intended to outrage religious feelings of any class of citizens by insulting its religion or religious beliefs.
Not invoking such laws to punish those promoting communal hatred, ill-will or enmity on grounds of religion or those who outrage religious feelings of a group of citizens creates environment of impunity and emboldens Hindu nationalist lynch mobs. The argument of the BJP for not taking punitive action is that the some party members make "irresponsible" statements. Law casts duty on the Government of the day to bring hate mongers to justice.
Sadhvi Prachi, a BJP MP went to an extent of calling some non-NDA MPs as terrorists! This is a new low in parliamentary democracy where one representative of the people can't respect the views of another.
Deconstruct nationalism
Nationalism and patriotism is proving to be last refuge of Hindu nationalists. Everything that is non-upper caste way of life, culture, idea or social rules of peaceful co-existence is rejected and branded as anti-national and unpatriotic. Nationalism for them is a manifestation of one culture and one thought. It is on this basis that Hindu nationalists reject rationalism and humanism. Hinduism does not reject either. They reject the Hindu idea of vasudhaiv kutumbakkam (the whole universe is my family). We need to deconstruct nationalism. Nationalism during the anti-colonial struggle meant installing swaraj or rule of and by Indian inhabitants. India then was a nation in making. Mahatma Gandhi and Tagore were more humanists struggling for independence, justice and democracy and went beyond nationalism. Gandhiji's humanism welcomed fresh winds of ideas and culture from all directions. Similarly, nationalism doesn't find any mention in the Constitution. We the people of India gave unto ourselves the Constitution to secure for all its citizens (not just Hindus) Justice – social, economic and political; liberty of thought, expression, belief, faith and worship; equality of status and opportunity and to promote among them fraternity assuring the dignity and unity and integrity of nation.
The Hindu nationalists are constantly constructing the binaries of majority and minority as if they were two homogenous and antagonistic communities. In reality, both the communities are internally so diverse linguistically, culturally, on the basis of caste, region, rural and urban, the traditions and customs followed, on basis of sects and ways of worships, etc. Constitution protects this diversity whereas notions of nationalism create majority-minority binaries and draw lines of exclusion, imposition of culture of elite on the entire community. Muslim communalists seek to impose the feudal culture of Urdu speaking elite and wahabi-deobandi doctrinal Islam on entire community stifling the voice of women and diverse cultural traditions of Muslim as the Hindu nationalists seek to impose North Indian upper-caste patriarchal traditions on other Hindus.
Courtesy : Secular Perspective