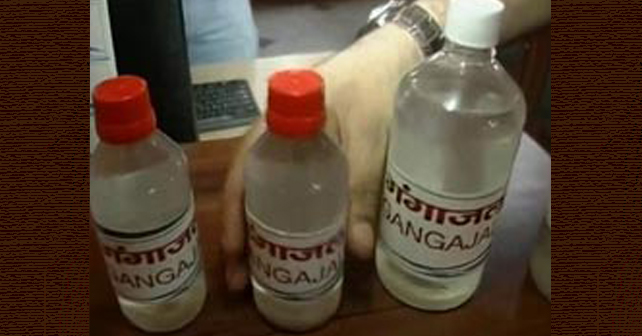 The bottled water of River Ganges was sold for price at India Post, Chennai to the public devotees; Yes, not to the preference of the general public but to a few religious devotees projecting the 'holy' identity.   A religious place can do such sales activities, whatever is the purpose involved in it. But India Post is a Government wing of a secular state. It is beyond the frontiers of various religious preferences of public. The office is meant for public service without any sectarian service consideration.
State is meant for the welfare of the people and so necessarily, the public service outlets like India Post. If the quality of Ganges water is put to question – already it underwent many analyses by renowned laboratories. The alarming injurious pollution of it is visible to the naked eye as well as the microbial activity of germs visible through special apparatus. When unhygienic polluted 'holy' water is sold, it is nothing but spoiling the health and injuring the welfare of the purchasing public. When it was protested by secular forces, India Post affixed a stamp in the bottle stating, "The bottled water (Ganges Water) is not meant for drinking".
The cautioning expression of India Post limits the probable infection of germs only through oral consumption, whereas science cautions about other forms of infection too.  Even the bodily touch of polluted water (no doubt, the bottled Ganges water would definitely be used by the devotees by hand-sprinkling it at the time of performing poojas) may cause to infection.
Commencing an undesirable activity, not related to the purpose for which India Post was established and then expressing caution 'not for drinking' is like childish play, directed by the saffron-guided central ruler. If things are allowed like, there would be no restriction for India Post to sell all sorts of prasatham including sacred as (Viboothi), vermilion (kumkum). The exploitation of Government machinery to strengthen the religious perception which is injurious to the health is highly condemnable.