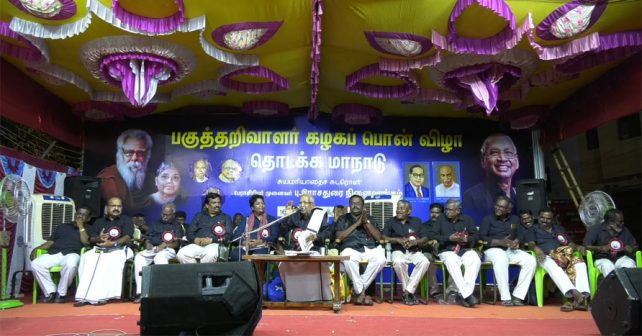 Asiriyar Dr. K. Veeramani, Patron, The Rationalists' Forum addresses at the public meeting of its Golden Jubilee.
For the cause of propaganda of certain principles of Periyar Movement, The Rationalists' Forum was formed on 20th November 1970.  All the functional wings of Periyar Movement with its pivotal organisation viz.  Dravidar Kazhagam have got specific propaganda duties and mode of functioning of which 'The Rationalists' Forum' is significant with its wider reach; it is beyond the major functional area of Tamil Nadu to the other States of India and other countries.  To accomplish the vision of Periyar and his ideology of Self Respect and Rationalism, The Rationalists' Forum has been rendering services in public domain.
The main work propagated by the Forum is to develop scientific temper and inculcate spirit of inquiry in the minds of the people. Besides, the eradication of superstitions which impede the utilization of human potentials to the fullest level for the betterment and progress of humanity.
In respect of the membership of the Forum, it is open to all to whom the principles are acceptable.  The membership is entitled even to those in the official service including the government servants.  The principles of the Forum later gets incorporated in Indian Constitution to be carried out by every citizen of the country as fundamental duties.
The Rationalists' Forum has taken up the factors like caste system that are responsible for the denial of certain basic human rights and human dignity at international bodies like International Humanist Ethical Union for the resolve to act upon.  The Forum has convened TWO World Atheist Conferences wherein atheist fraternity throughout the world confluenced to resolve for the constructive contribution to the human kind. The message of global family was strengthened and sent worldwide.
The Rationalists' Forum has completed its 50 years of functioning and to commemorate  this historic contribution, Golden Jubilee Conference was convened on 16th November 2019 at Virudhunagar, Tamil Nadu.  The one day event comprised of seminar, and  panel discussion, exhibition bringing the glory of past contributions and public meetings.
Every component of either meeting or conference of Periyar Movement would not be for mere jubilation but to rededicate the cadres for the furtherance of organisational activities for which passing of resolutions would be vital.  The Golden Jubilee of The Rationalists' Forum under the presidentship of its Patron Asiriyar Dr. K. Veeramani passed 21 resolutions which are very much directive to its members and the society at large.
Hail the propaganda of The Rationalists' Forum and its services to Humankind!