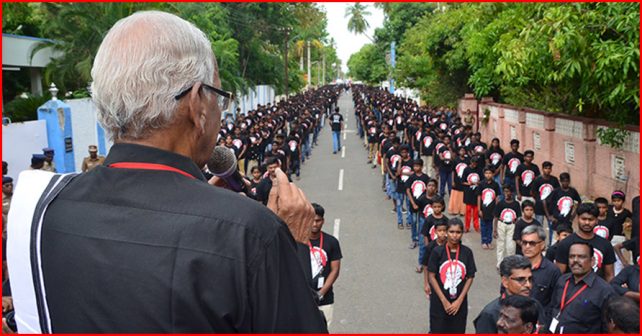 The Conference on the 75th anniversary of Dravidian Students' Association was organized by the Students' wing of Dravidar Kazhagam on 8th July 2018 at Kumbakonam. The Conference in grandeur commenced with the Music (Vocal) Programme. The business session in the forenoon started with a seminar on "Educational Rights and Duties of Dravidian Students" Lectures on the titles 'Gurukul Education and Heredictory Education System, 'NEET and Legislature', 'NEET and Judiciary', 'NEET and the Peoples' Forum were delivered. Another seminar on exclusive topic of Cause and Impact of Dravidian Journals' was held. A Poets' Forum on "Let us breathe Periyar" followed. The special address by Dr.K.Veeramani, President, Dravidar Kazhagam was delivered.
Mammoth Procession
The procession of students was a remarkable event which caught the attention of everyone for its military discipline. An army indeed it was, Periyar's army, imbued with his spirit of sacrifice.
In the evening, the procession was led by children and women carrying party flags. Then came the students, district wise, carrying banners and flags. The public were standing on either side of the road, admiring the disciplined march.
Asiriyar K.Veeramani, the President of Dravidar Kazhagam was ceremonially brought in a chariot drawn by two horses to the delight of the onlookers as well as participants. On the way many people decorated him with shawls.
The students marched through the streets, with their files intact, from the beginning to the end. There was no instance of smoking and no disruption when the procession was passing by a liquor shop. People have usually observed a break of some volunteers there in the other party processions, but, not in this procession. All police officials were amazed at the discipline.
Unveiling the Portraits of the Pioneers – DSA
At the Conference venue, the portraits of the founding fathers of Dravidian Students Association, Thavamanirasan, Kavignar Karunanandam, Poondi Gopalsami (alias) Senguttuvan and G.Lakshmanan were unveiled by Poet Kali.Poonkundran, Vice President, Dravidar Kazhagam, in the presence of Asiriyar Dr. K.Veeramani – President, Dr. Pirainuthal Selvi – Treasurer and other functionaries.
Symposium : A symposium was chaired by Prince Ennares Periyar and covered such far reaching topics like , 'Listen, O Tamil', 'Don't Pluck Away the Eyes of Education', 'Don't Call Yourself a Hindu', 'Don't get Intoxicated by Religion', and 'Evils of Casteism'.
The historic resolutions exhibiting both the plan and action of the Students' Wing of Dravidar Kazhagam were passed.
The grand conference concluded with the valedictory address delivered by Dravidar Kazhagam President, Dr.K.Veeramani.