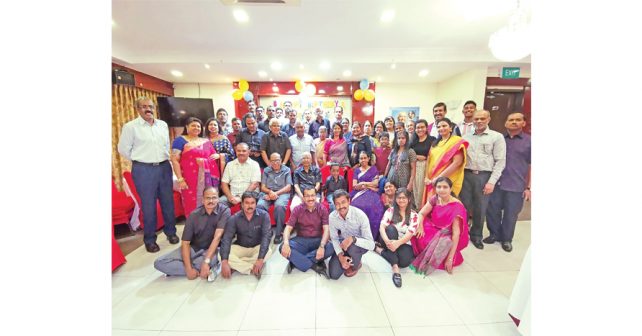 Asiriyar Dr. K. Veeramani with all his well wishers and  Black Shirt  Cadres of Periyar Movement on his 87th Birthday (Singapore – 2nd December 2019)
On 2nd of December 2019, the 87th Birthday of Dravidar Kazhagam, President, Asiriyar Dr. K. Veeramani, the DK family friends and well wishers in Singapore had the pleasure of his pleasant presence. A grand celebration was held at 7.30 p.m. in Anjappar Restaurant, Singapore. Mrs. Kavitha Maran and her family members had invited all the guests and planned well the memorable event.
Mr. Maran welcomed the guests and declared that it was a golden opportunity for Asiriyar's family members and friends in Singapore because Asiriyar is always busy with his cadres and his activities in Tamil Nadu, making this a "Once in a blue-Moon" sort of event.
With his inherent humility Asiriyar agreed for felicitation and celebration, unable to disappoint the people, whose love and regard for him is unfathomable, indeed! Eminent Tamil scholar and former Professor Emeritus of the University of Singapore, Suba Thinnappan, delivered his felicitating speech on behalf of all the relatives and friends.
Excerpts from Prof.  Suba Thinnappan's felicitation Address was as follows:
"Sleeplessness, knowledge and indomitable courage are the three hallmarks and vital characteristics of a leader.  These are all immeasurably overflowing in Asiriyar. Sleepless generally means one who is awake all night like an owl.  But it also means a dedicated leader who restlessly strives for the welfare of others. Our Asiriyar Veeramani is always sleepless in that sense.  The other admirable qualities in him make him an unparalleled stalwart."
"All those who read 'Viduthalai' edited by him can notice, at what a lightning speed he releases his thunderous statements voicing his views or protests on various burning problems in the State as well as the entire country – for instance, the unwarranted menace called NEET and the imposition of Hindi language.  His statements startle his opponents and make them literally sleepless."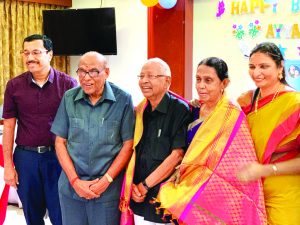 Asiriyar Dr. K. Veeramani – Madam Mohana with Prof. Suba Thinnappan, Mr. Maran and Mrs. Kavitha Maran.
"Asiriyar means a teacher.  A teacher's duty is to draw his pupils from the darkness of ignorance.  I am also a teacher but Asiriyar Veeramani is true teacher in its metaphorical sense, because he has been delinking gullible people from the shackles of superstitions, caste system and religious fanaticism.  He is a voracious reader whose unquenchable thirst for knowledge is undeniably astonishing!"
"Asiriyar time and again writes article in 'Viduthalai' under the caption "Thoughts for  Lovable Life", which I read regularly.  He shares with his readers his views on books which leave in him an indelible impression.  His relentless efforts to propagate the dire need of humanism is commendable.  He was recently honoured in the U.S with the Humanist Lifetime Achievement Award which he certainly deserved.''
His cordial relationship with people around him, his reciprocation to invitations, his participation in the pains and pleasures of others, all these make him a rare combination of rare virtues.  Behind every successful man there is a woman. It is Madam Mohana behind our Asiriyar.  They are a couple specially made for each other.  I request her to take care of her health, since on it depends Asiriyar's health. I conclude my speech wishing Asiriyar a long and prosperous life.''
The speech of Suba.  Thinnappan was followed by the acknowledgement – speech of Asiriyar Veeramani.  He conveyed his thanks for the felicitation and hospitality.  He said that he feels he is not 87 but just 27.  He explained why he never considers his birthday significant.
After the speech of Asiriyar celebrities in the venue honoured him in felicitation by adorning him with a shawl as a token of their greetings, respect and best wishes.  They were – Periyar Community Services of Singapore President V.Kalaichelvam and his wife Ms. Malaiarasi; their daughter Kunthavai; Kavimalai M. Anbalagan-Thilagavathi; Rajarajan- Tamilselvi and family; Editor of 'Semmozhi' -Ilias; Editor of 'Puthiya Nila' – Jehangir;
The other felicitators were – Seeni Jafferhani; Prof. Sarathkumar; Senior cadre Kumarasamy; Gangadharan; Sundarar; Rajalakshmi; Malaimaran-Shanti Nagavalli; Kurinji Selvi – Ramachandran; Madhimaran – Shirley Elma; Mohan; Poet Thyaga Ramesh; Poet P. Mathialagan; Manimala; Manoj-Swathi; Pushpalatha Naidu; C. Mohan; R. Palagin; Jyothikumar, Raghavi, Vijayarangam, Manohar, R. Soundarraj; Sabhanayagam; Aruna, N. Raman; N. Kaliya Perumal; Kasturibai, Parveen Banu, Adavan Palani, M. Aravind, K. Kumar, Adiyanan Nedumananji; Kudi Arasi family; Valliappan Madhavi;
Cadres of Tamil Nadu working in Singapore also felicitated.  They were – Sendurai Madhialagan, Arivarasu, Kalaivanan, K. Jayaraman, Manikandan, Jothinathan, Vedanarayanan of Chennai and numerous others honoured Asiriyar.
The event concluded at 10 p.m. by a formal valediction.