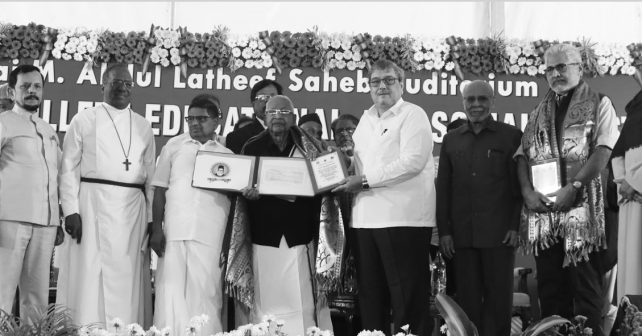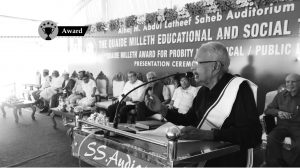 On 31st January 2022, the president of the Dravidar Kazhagam Asiriyar K. Veeramani and the founder of the web-site journal 'The Wire', Siddharth Varadarajan were both honoured with the Quaid-E-Millath Award for Probity in Politics/Public life by the Quaid-E-Millath Educational and Social Trust. The event was held in Alhaj M.Abdul-Latheef Saheb Auditorium at the Quaid-E-Millath College, Medavakkam, Chennai. Retired Judge of the Madras High Court D. Hari Paranthaman, retired IAS officers G. Balachandran and Harsh Mander and A. Rafi, Director, Quaid-E-Millath College for Men, spoke at the event and felicitated the award-winners.
Asiriyar K.Veeramani's Acceptance Speech
The content of the Acceptance Address by Asiriyar K. Veeramani was in nutshell as follows:
Unforgettable honour
I have great regard and respect for Quaid-E-Millath Ismail Saheb who has no parallel to compare with in political history. An award in his name conferred on me is indeed an unforgettable honour. It is truly a prestigious award. I feel more humbled on this historic occasion. It does make me emotional. It is not only a pleasant surprise but also a little bit shocking surprise because we are all accustomed to brick bats more than bouquets. This is more or less a rare occasion where I receive a bouquet and a coveted award of honour, that too in the name of an unparalleled stalwart. We assure justification of your confidence reposed in us. It is my bounden duty to carry on my fight for social justice. I would like to stress that social justice and democracy are like two sides of the same coin. One without the other is meaningless. Political freedom has no meaning without them. Everything would just be shadowed substance without social freedom and social justice.
An oasis in a desert
I am modest enough to admit that I have been identified by the organizers as a disciple of Periyar. The credit for this honour hence goes to my mentor. I learnt from him to remain undeterred by hurl of brickbats. Once, in 1946, when Periyar was on his way back in a rickshaw after a public meeting at night, a lumpen hurled his footwear at him. On second thoughts he made the rickshaw puller go back to the same spot to return the footwear since he felt that the ruffian would feel discomfort with one footwear. As he had expected, the lumpen hurled the other footwear also at him. I heard Periyar saying with a smile, "I have now a pair of footwear for two feet of mine!" That was his undaunted spirit. Stones were showered on him more than garlands in many of his public meetings. He never used to conclude his address abruptly.
People like me, who are followers of Periyar, are seldom greeted and appreciated for our work. So, today I feel thrilled like a long distance traveler on a hot desert, suddenly finding an oasis to rest a while and quench his thirst. This award motivates me to work for people. The event has revitalized my energy.
A perfect gentleman
At this juncture, I recall an instance for the dignified conduct of Quaid-E-Millath Saheb. Before the framing of Indian Constitution, there was a committee to discuss the process. There was an attempt to impose Hindi which led to widespread protest. Quaid-E-Millath said, -"If you people want a language with rich cultural heritage to be the official language of India, let it be Tamil- my mother tongue!" That itself proved what a refined gentleman he was!
When Quaid-E-Millath Saheb passed away, Periyar was shocked and spellbound. A public meeting was to be held that evening at the beach in Chennai and Periyar had to address. We reached the place in Chromepet where he had resided and paid homage. When I suggested on our way back to cancel the meeting, Periyar refused and said that it should he held to pay tribute to the great man. It was done accordingly. This has been recorded in Quaid-E-Millath Saheb's biography authored by J.M.Shali. I still remember quite clearly how Saheb's death shattered Periyar and soaked him in profound sorrow. We published an obituary in our Tamil Daily 'Viduthalai' condoling the passing away of Quaid-E-Millath. It was written by me. After 50 years, I have received an award today in his name. History is full of such strange surprises, indeed.
Dravidian Model Foundation
'Dravidian Model Rule' in Tamil Nadu is being much talked about today but the foundation for it was actually laid by Quaid-E-Millath Saheb 50 years ago. This is a lesser known truth. He had much in common with our ideology. Like our Dravidian Model Rule in Tamil Nadu this college also stands a specimen for social justice. I find girl students in large number which is commendable. The Secretary of this Trust, Dawood Miyakhan has been following in the footprints of Quaid-E-Millath Saheb. The institution is devoid of gender bias which is an integral part of social justice. The presence of the Chief Kazi of Tamil Nadu at this venue has made the event glorious.
I am impressed to see that this college is not restricted only for muslims. It has been admitting non-muslim students without any religious disparity. This is Dravidian Model religious harmony. This is Dravidian Model Social Justice which insists on unity in diversity. Other colleges in the city which admit students with a religious bias should learn social justice lessons from this institution.
O.C. wrongly expanded
In the academic world and employment affairs, sometimes O.C. is wrongly expanded as 'other communities'. It actually stands for 'open competition'. Based on merit and efficiency, candidates of all castes compete for admission or placement without any discrimination. When MGR was the Chief Minister, I took efforts and got the mistake officially corrected. It was proved that it was not a typographical error.
How can such an error occur at all the places, at all times in all the situations? Thus, we have been consistently protesting whenever we found social injustice. The younger generation today should always remember the golden words- "Eternal Vigilance is the price of our Liberty."
'Periyar World' in progress
Thoughout his life, Periyar fought for social justice, self respect, women's liberation and humanism. To globalise him, we are constructing 'PERIYAR WORLD' near Trichy. It would be like 'Disney world', and would speak volumes on Periyar. Today, besides the award, I am honoured with Rs.2.5 lakh as a token of your recognition. I announce it as my contribution to the 'Periyar World'. With the kind permission of you all, I donate the amount for the noble cause.
Co-editors and Co-fighters
I endorse the critical views of Siddharth Varadarajan, the founder of the on-line journal 'The Wire'. Those who do not want the truth to come out, are attacking him. We would like to tell them that all the democratic forces in Tamil Nadu and India will stand beside him. We are not only co-editors, but also co-fighters.
I conclude with a firm belief that Quaid-E-Millath Saheb will live for ever in our memory. Like Periyar, he would also be a glorious chapter in our history. Long live his fame! Long live social Justice.
Pressure mounted on students
Speech of Siddharth Varadarajan of
'The Wire'
On 31st January 2022, when Asiriyar K.Veeramani was honoured by the Quaid-E-Millath Trust with an award for probity in political and public life, Siddharth Varadarajan, a senior journalist and the managing editor of the online paper 'The Wire' was also simultaneously honoured by them with the same coveted award, considering both as richly deserving co-editors in the world of print media and electronic media.
Legend in political landscape
Delivering the address, Siddharth Varadarajan stressed that these days extreme pressure is being mounted on students to make sure they do not raise questions. He said further, "It is a very special day and true honour, sharing an award with Thiru. K.Veeramani, who at the ripe old age of ninety continues to be active and dedicated to all the causes that he has been fighting for throughout his life. I cannot think of any other inspiring person to share this dais today with me, than Thiru. Veeramani. He is a legend in the Indian political landscape, consistently fighting for social justice."
Independent journalism under threat
"I grew up in the north. My Tamil is not impeccable. Forgive me for addressing in English. I thank the 'Quaid-E-Millath Educational and Social Trust' for conferring this prestigious award on me. The credit goes to all my colleagues whose work for all the last eight years has established 'The Wire' as an important voice in the Indian media landscape. Today, this is a very special event for me because this function brings me back to Chennai, a city which I fondly remember, where I worked for two years as the editor of 'The Hindu'. Of course, it is my home state."
"Dear friends, this award for 'The Wire' comes at a time when, as you all know, independent journalism is under threat and severe attack. This attack is not happening in a vacuum. We are living in a period when the very future of our democracy is under threat."
All freedoms under great strain
"Whether we speak of the rule of law, respect for Constitution, independence of the judiciary, the need to have independent entities like the election commission, the federal principle which is an essential component of the Indian Union, freedom of speech and religion, the right to life and livelihood or the freedom of students in the colleges and university system—all these freedoms are coming under great strain today."
"I wish to alert all the young students here that today college campuses and universities are under great strain and pressure. I am not much familiar with the situation in Tamil Nadu, but if students at Rajasthan Central University can be suspended by the administration, simply because they chose to watch a BBC documentary on their phone, I cannot think of a more sad state of affairs."
"It is not just about the freedom of speech and the right to adhere to conscience, but about the very idea that a college and a university are places where young minds should have the freedom to say what they want to say, to read what they want to read, to argue, to debate and to engage with one another without the fear of the administration suspending them, and certainly without the fear of the police taking action. But we see in campus after campus, attempts are being made to criminalise them. What would happen to the normal life of the students? This is my question."
Pressure mounted on students
"Whether it is JNU, Hyderabad Central University, Jammu and Kashmir or in Delhi University, this great deal of pressure is being mounted on the young students to make sure that they do not challenge, think or even question."
"At 'The Wire' we strongly believe in using the rights and freedom that the Constitution of India guarantees for everybody in this country and we use these rights in a responsible manner, not just to make our contribution to informing the public but we believe in the work we do. This work of ours plays a small role, also in strengthening the foundation, structure and day-to-day resilience of Indian democracy. I believe that the future of our country and its democracy very much lie in the hands of young men and women, who are in this college, other colleges and universities in Tamil Nadu and across the state and country too."
Never ever give up
"My dear students, you will face even in future enormous challenges and pressure but do not give up your right to think for yourself and the right to ask questions even if they make you unpopular. Do not be afraid to argue, engage and debate with one another.
Of course, do everything in a civil fashion. Only through this process of questioning, discussing, debating and arguing, we can tackle the great issues which confront us in this democracy and republic of ours."
"Issues of economic justice, social justice, challenge of opposing the communal hatred which is being thrust on us every day by the people in power and by the media—these are great challenges that we look forward to the students of today to help India deal with."
Before I conclude my address, I should say it is significant that you have a foundation trust in the name of Quaid-E-Millath Saheb, which is dedicated to promoting the best values of the Indian political tradition, Indian Constitution, the freedom struggle and secularism. It is quite apt that this foundation has its headquarters in Chennai, in Tamil Nadu, a state which deeply understands the importance that federalism has for the good health and future of democracy.
It is equally fitting that this award presentation ceremony is taking place in a college – "The Quaid-E-Millath College for Men." I convey my grateful thanks to 'The Quaid-E-Millath Educational and Social Trust' for conferring on me "The Award for Probity in Political / Public Life" and at the same time honouring Thiru. K.Veeramani with the coveted award. Thank you."
Compiled by M.R.Manohar