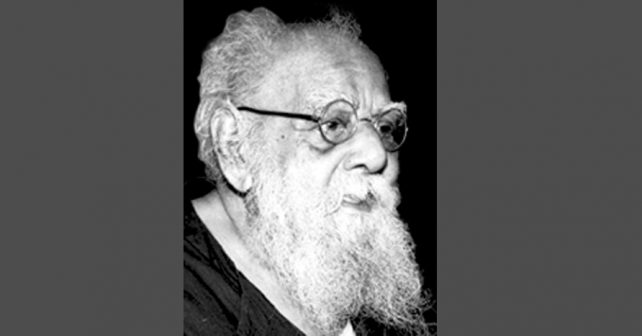 We are happy about a significant resolution passed in the Adi Dravida Self Respect Conference held at Nepier Park, Chennai, yesterday (20 July 1929).
"Our large community of six and a half crores of people has been included in Hindu religion, as a result of which we remain untouchables, deprived of equality.  Hence this conference resolves to beseech the government and the legislators not to record our religion as Hinduism and to remove us from the list of Hinduism from all the government documents."
About three years ago a resolution was passed to the same effect in the conference of SNDP Elava people which was convened at Mudukulathur of Travancore Princely State.  It has resolved that those people must go to some other religion leaving Hinduism, as there was so human freedom in that religion.
Knowing that such a resolution was in the offing, some Christian missionaries, Buddhist luminaries and Arya Samajist attended the (SNDP) conference and propounded the strong points of their own religions.
The SNDP meeting was attended by E.V.Ramasami who said, while supporting the resolution, that there was no immediate need for going to any other religion and we could wait and see for some more time.  If conversion was in fact necessary then the proper choice would be Islam as right then people were afraid only of Mohammedans, among all people.  In that religion all rights were protected except in the case of women.  Christianity in our country was gradually becoming like Brahminic religion, since caste distinctions were observed in it.  Arya Samaj was nothing but another form of Brahminism.  Though Bhuddhist principles were decidedly better than those of any other religion, at present only Islam had the capacity to control Brahminism to assure real freedom to the people of our country.
When there is no religion called Hinduism, it is improper to call people by that name.  When that is the case, using the name and denying human rights along with the rights to use temples, water sources, streets and schools is the most unjust and unfair practice.
It was decided, as per his advice, that there was no immediate need for conversion.
Now, the Adi Dravida Conference too has resolved to get away from Hindu religion though not to join any other religion. Some people may ask how to call them in that case.  There is no need for them to have any distinct name.  If need be, they may be called Indians.  If it were be pointed out they had to be registered under some name, the 65 crores of untouchables could be called non-Hindus just as 20 crores of people who are known as Hindus are politically referred to as non-Mahammedam.
When there are non-Brahmins and non-Mohammedans, heavens would not fall if there were to be group of people called non Hindus.   No disgrace would be caused to them on that account.  At any rate, we feel that the disgrace cannot be greater than what is caused by being called Hindus.  When there is no religion called Hinduism, it is improper to call people by that name.  When that is the case, using the name and denying human rights along with the rights to use temples, water sources, streets and schools is the most unjust and unfair practice.
Some people contend that we are alone in stating that there is no religion called Hinduism because of a lack of knowledge and induced by our hatred for Brahmins.  But let us see what K. Subramania Pillai, a bilingual scholar in English and Tamil, veteran in religious scholarship, and a man of sharp intellect, has uttered on this point in Sentamil Selvi (Tamil monthly) seven or eight years ago.
"The first point people have to etch firmly in their minds is that there is no religion called Hinduism.
The Persian word 'Hindu' which denoted the residents of Sindhu valley was changed to Indus by the Greeks and was used by all westerners to denote the people of the land; the land itself was called India.  The Word Hindu is not found either in Tamil or in Sanskrit.
Only those who have no knowledge whatsoever of religions will call their religion 'Hindu Religion'  just as European, American or English stands for the civilization of those people and not for their religion, the word Hindu stands for the civilization of the people spread from Himalayas upto Cape Comerin, and not for their religion.  Swami Vivekananda also has expressed the same opinion in many of his speeches.  A religion will be named after its deity, the chief prophet or its scriptures.  Christianity and Mahammedanism are named after their prophets.  Buddhism or Arugathan also follow suit.  But the word Hinduism does not denote any religious ideas."  Pillai has confirmed that Swami Vivekananda is of the same opinion.  It is not clear how long we should tolerate the vandalisation of 20 crores of people and a prosperous country in the name of a nonexistent religion and opportunistic policies to suit selfishness of the rulers.
On another occasion Brahmin called Dr. S. Subramania Ayyar observed in his own paper, Commonweal.
"If the present condition of the Hindu people is pondered on the dilapidated and disorderly construction of Hindu religion cannot be used by carrying out repairs here and there and supported with props.
It must be mercilessly demolished and flattened, and another non ostentatious building suitable for the present day use and needs, can be reacted in its place.  That seems to be best thing to do."
Many more researchers are of the same view.  When this is the case, how many people who are witnessing a fake religion standing in the way of such tasks like stopping child marriages', acquiring the right for all people to walk on the streets, preventing prostitution carried on in the temples in the name of gods and to stop children being pushed into the bedroom, can be honest courageous and honourable?
Therefore when the Adi Dravidas demand that they should not be recorded as Hindus, we too are in the need for taking such a stand.  If we agree to be recorded as Hindus, we get the title of sudras which lower us to that of Adi Dravidas.  No reformist, or legislator or leader of the society is known to have taken any steps to get rid of the disgrace.  There are people who cry hoarse "Faith is gone, god is gone, religion has gone, mythology is gone," all to get small rewards, but no one with real human qualities who will say, "Self respect is gone! Human rights are gone, we have become lower than animals" and try to restore human dignity.  Hence it is our belief that soon the day will come when we too will demand to be freed from the shackles of Hinduism just as Adi Dravida brethren are doing now.
Sub Editorial, 'Kudi Arasu', 21st July 1929 
Translated by : Prof. A. Ayyasamy