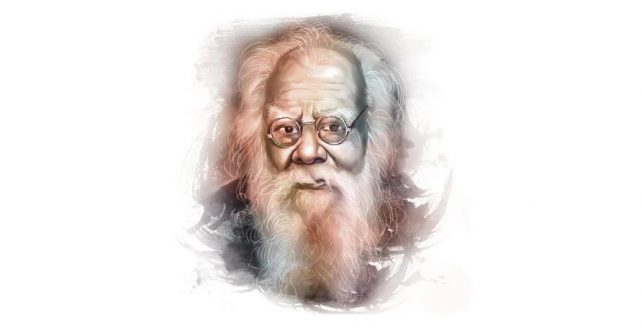 The following was the editorial of Kudi Arasu 3rd April 1948, the Tamil weekly founded by Thanthai Periyar in 1925
The present-day curriculum has been designed with the intention of enabling only the affluent and influential individuals flourish in the arena of education. This is the basis of more than 90 out of a hundred Dravidians remaining illiterate. None can refute this unpalatable truth.
Debt of Gratitude: Even the 10 per cent literate individuals in the Dravidian community includes those who can only sign their own names omitting one or two letters. In the view of this truth, if we attempt to make a head-count of Dravidians who are equal to the Brahmins in literacy, not even five individuals can find a place in the list. Those five too could became literate by the agitations of our Dravidian movement, backed by the Justice Party. Though these five individuals owe a debt of gratitude to the Dravidian community for their education, placement and progress, not even one of them contributes to the welfare of the Dravidian community which lifted them up.
Cause of Degradation: The individuals who have derived benefits through the benevolence of the Dravidian movement have instead been betraying their own community by mortgaging and pawning it at wicked elements quite selfishly to eke out a living. A large number of such beneficiaries have been indulging in this unabashed betrayal for their own livelihood. The Dravidian community continues to exist as a Sudhra Community, degraded by a stigma. Could any one deny this bitter reality?
Ray of Hope: The next generation of students, who are to emerge as tomorrows literate, should realise the sorry state of our community today and strive for a change – though the present lot has failed to work for the progress of our Dravidian community. All hope is not lost, in my opinion.
The Dravidian students, who take pride in calling themselves so, should take a pledge to strive for the advancement of the world of Dravidian students. They should identify the wicked elements and safeguard our community, excelling others in this noble task. They must assure relentless strife for the welfare of Dravidians. Their action should speak louder than their words.
Beware Sycophants!: Youth is always strong enough to revere truthfulness, talk effectively and act fast. Young blood is capable of annihilating the unscrupulous elements. Youngsters have a majestic appearance to draw attention. They are fearless dare-devils. Youth has many virtues strengthening them. Most of our scholars and leaders glorify these noble qualities of youngsters in their public speeches. They flatter our young men by declaring them as tomorrow's rulers. They conclude speeches with flattering remarks. But flattery certainly falls flat. It is mere sycophancy.
The flattery of speakers while addressing students, is infact futile. It is like coaxing a little boy to get some work done. Most people use the labour of others and get their own tasks accomplished. The flattered gullible are in no way really benefited. Smart people give an inch and take a mile.
Wage before labour and praise before task are desirable, but should never become a consistent practice. That would only lead to disappointments and failures in the long run. This must be clear as crystal to all our student comrades.
Dire Need of New World: A Himalayan task awaits accomplishment by our Dravidian students. They have to shoulder greater responsibilities. For several generations people in our society have been existing without any rational outlook. It has to be turned upside down by eradicating irrationalism in all respects. A new era glowing with rationalism should dawn. We have to create a new world at the cost of our lives, if required.
Vain Flattery: Only truthfulness and love should be our weapons in this struggle. Many had fought for this in the past but with little success. Hence Dravidian students should bear the past failures in mind and fight with a "never-say-die" spirit. The purpose would be defeated if our young men are lured by insincere praise of others, before achieving the objective. Flattery is likely to divert youngsters from the fulfillment of the mission. Do not allow flatterers distract your attention. I had clearly explained all these to our students during the Dravidian students' conference held last month in Trichy. Every student should measure up by introspection, recalling that speech of mine.
I made it clear that our students are able soldiers, but not good Generals; good sepoys but not good commanders. I would like all the students to infer what I actually imply by this remark. The inference should leave an indelible impression in the minds of students.
Need to Measure up: Learning is an endless process for everyman who treats the entire world as his text book for life. Hence it would not be a fault to call every citizen as a student. However, I restrict the term "students" to those who are inexperienced, carefree and yet to shoulder family responsibilities; those who do not hunt money for their needs and relish their youth without fever and fret of life. I wish to awaken especially such youngsters, who are to volunteer to serve our Dravidian Movement. I call them sepoys and soldiers because they have to measure up and upgrade themselves with worldly knowledge and wisdom, by facing the harsh realities of life. Their minds should operate on a higher level of intellect.
The participation of students in the Dravidian Movement is a pleasure for us to treasure. They are an invaluable asset for our movement. We forerunners are striving to clean a stinking society. Students who come forward to strengthen our hands are a treasure indeed.
Ignore Fanatics: Student comrades must observe Christian priests and nuns who live with religious faith but never hoodwink people by irrational concepts. They renounce earthly carnal pleasures and dedicate themselves to the purification of mankind. Compare them with our religious fanatics who babble about heaven, hell, salvation and sins, magnifying their blind faith in god and goddesses. These hypocrites pretend to be saviours of mankind. They pull wool over the eyes of the world. The followers of Christianity selflessly serve with unswerving resolve. We need similarly dedicated volunteers to sanitize our infected society. Our movement badly needs such student volunteers to salvage our rotting community.
Imbibe Virtues: We have to fabricate new and effective codes of conduct for the peaceful and prosperous life of our people. People who step into public service should examine themselves thoroughly. An impeccable conduct and readiness to act in time are more important than writing and speaking skills. Willingness to fight for public welfare is infact much more important than these three skills. I stress on this virtue to be imbibed by all our student volunteers.
Dravidian students must learn to lead a life of simplicity, devoid of vain glory, pride and arrogance. They should be modest, treating success and failure with the same spirit. Above all, they must learn to be loyal and obedient to their leader. I emphasise on all these virtues and expect them in Dravidian students. They are all truly indispensable qualities for every student volunteer embracing our movement.
Safe and Secure: The welfare and personal life of truly dedicated volunteers is always taken care of by our movement. Any number of volunteers are welcome. Their family life is generously protected by us. I have created such a safe environment for truly involved cadres. Hence wisdom lies in making use of it. While swimming against the turbulent cross currents in the sea of life, our movement would readily extend its hand for rescue.
This year too I have arranged a student's summer vacation propaganda camp. All are welcome to participate. Rather than rejoicing in leading others to a righteous path, our student volunteers should themselves feel delighted that they are following in the footprints of their leaders, marching on the noble path. That would really be productive and yield best results. I wish all our student volunteers spread the principles and policies of our movement with utmost dedication.
Lumpens Banned: Incorrigible ruffians are of no use to our movement. Men who desire to lead a luxurious life without deserving it, should not volunteer to serve our movement. The movement can derive no benefit out of the insincere services of uncouth lumpens. Before joining us, volunteers should make sure that their entry would be useful to them and also to the movement. Propagating the policies of our movement without refining themselves would be really meaningless. Hence, student volunteers must think deeply and come forward.
Silent-Not Violent: Another vital aspect I stress is non-violence. I do not insist on it with an illusion that it would lead us to salvation by purifying our souls. I insist on it since we are all gifted by nature with power of thinking and an ability to reason. Our fights should be silent – never violent.
Most of the animals with five senses feed on one another by violent attack. And yet some living beings like cow, sheep and deer do not harm other animals. Violence hurts not only the victim but also its perpetrator. We people bestowed with the sixth sense should always stay away from violence. Our student volunteers must adhere to non-violence.
Deserve and Desire: Students who expect recreation, entertainment, joy of travel, contact of celebrities, cheap publicity, undue fame, undeserved popularity and freedom for misconduct should never even dream of involvement in the propagating works for our Dravidian movement. This is my request to all the young students aspiring to join us. It is our duty to annihilate the degradation suffered by us. Do not expect others to do it for us. Fight with a "do or die" spirit at all times. Never forget that "self-help is the best help".
Truly dedicated, selfless young student volunteers should grow in leaps and bounds. This is my strong desire. Obedience to leadership, self-confidence, moral courage and an impeccable conduct are the essential features for them. This desire is for the revitalization of our Dravidian community. My requests are aimed at taking it to glorious heights. I wish our Dravidian students collectively act in large numbers and emerge victorious.
Courtesy: 'Kudi Arasu' editorial 3rd April 1948
Translated by M.R.Manohar